Mark Trumbo deal makes little sense from D-backs' perspective
The Arizona Diamondbacks pulled off a notable three-way trade on Tuesday, but did it make them a better team?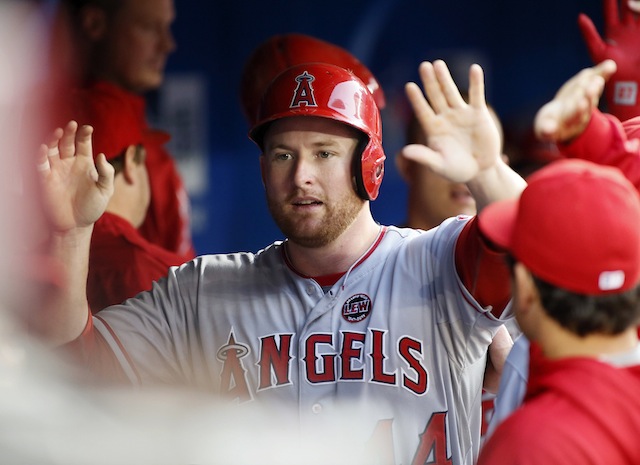 MORE: FA tracker: position players | FA tracker: pitchers | Winter Meetings updates
The Diamondbacks took part in a fairly noteworthy three-way trade with the Angels and White Sox on Tuesday. The deal lands slugger Mark Trumbo and reportedly two unnamed Angels prospects in Arizona and sends lefties Tyler Skaggs (formerly of the D-Backs) and Hector Santiago (formerly of the White Sox) to Anaheim. The Sox, meanwhile, snare Arizona center fielder Adam Eaton. 
From the Diamondbacks' standpoint, they get power, of which they were in need. So that's good. What's not good is how much they gave up for a player of Trumbo's significant limitations. 
Trumbo indeed has thump -- 34 homers last season, 95 in 460 career games at the major-league level. As well, he's put up those numbers in a home park that's increasingly played as a pitcher's environment. Even so, neutralize his career digits to correct for context, and his batting line comes to .264/.315/.497. That's a solid line, but it's hardly standout for a player who doesn't do much else. As well, the most important component of that line -- Trumbo's OBP -- is quite lacking. 
In a related matter, so is his plate discipline. For his career, Trumbo has drawn an unintentional walk in just 5.5 percent of his plate appearances. That's low, especially for a player who doesn't hit for high averages and is strikeout-prone. Bringing it all together, last season Trumbo had the ninth-worst ratio in the AL in terms of percentage of walks relative to percentage of strikeouts. That doesn't bode well for the future. 
Sure, Trumbo's power numbers will superficially improve in his new home park, but context matters. Given his record of performance, there's no reason to believe that the other element of his offensive game -- getting on base and thus not squandering outs -- is going to improve. 
There's also the fact that Trumbo confers very little value in other phases of the game. Per FanGraphs, Trumbo has been a net negative on the bases over the last two seasons, and then there's the matter of his defense.
The expectation is that Trumbo will play left field for the D-Backs, a position at which Trumbo has logged 557 2/3 defensive innings in his career. In the larger sample, Trumbo has a total of almost 1,000 defensive innings in the outfield, and over that span he's cost his team about 7.0 runs, according to Ultimate Zone Rating. There are some sample size issues at work, to be sure, but based on his lack of speed, his body type, the eye test and scouting reports, there's every reason to think Trumbo is a liability with the glove. If anything, those numbers may make Trumbo look better than he really is.
Since the D-Backs won't be able to stow him away at DH or first base as the Angels often did last season; that glove will have to play. And in overall terms, playing that glove will whittle away at the modest value Trumbo figures to provide at the plate. 
At age 27, Trumbo should be entering his prime seasons, but it's worth noting that power -- as noted, Trumbo's only real skill -- tends to peak earlier than do other skills. So it's possible, maybe even likely, that Trumbo's best power days have already happened. All this just in time for him to hit his arbitration years. 
There's also the matter of what the Diamondbacks gave up. Skaggs is a high-ceiling, 22-year-old lefty who was widely regarded as being one of the ten best prospects in baseball coming into 2013. Then there's Eaton, a lefty bat capable of manning center who's still just 25 years of age. Arizona reportedly will get back, as mentioned, be a couple of Angels prospects, but there's very little of projectable value in that system, particularly after Randal Grichuk was dealt to the Cardinals as part of the David Freese-Peter Bourjos trade. 
To sum it up, the D-Backs are paying dearly for an AL-tailored power hitter who can't get on base or play defense and is about to get pricey. It's possible, of course, that Trumbo will exceed expectations moving forward, but right now this one doesn't look good for Arizona. 
Marcell Ozuna figures to be the next Marlins star on the move

Several relievers have signed in the last two days

Several teams are interested in the switch-hitting first baseman
Neshek and the Phillies are closing on a two-year contract

And the team that first drafted Cole is interested

This scout was SUPER into Jeter