Melky Cabrera ruled ineligible to win batting title
Suspended and disgraced Giants outfielder Melky Cabrera will not be the 2012 NL batting champion.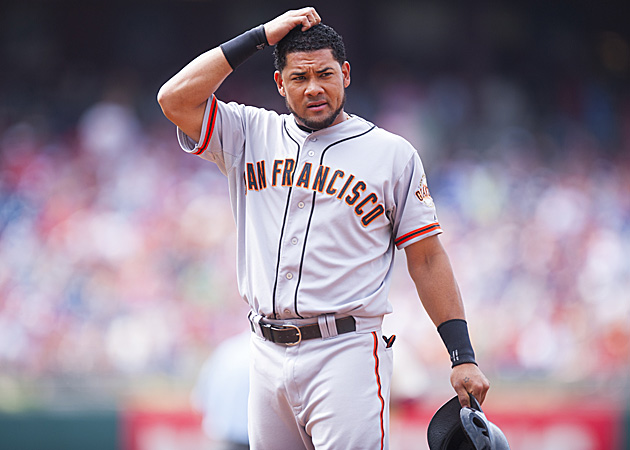 Melky's season: From dream to nightmare. (Getty Images)
Suspended and disgraced Giants outfielder Melky Cabrera will not be the 2012 NL batting champion, MLB announced in a press release Friday. 
The move came at Cabrera's request, as he came to an agreement with Major League Baseball and MLB Players Association officials to remove himself from consideration.
"Melky Cabrera, through a written request to me, asked for the Union's assistance in removing him from consideration for the 2012 National League batting title," said MLBPA director Michael Weiner in a statement. "We complied with Melky's wish and brought the matter to the Commissioner's Office, which agreed to suspend the rule. We commend Melky's decision under these circumstances."
"After giving this matter the consideration it deserves, I have decided that Major League Baseball will comply with Mr. Cabrera's request," said commissioner Bud Selig in a statement. "I respect his gesture as a sign of his regret and his desire to move forward, and I believe that, under these circumstances, the outcome is appropriate, particularly for Mr. Cabrera's peers who are contending for the batting crown."
"I have no wish to win an award that would be tainted," Cabrera said in a statement. "I believe it would be far better for someone more deserving to win. I asked the Players Association and the league to take the necessary steps to remove my name from consideration for the National League batting title."
"I am grateful that the Players Association and MLB were able to honor my request by suspending the rule for this season," Cabrera continued. "I know that changing the rules mid-season can present problems, and I thank the Players Association and MLB for finding a way to get this done."
Cabrera was suspended in mid-August for a failed drug test after 501 plate appearances in the 2012 season. A player is eligible to win the batting title -- a.k.a. leading the league in batting average -- with at least 502 at-bats. But MLB Rule 10.22(a) says that a player falling short of the eligibility requirement can still win the batting title by taking a hitless at-bat for each at-bat short of the requirement.
Thus, just give Cabrera one hitless at-bat and his batting average is still .346 (from .3464 to .3456). Heading into Friday, Andrew McCutchen is second in average at .339 and Buster Posey is third at .335. So it looks like Cabrera's mark was safe. That is, until this reported ruling.The spirit and intent of Rule 10.22(a) was likely to give a player the chance to win the prestigious batting title if he fell short due to injury, but there is no language in the rule about injuries or suspensions. Let us hope that MLB simply adds language disqualifying those suspended for positive PED tests and otherwise doesn't alter rules midseason with this issue.
Of note: It doesn't appear the rule has been permanently changed and a suspended player could still win the batting title if he just didn't get caught until after 502 plate appearances.
As for Cabrera, the Giants reportedly don't want him back for the playoffs and he'll head to free agency after the season.
For more baseball news, rumors and analysis, follow @EyeOnBaseball on Twitter, subscribe to the RSS feed and "like" us on Facebook.
Sabathia will reportedly spend a 10th season in the Bronx

Fowler suffered a knee injury at Chicago's Guaranteed Rate Field

The lefty starter is coming off a terrible season
After acquiring Ian Kinsler and Zack Cozart in recent days, the Angels are trending upward

Cozart's coming off a big season as the Reds' shortstop

The veteran slugger spent the last eight seasons with Cleveland