Miguel Cabrera may open 2016 at third base and it's not a crazy idea
Miguel Cabrera may start the 2016 season at third base for the Tigers. It's not as crazy as you may think.
Thanks to the magic of interleague play, Miguel Cabrera may open the 2016 season at third base for the Tigers. Detroit opens the new season with a quick two-game series against the Marlins in Miami.
On Wednesday manager Brad Ausmus confirmed the team is at least considering playing Cabrera at third base for those two games, assuming Victor Martinez is able to play first. From MLB.com's Alicia DelGallo:
"Yea, Miguel is an option at third base the first couple of games," Tigers manager Brad Ausmus said Wednesday at Joker Marchant Stadium in Lakeland. "He is, assuming Vic's OK at first."
The Tigers actually begin and end the 2016 season on the road in NL parks. They open the season in Miami and end it with three games in Atlanta against the Braves.
Cabrera is certainly no stranger to third base. He's played almost 700 career games at the hot corner, including 145 games in 2013. Cabrera played only 10 games at third in 2014 though, and none in 2015.
A calf injury limited Miggy to 119 games last season, and he had ankle surgery during the 2014-15 offseason, so his legs have taken a beating in recent years. Cabrera turns 33 in April and, simply put, his mobility is not what it once was.
By any objective measure, Cabrera is a below-average fielder at third base. He was when he last played the position regularly and I doubt his glovework has improved any as he's gotten older and dealt with more leg injuries. That doesn't mean playing him at third in the opening series is crazy.
For starters, it's only two games. That's nothing. Not the end of the world. Secondly, he would be replacing Nick Castellanos, who also rates as a well-below-average fielder. The Tigers would essentially be trading Castellanos' bat for Martinez's bat with a small hit on defense.
And third, Justin Verlander and Jordan Zimmermann figure start the first two games of the season for Detroit. Verlander and Zimmermann ranked 131st and 97th, respectively, in ground ball rate among the 141 pitches to throw at least 100 innings in 2015. They're fly ball pitchers, meaning fewer ground balls for Miggy.
If there's a physical reason Cabrera can't play third base -- or Martinez can't play first -- then don't do it. But as long as everyone is healthy, I say go for it.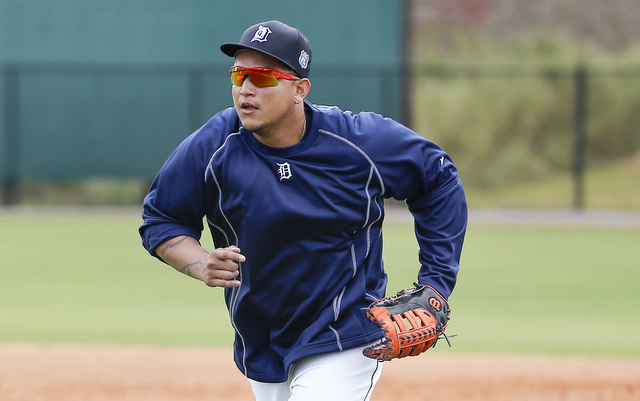 The Angels' Ohtani faced Milwaukee in Cactus League action on Saturday

New Mexico broke the school and WAC single-game run record with a 39-0 victory over Mississippi...

It's the first Saturday slate of spring training games, and Ohtani will be taking the mound...
The Tigers are very early in their rebuild and they're counting on Miguel Cabrera to rebound...

The Grapefruit League and Cactus League seasons started on Friday

Data will be collected and then used to determine whether humidors are necessary in 2019