MLB news, injury and rumors roundup for Sept. 3
Here's our nightly roundup for Major League Baseball, with updates on Adam Dunn, Kris Bryant, Sean Doolittle, Carlos Correa, Carlos Gomez, Yu Darvish and more.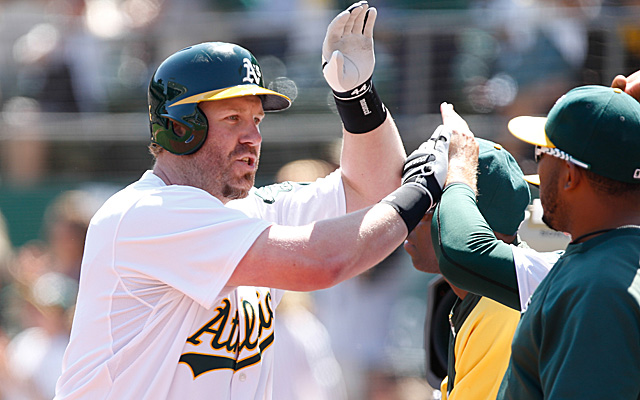 Here's the roundup for the night, lumping in all things MLB. As a reminder, this is just a quick-hitter, for the full story, make sure to click through on the provided links. Let's get to it.
ROSTER MOVES, TRANSACTIONS, ETC.
Indians: Josh Tomlin was activated from the paternity list.
Rockies: Jorge De La Rosa was given a two-year contract extension.
INJURY UPDATES
A's: It appears Sean Doolittle will be ready to come off the DL Monday (athletics.com). Coco Crisp could be back even sooner (athletics.com). On the bad side of the news, Stephen Vogt injured his ankle Wednesday (athletics.com).
Astros: Prospect Carlos Correa is making good progress in his recovery from a broken leg (astros.com).
Blue Jays: R.A. Dickey took a liner off the side of the head (from Evan Longoria, no less) during batting practice Wednesday, but says he's fine (raysbaseball.com).
Braves: Justin Upton was held out of the lineup Wednesday due to sore triceps (braves.com).
Brewers: Due to the risk of reinjury to his wrist, Carlos Gomez needs to be 100 percent before a return (brewers.com).
Cubs: Starlin Castro is unlikely to play again this season.
Diamondbacks: Brad Ziegler has injuries to his chest and knee (azcentral.com).
Dodgers: Josh Beckett is likely done for the season.
Mariners: Manager Lloyd McClendon will decide by Thursday whether or not Chris Young will make his scheduled start on Saturday (mariners.com).
Orioles: Andrew Miller isn't too worried about his hamstring issue (orioles.com).
Rangers: They won't make an announcement until Thursday, but it sounds like Yu Darvish's season is over (dallasnews.com).
Tigers: Joakim Soria threw 25 pitches off the mound (tigers.com).
Yankees: Martin Prado is expected to miss at least two more games with a mild left hamstring strain (yankees.com). Also, Ivan Nova has begun a throwing program in his return from Tommy John surgery (yankees.com).
MISCELLANY
Astros: Looks like Rays bench coach Dave Martinez is interested in the Astros' job opening (astros.com).
Blue Jays: Despite his injury history, Brandon Morrow still wants to be a starter (bluejays.com).
Brewers: Scouting director Bruce Seid died unexpectedly at age 53. On a much happier note, Ryan Braun missed Wednesday's game due to the birth of his first child (brewers.com).
Cubs: Scott Boras thinks the Cubs should call up his client, Kris Bryant. Speaking of Bryant, the Cubs will indeed get him work in the outfield next spring (ESPN Chicago).
Adam Dunn: Remember a few days ago when Dunn said he would retire at the end of this season? He's already backing off that statement, per John Shea of sfgate.com.
Red Sox: Struggling Will Middlebrooks may be shipped to winter ball this offseason (redsox.com).
White Sox: Carlos Rodon didn't get the call this Sept., but the White Sox expect him to compete for a big-league job next spring (Dan Hayes).
The Yankees may not be done collecting stars

The team could instead use a closer by committee approach

Both Seung-Hwan Oh and Trevor Rosenthal are free agents
The Yankees may plug their third base hole with a familiar face

Darvish's poor World Series hasn't scared the Dodgers away

GM Sandy Alderson said he followed his manager's recommendation