MLBPA head Michael Weiner passes away at age 51
Players' union chief Michael Weiner has passed away at age 51 following a bout with brain cancer.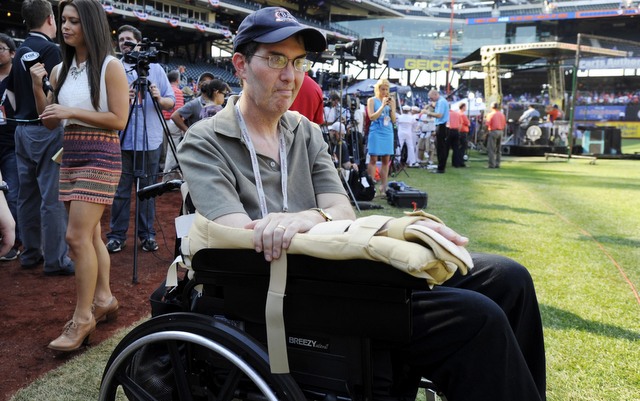 Major League Baseball Players' Association executive director Michael Weiner has passed away following a battle with inoperable brain cancer. He was 51.
Diamondbacks reliever and union representative Brad Ziegler announced the news on Twitter:
Lost a great friend today. Michael Weiner's body finally succumbed to cancer. One of the best leaders & men I knew. Prayers for his family.

— Brad Ziegler (@BradZiegler) November 22, 2013
"Not only has the game lost one of its most important and influential leaders in this generation, all involved in the game have lost a true friend, " said acting executive director Tony Clark in a statement. "As one of the most beloved and respected members of the baseball community, Michael will be missed by all of us."
Commissioner Bud Selig issued the following statement:
"All of Major League Baseball mourns the loss of Michael Weiner, a gentleman, a family man, and an extraordinarily talented professional who earned the trust of his membership and his peers throughout the national pastime.  Our strong professional relationship was built on a foundation of respect and a shared commitment to finding fair solutions for our industry.  I appreciated Michael's tireless, thoughtful leadership of the Players and his pivotal role in the prosperous state of Baseball today. 

"Michael was a courageous human being, and the final year of his remarkable life inspired so many people in our profession.  On behalf of Major League Baseball and our 30 Clubs, I extend my deepest condolences to Michael's wife Diane, their three daughters, his colleagues at the MLBPA and his many friends and admirers throughout the game he served with excellence."
Current NHLPA chief and former MLBPA executive director Donald Fehr issued the following statement:
"My wife Stephanie and I are enormously saddened to learn of Mike Weiner's passing today, and our thoughts go out to Diane and their three daughters.  

Mike was an extraordinary individual in so many ways:  as a loving husband and father, as an exceptional union leader and lawyer, and as a great friend to so many.  He was an indispensible part of the MLBPA staff for more than two decades, and was the right man to lead the union.  

 This is a great loss, for his family, for his friends, for the players, and for everyone who crossed his path."
Weiner became the fifth executive director in the history of the union in December 2009, when he succeeded Fehr. He joined the union in September 1988 and served as head counsel starting in 2004.
Under his direction, the players' association negotiated baseball's most recent collective bargaining agreement with the owners, ensuring 21 consecutive years of labor peace. The agreement included the toughest performance-enhancing drug testing program in the four major sports.
Prior to joining the union, Weiner served as a law clerk to then-United States District Court Judge Hon. H. Lee Sarokin. He graduated from Harvard Law School in 1986. He was born in Paterson, N.J.
Weiner was diagnosed with brain cancer in August 2012. Condolences to his family and friends.
Colon wants to break a Dennis Martinez record

The Twins have been rumored to be interested in Darvish all winter

Rolen is one of the best third basemen of all time, but you wouldn't know it based on this...
Neither Josh Donaldson nor Brian Dozier have talked about a new contract extension

Francisco leads the Dominican Winter League with seven home runs

Thome deserves enshrinement and here's why the case against him does not hold up