NLDS Pirates-Cardinals Game 1 preview: Burnett vs. Wainwright
The division series are upon us, so let's start doing the pitching breakdown for each respective game.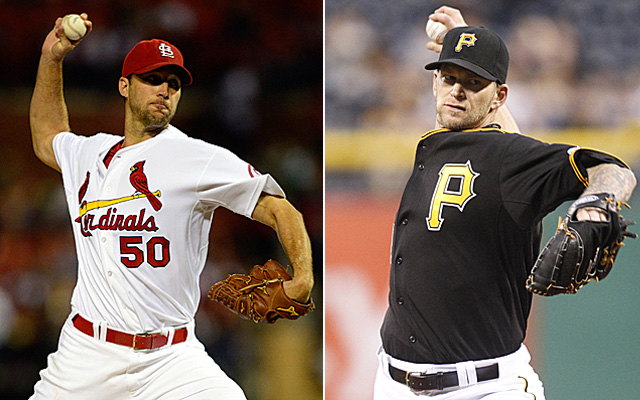 Who has the edge? Pirates-Cardinals | Dodgers-Braves | Tigers-A's | Rays-Red Sox
With the one-game wild cards out of the way, we're set to see series action for the first time Thursday. First up, the Pirates visit the Cardinals in St. Louis at 5:07 p.m. ET, 4:07 local time.
The two clubs are pretty familiar with one another, having played 19 times during the regular season. The Pirates won 10 of those 19, but the Cardinals outscored the Pirates by two. The last time they played in St. Louis, the Cardinals swept the Pirates in three games, outscoring them 26-10.
The weather.com hourly forecast looks very favorable, with a zero percent chance of rain and the temperature safely in the low-to-mid 80s. Also, no sun monster, as the forecast shows partly cloudy.
The pitching matchup Thursday pits Cardinals ace Adam Wainwright (19-9, 2.94 ERA, 1.07 WHIP, 219 K in 241 2/3 IP) against wily veteran A.J. Burnett (10-11, 3.30 ERA, 1.22 WHIP, 209 K in 191 IP). Let's take a closer look.
Burnett vs. Cardinals
Burnett has been far worse on the road (4.22 ERA) than at home (2.37) this season and he's been awful (8.10 ERA) in three starts at Busch Stadium.
He's faced the Cardinals more than anyone else this season, going 3-1 with a 3.67 ERA, 1.05 WHIP and 37 strikeouts in 34 1/3 innings during his six starts against St. Louis.
Only one Cardinals player has faced Burnett more than 30 times in his career -- Carlos Beltran with 46 plate appearances -- so keep in mind these stats are all of the small sample variety.
Beltran carves up Burnett, hitting .318/.348/.500 with two doubles, two homers and 13 RBI. Yadier Molina (.160/.185/.200) does not. Matt Carpenter (.429/.520/.714 in 25 PA) has been outstanding against Burnett in his career while David Freese (1-for-11, 5 K) has been awful. Matt Holliday has struck out in 11 of his 26 at-bats against Burnett, but he also has two doubles and a homer with a respectable .806 OPS. So it's a bit of a mixed bag.
Overall, the collective Cardinals roster has hit .245/.309/.368 against Burnett in 233 PA.
Wainwright vs. Pirates
He's been better at home this season (2.53 ERA vs. 3.36 road ERA). Also, with the game starting just after 4:00 local time, we can consider this a day game. Wainwright was 9-2 with a 2.39 ERA in 12 day starts this season.
Wainwright made three starts against the Pirates this season, going 1-0 with a 3.00 ERA, 1.00 WHIP and 20 strikeouts in 21 innings.
His history against most of the Pirates is pretty limited, so small sample caveats apply. Still, many of the current Pirates have fared well against Wainwright over the course of his career. Andrew McCutchen is hitting .429/.452/.750 with four doubles, a triple and a home run in just 31 plate appearances. Russell Martin is hitting .400/.500/.480 in 30 PA. Neil Walker is hitting .316/.409/.474 in 22 PA. Pedro Alvarez is hitting only .211, but has a homer and six RBI in 21 PA.
Collectively, current Pirates are hitting .302/.368/.478 in their careers against Wainwright.
Jones, who was recently elected to the Baseball Hall of Fame, isn't your typical gun-control...

Martinez had agreed to a deal with Boston last week

Venters threw a scoreless inning for the Rays on Sunday
Keep tabs on the top 50 free agents on the market right here

The contract includes a second year vesting option

New York has been looking for rotation depth all offseason