Report: Braves boycotted Chipper Jones' first pitch in NLDS Game 1
Unhappy with his prediction for the NLDS, Braves players refused to catch Chipper Jones' ceremonial first pitch prior to Game 1.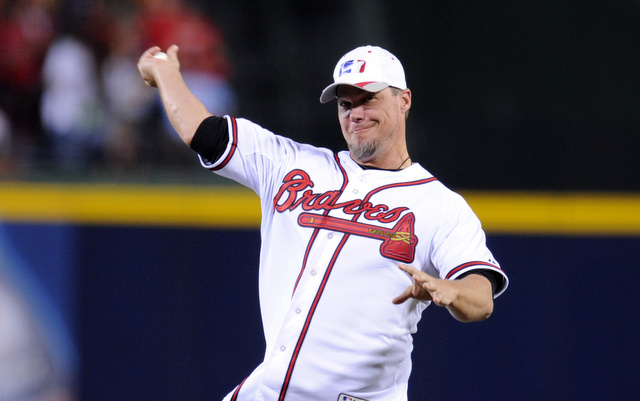 Prior to their NLDS Game 1 loss to the Dodgers, the Braves had franchise icon and future Hall of Famer Chipper Jones throw out the ceremonial first pitch. Rather than throw the ball to long-time teammate Brian McCann or team MVP Freddie Freeman, Chipper had to make the toss to the team mascot. Why? Kevin Kernan of the New York Post explains:
Evidently, Braves players were not happy Jones had gone on the radio earlier in the day with the team's flagship station, 680 The Fan, and predicted the Dodgers would win the NLDS in four games. So no player volunteered to catch the pitch.
First things first: Hey, nice call Chipper. The Dodgers officially won the series in Game 4 on Monday.
Secondly: C'mon, really? Are the Braves that petty? I mean, I guess they are since the mascot (the mascot!) had to catch the ceremonial first pitch, but this is silly. Grow up and prove Chipper wrong, that's the appropriate response. Not stamping your feet and refusing to participate.
Anyway, Jones clearly wasn't pleased with the turn of events, so he let this fly after the game:
Wanna thank the Braves organization for having me throw out the first pitch to the mascot tonite. Quite sure that's never been done before!

— Chipper Jones (@RealCJ10) October 4, 2013
Nor will it EVER happen again!

— Chipper Jones (@RealCJ10) October 4, 2013
Between this and the recent "fun police" stuff with Jose Fernandez and Carlos Gomez, the Braves sure are an unlikable bunch.
Mathis is one of the best at something that cannot be measured but is valued

J.D. Martinez is reportedly headed to Boston on a free-agent contract

Keep tabs on the top 50 free agents on the market right here
Arizona didn't waste much time turning to its fallback option following Martinez's deal with...

The former AL MVP has been one of baseball's best players in recent years

The free-agent slugger will join the Red Sox after all