Report: MLB to investigate University of Miami for PED ties
Major League Baseball will investigate the University of Miami baseball team for its ties to performance-enhancing drugs following last week's report involving the Biogenesis clinic.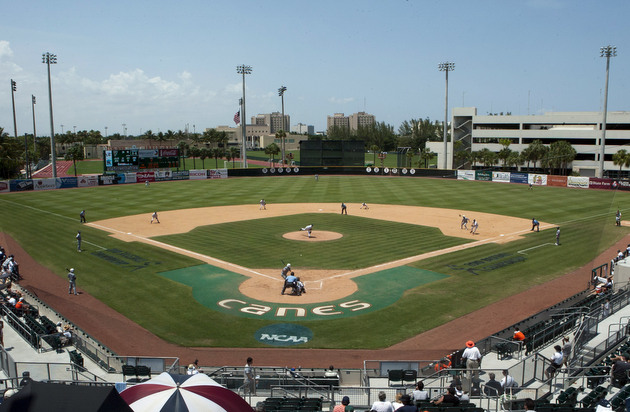 Mark Light Field at Alex Rodriguez Park in Miami. (US Presswire)
Major League Baseball's investigators are focusing on the University of Miami baseball team following last week's report linking several players with South Florida ties to performance-enhancing drugs, reports Michael S. Schmidt and Steve Eder of The New York Times. The league suspects a connection between the program and PED use.
Alex Rodriguez, the most prominent player in last week's report, donated nearly $4 million to the university in 2003 so it could renovate its baseball stadium, which has since been renamed Mark Light Field at Alex Rodriguez Park. Ryan Braun and Yasmani Grandal attended Miami and were linked to Biogenesis, the clinic deemed the epicenter of the latest PED fallout. Gio Gonzalez trains with Miami assistant strength and conditioning coach Jimmy Goins during the offseason.
Schmidt and Eder said it's unclear how MLB's investigators will work with the university, but officials say they have been focusing on Miami's ties to Biogenesis since last summer. The clinic is located right across U.S. 1 from the school's baseball field. Hurricanes infielder Frank Ratcliff was arrested for selling marijuana in 2010, and authorities found human growth hormone in his apartment in a subsequent search.
MLB first investigated Biogenesis chief Anthony Bosch in 2009. They plan to interview the players named in the Miami New Times report as well as the New Times editors themselves. Most of the players involved -- including A-Rod, Gonzalez and Braun -- have issued statements declaring their innocence.
For more baseball news, rumors and analysis, follow @EyeOnBaseball on Twitter, subscribe to the RSS feed and "like" us on Facebook. Also, individually interact with us on Twitter: @MattSnyder27, @daynperry and @mikeaxisa.