Report: Phillies turn unsigned draft pick in to NCAA for using an agent
According to a Baseball America report, the Phillies turned an unsigned pick from last year's draft in to the NCAA because the player used an agent to negotiate.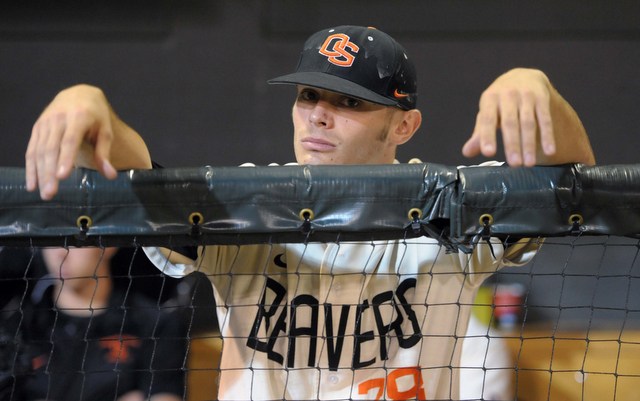 One of the NCAA's many silly rules prohibits its athletes from using an agent to negotiate with professional teams, but many do and it is an open secret in baseball. The agents are typically referred to as "advisors." With thousands and sometimes millions of dollars being discussed, having proper counsel is imperative.
According to Baseball America's Aaron Fitt, the Phillies turned Oregon State left-hander Ben Wetzler in to the NCAA after he declined to sign as their fifth round pick in last summer's draft and returned to school for his senior season. Here's more:
Several sources have confirmed #OregonState LHP Ben Wetzler was turned in to #NCAA by #Phillies, who drafted him in 5th round last year.

— Aaron Fitt (@aaronfitt) February 20, 2014
#Phillies move is a significant departure from industry norm, as #MLB clubs almost never try to get unsigned players in trouble with #NCAA.

— Aaron Fitt (@aaronfitt) February 20, 2014
When asked about Wetzler situation, #Phillies scouting director Marti Wolever said, "I have no comment." Expect more details in coming days.

— Aaron Fitt (@aaronfitt) February 20, 2014
Fitt says the Phillies also tried to turn in sixth rounder Jason Monda, an outfielder/first baseman who declined to sign and returned to Washington State. Fitt adds the team was upset both players didn't sign, so this is all sour grapes.
The exact details of what happened are unknown -- were the team's decision makers on board with this, or did someone do it behind the boss's back? did Wetzler even do anything wrong? -- but based on what we know, this is a rather scummy move by the Phillies. Yes, Wetzler broke the rules, but the rule itself is unfair and unrealistic and the team intentionally sabotaged the kid's future. Wetzler has been suspended indefinitely by the NCAA, so he can't play and try to improve his stock for this year's draft or simply help Oregon State try to win a national championship.
The NCAA has not yet ruled on Wetzler's case, which has been pending since November. Shame on the Phillies.
Vargas' hand was fractured by a comebacker and he does need surgery

Vogelbach is having a huge spring and may steal the first base job from Ryon Healy

Polanco tested positive for Stanozolol, a common banned substance
MLB was angry with the Yankees slugger, saying his comments were not appropriate

A closer look at the teams in the Cactus League and Grapefruit League

The Orioles are trying, even if their attempt leaves something to be desired