Report: Ryan Braun to admit to using PEDs during MVP season
According to one published report, suspended Brewer slugger Ryan Braun will soon come clean about all his PED-related misdeeds.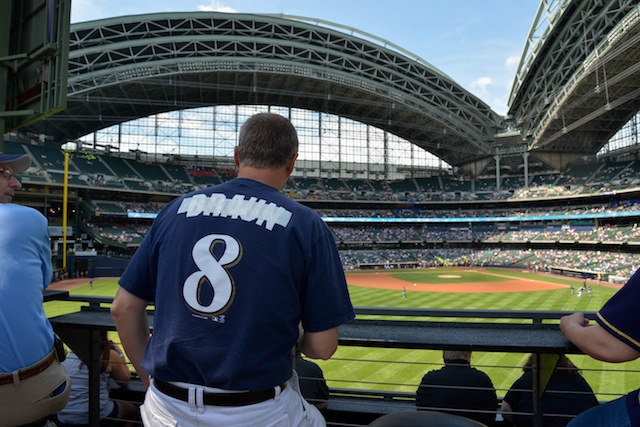 MORE: A-Rod implicated Braun, others | Report: Former friend sues Braun
USA Today's Bob Nightengale reports that suspended Brewers outfielder Ryan Braun will soon publicly admit to using performance-enhancing drugs during his MVP season of 2011. He'll also admit to subsequently lying about his PED use.
Braun tested positive for elevated testosterone levels in October of 2011, but that positive test was subsequently thrown out on appeal after Braun's team attacked the handling of his urine sample. Braun was recently suspended for the balance of the 2013 season for his role in the Biogenesis scandal.
Here's more from Nightengale:
His friends, who spoke to USA TODAY Sports on the condition of anonymity because Braun has yet to make the announcement, said he plans to apologize to everyone from Commissioner Bud Selig to urine collector Dino Laurenzi Jr. to his teammates and peers.

And, for the first time, he will admit guilt.

The people close to Braun said he is eager to be the anti-Alex Rodriguez and is desperately trying to distance himself from the New York Yankees third baseman.
Earlier on Friday, 60 Minutes reported that A-Rod's inner circle leaked documents implicating Braun and others in the Biogenesis scandal. CBSSports.com's Jon Heyman then reported that Braun and A-Rod, central figures in and around the University of Miami baseball program, were never particularly close despite those associations. If nothing else, though, A-Rod may have given Braun a road map of what not to do under the current circumstances, and Braun seems to be learning from it.
More to come, for sure.
The Diamondbacks outfielder was not impaired, he was just going way too fast

MLB can unilaterally implement rule changes, which will also include limits on mound visit...

If the MLBPA wants to fix MLB's economic system, it should push for more money for young p...
Fans aren't happy Gerrit Cole and Andrew McCutchen have been traded away

Acuna is arguably the best prospect in baseball

Kent had a good career, particularly with the bat