More MLB: Power Rankings | Expert Picks | Latest news & notes | Fantasy news
BALTIMORE -- Rob Manfred was elected Thursday as the 10th baseball commissioner by a vote of MLB owners after a spirited debate and long day. With his election, Manfred is to replace Bud Selig, taking over baseball's highest job next January.
After much back and forth all day, Manfred secured the necessary votes to win the job. He had 20, 21 and 22 of the needed 23 votes on ballots taken earlier in the day, but owners stayed overtime to get the job done. Seventy percent (or 23 votes) was needed for election.
Manfred, known for accomplishing the unprecedented feat of forging three straight CBAs with the players union without so much as even one work stoppage, defeated Red Sox part-owner Tom Werner to gain election. On what was said to be the fifth or even sixth ballot, after the Brewers and Rays switched to approve Manfred, sources say the Nationals were the team that put Manfred over the top with 23 votes. Symbolically, the owners officially made it a 30-0 vote, as unanimity has been a hallmark of Selig's regime.
Manfred, 55, has served as the league's chief operating officer since last September after having previously served 15 years as an executive vice president. His term will begin Jan. 26, 2015.
The selection of Manfred may fairly be seen as an endorsement of Selig's 22 years as commissioner, but it also became a referendum on Manfred, a Harvard Law School graduate who is known for hard work and smarts throughout the game, which he has served for 25 years. Nonetheless, owners needed to meet five-plus hours over the day to finalize approval.
"There's no doubt in my mind he has the training, temperament and experience to be a great commissioner," Selig said.
A vast majority of owners praised all three finalists chosen by the search committee headed by Cardinals owner Bill DeWitt, though MLB VP of business Tim Brosnan dropped out of the running just before the first ballots were passed out, leaving Werner as the only challenger to Manfred, who was always seen as the logical successor, thanks to his extensive experience at 245 Park Ave., including the last several years as Selig's right-hand man.
"I hope I will perform as the tenth commissioner in a way that will add to [Selig's] great legacy," Manfred said.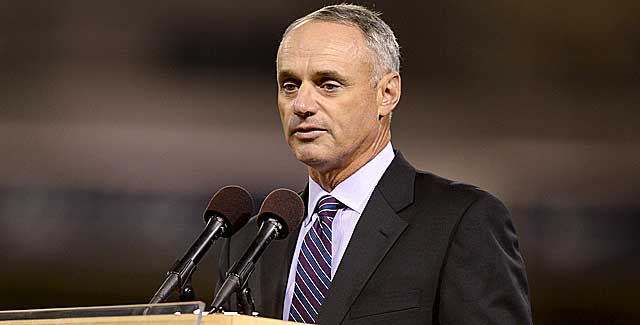 Werner, who made his name as a noted TV producer for such hit shows as Roseanne and The Cosby Show, is said to have advanced the idea behind the scenes that his unique familiarity with TV and the media would allow him to grow the game, and he received some serious support, though his failure to receive 10 votes knocked him off the ballot. "There was a lot of support for Tom," Red Sox managing partner John Henry said. "One third of the industry thought he'd be a great candidate. In the end, we came together. I think [Manfred] will be a great commissioner.
"I'm told [Werner] wowed the search committee with his presentation," Henry continued. "I'd be surprised if Rob didn't incorporate some of his ideas."
Red Sox people understandably supported Werner, but the surprise of the process was powerful White Sox owner Jerry Reinsdorf, Selig's best friend in the game, seemingly backing all the opponents of Manfred. Some close to Reinsdorf suggested he would have preferred an owner -- such as Selig was when he took over the reins in 1992 -- to be commissioner. But others saw Reinsdorf's opposition go beyond that to something unspoken.
Reinsdorf has not spoken publicly about his reasons for his choices in the process, but he issued a statement after the result was announced, saying in part, "The process of selecting the next commissioner was about making certain the future of baseball remains as bright as its past. Bud Selig has done a tremendous job during his tenure as Commissioner, and we look forward, collectively, to Rob's stewardship of this great game. The decision to select the next commissioner was likely baseball's most important during my remaining time as an owner, and it was a decision that deserved our full scrutiny, discussion and debate."
So debate they did. Angels owner Arte Moreno, owner of one of seven dissenting teams before the 30-0 vote was announced, said, "Rob's going to do a great job. He's very professional and very bright." Before the 30-0 vote was announced, the seven dissenters were said by sources to be the Red Sox, White Sox, Angels, Athletics, Diamondbacks, Reds and Blue Jays.
Werner understands he doesn't have such a bad gig running the Red Sox, so some may say he should breathe a sigh of relief to avoid the cauldron that is the commissionership. "This is a tough job, but I was prepared to do it," Werner said. "I'm very supportive of Rob ... The last two days were important. We shared ideas about how to improve and modernize [the game]."
Brosnan, a business expert responsible for negotiating some big TV deals for baseball, said, "Of course I'm disappointed I didn't make it. I wouldn't have gotten into it if I didn't think I should make it. But this is the process. We're in the middle of a great run, and we're going to have a second great run."
The candidates spoke of several of the same objectives, owners say -- the slow pace of game was one hot topic -- but Manfred's background likely ultimately won the day. He had the support of committee chair DeWitt, the Yankees, Mets, Dodgers, Giants and also several small-market teams, making it seem a bit like a fait accompli he would be the guy. A stalemate was the best the opposition could have hoped for, but when Werner dropped off the ballot by falling below 10 votes, it was all about Manfred, a no-nonsense guy with a big resume.
Not only has Manfred managed to successfully negotiate three straight CBAs with a work stoppage, he made some key improvements from the owners' perspective in the last CBA, including the linking of draft-pick compensation to free agents, which in effect has put a major drag on free-agent salaries of some very good players who waited six years to become free agents. Manfred also led the investigation that resulted in 13 PED suspensions for players associated with Biogenesis.