Selig says 'baseball needs a resolution' to Rays' ballpark problem
MLB and commissioner Bud Selig may get involved with the Rays' talks for a new ballpark in the Tampa/St. Petersburg area.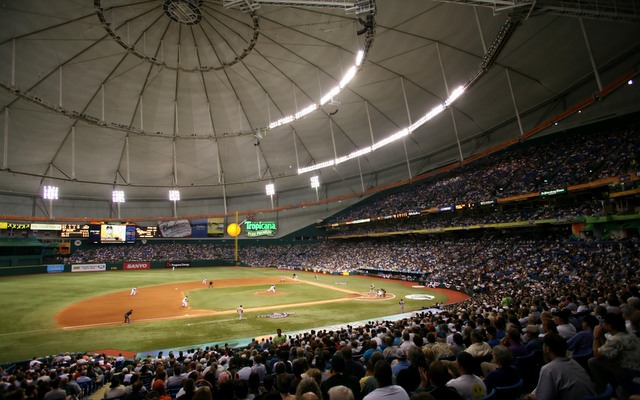 More MLB: Scoreboard | Standings | Probable Pitchers | Sortable Stats | Odds
With the Rays making no progress in their efforts to secure a new stadium in the Tampa area, commissioner Bud Selig told Barry Bloom of MLB.com that he is considering sending someone from MLB's office to become directly involved in negotiations between the team and St. Petersburg officials.
"We were optimistic that this was moving in a very positive direction," said Selig. "Unfortunately, we're stalled. It's serious enough that in the last 48 hours, I've given very strong consideration to assigning someone from MLB to get involved in this process and find out what's going on.
"They've been a model organization, extraordinarily capable," Selig added. "Under this ownership, they've done everything in their power to make their ballpark situation work. They have a very, very, very competitive club. Years have ticked by with no progress to resolve the situation. And frankly -- and this is coming directly from me -- baseball needs a resolution to this problem."
Rays principal owner Stuart Sternberg hoped to have a deal with the city in place by the All-Star break allowing them to start looking into building a new facility elsewhere in the area. St. Petersburg officials are threatening lawsuits against any neighboring cities that even discuss a ballpark with the Rays.
"We just want to look at a number of spots in the Tampa Bay area," said Sternberg. "St. Petersburg has threatened to talk to anybody who talks to us. It's a free country -- we can do whatever we want to do -- but I guess it becomes a potential legal issue for anybody who wants to talk to us. Tampa, in particular, has decided not to because of the threats. We can't do the deep down dive to explore the situation because of this."
Sternberg said the club gets by financially thanks to revenue sharing, but other owners are starting to wonder how long it will take the franchise to become self-sustaining.
"That's very much open to question," he said. "The key here is to recognize that without the revenue-sharing dollars, we wouldn't even be able to compete or do what we're doing ... The other owners are looking at this and saying, 'How many years is this going to be? How much money is this going to be to a failing situation?'"
The Rays have played in Tropicana Field in St. Petersburg since the franchise began play in 1998. They are locked into a lease through 2027, and their annual rent is based on attendance. The club also must maintain the facility.
Selig declined to say whether relocating the Rays to another market was under consideration. The team went to the World Series in 2008 and has enjoyed six consecutive winning seasons in recent years.
Gallardo spent the first eight years of his career in Milwaukee

MLB revenues are at a record high right now, but teams aren't spending it on players

Chicago added Tyler Chatwood earlier this offseason but might not be done adding to the ro...
The Dodgers and Braves pulled off a whopper on Saturday

Sabathia will reportedly spend a 10th season in the Bronx

Fowler suffered a knee injury at Chicago's Guaranteed Rate Field