The Bobblehead Project: The Complete Collection
Here is the entire catalog of entries into the Bobblehead Project. It will continue to be updated with every future entry as well. Clip and save!
by

Eye on Baseball staff

• 9 min read
It all started back early in 2013, when the Eye on Baseball team and several editors came up with the idea and it evolved through brainstorm-like discussions. The team then discovered that we had an excellent artist in-house (Jarod Valentin) who loved the idea, and we were ready with our fun little project.
The Bobblehead Project launched on Feb. 22, 2013 with Billy Martin and Reggie Jackson arguing in the dugout.
Our purpose has remained the same. These aren't real bobbleheads, but imagined version of things we've seen in baseball that we hope will one day become bobbleheads. Some have been made since -- Wrigley Field gave out a Babe Ruth "called shot" bobble in 2014, for example -- and some will never, ever be made. If a bobblehead has already been done, such as Rick Monday's flag-saving bobble, we'll avoid it.
Below our complete catalog to date, with handy links so newcomers can catch up on any given day. Since the Internet is cool like this, we'll continue updating with each new entry. Basically, this landing page will always be an up-to-date home for every single Bobblehead Project entry in CBSSports.com's Eye on Baseball.
We hope you have enjoyed and will continue to enjoy the series. Definitely feel free to submit new entry ideas, too, but also please realize pretty much all the "obvious" ones have already been submitted, done or are boring. Give us something outstanding, creative and obscure to matt.snyder@cbs.com.
The Bobblehead Project: The Complete Collection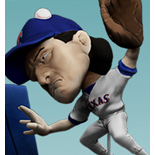 Jose Canseco takes a ball off the head, said ball goes over the fence for a home run. Almost all of us who were baseball fans in 1993 can still visualize the highlight of Canseco bumbling his way toward the Cleveland Stadium fence and making a fly out -- or at least a double -- into a homer for Carlos Martinez.
Billy Martin vs. Reggie Jackson in the dugout. As mentioned above, this was our first entry. Famously, during the 1977 NBC Game of the Week -- at a time when that's about all baseball fans could view on TV in a week -- Jackson appeared to not give his full effort on a Jim Rice blooper. Fiery Yankees manager Martin then pulled Jackson mid-inning from the field and the two had to be separated in the dugout.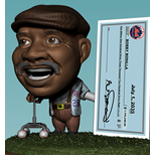 Bobby Bonilla cashing checks in 2035. This is still the personal favorite of at least one EOB staff member. Bonilla hasn't played in the majors since 2001 and not with the Mets since playing cards in the 1999 NLCS. But thanks to a deferral stipulation that came about when the Mets released Bonilla after the 1999 season, he's getting paid just under $1.2 million per year from 2011 through 2035! He'll be 72 then, so here's our imaginary bobble for him. Note the baseballs on the walker.
Derek Jeter and 'The Flip.' One of the defining TV highlights of the future Hall of Famer's career. Bonus: People who are sick of the play can argue about how overrated the bobblehead is!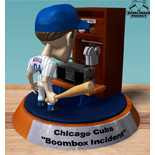 The Cubs/Sammy Sosa 'Boombox Incident.' Another very popular entry, it depicts an anonymous and angry Cubs teammate of Sammy Sosa's on the final day of the 2004 season, bashing Sammy's salsa-music playing boombox to pieces. No one has ever taken "credit" for doing so, but it happened.
Babe Ruth's called shot. Perhaps the most legendary -- and disputed -- single event in baseball history. As mentioned above, this one has now been made for real.
George Brett and the pine tar incident. Another legendary baseball moment, but what many don't realize is that Brett's home run was eventually upheld in protest and the Royals did win. Click on through for the bobblehead and the backstory.
Nolan Ryan vs. Robin Ventura. This one was by far our most-requested entry. In fact, one of the reasons we decided to create a post with The Complete Collection is that we still get this thing requested to be included in The Bobblehead Project.
Ty Cobb slides in spikes high. The Hall of Famer was known for many things, including his method of sliding into bases with a blatant and obvious attempt to spike the defender. The fun part of this one, I think, is the cloud of dust behind Cobb as he slides.
Jackie Robinson steals home in World Series. Will we ever see a player steal home plate in the World Series again? Maybe at some point, but it sure doesn't seem likely these days. Jackie Robinson did it against the vaunted Yankees in 1955, though backstop Yogi Berra believes Robinson was actually out.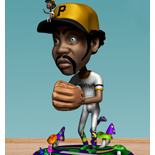 Dock Ellis' LSD no-no. Another great moment in baseball lore that was captured hilariously by our artist in fictional fashion. The most popular part among readers seems to have been the mini-Doc on the bill of his hat.
Greg Maddux takes the hill in his sweater. Hall of Famer and Hall of Fame prankster Maddux took a fun picture of himself in a rather "dorky" sweater. What if he pitched in it?
A-Rod as a centaur. Kind of self-explanatory, no?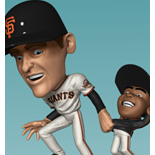 J.T Snow rescues Darren Baker. One of the enduring images of the 2002 World Series came when three-year-old bat boy for the Giants, manager Dusty Baker's son Darren, was a little too zealous in going to out to do his job. Snow made the save to prevent what could have been a very sad scene. Bonus here? Darren saw this entry and loved it. We have photographic proof.
Joba Chamberlain vs. the Midges in Cleveland. The bugs! My God, the BUGS!!!
Bobby Valentine in disguise. After being ejected, then-Mets manager Bobby Valentine went back into the dugout in a not-so-elaborate disguise of sunglasses and a fake mustache.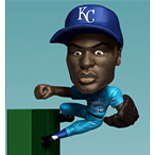 Bo Jackson scales the outfield wall. Who doesn't love Bo? We could never encapsulate Bo's incredible athletic ability in one bobble, but him running up the wall after making a great catch is certainly a start.
Izzy Alcantara kicks the catcher. Back in 2001, minor-leaguer Alcantara decided to charge the mound, but before doing so he karate-kicked the catcher in the chest protector in quite cowardly fashion.
Ted Williams, American hero. From a coward to the complete opposite end of the spectrum. Williams was a pilot with service in World War II and the Korean War. He actually saw combat in Korea, too. Given that we initially posted this on July 4, 2013, we figured we needed a patriotic element and Williams more than fit the bill.
Randall Simon vs. the Racing Sausage. The Brewers have a tradition that a group of "sausages" race during every home game. When Randall Simon and the Pirates were in town in July of 2003, he decided to hit one on the head with a bat.
Manny Ramirez gives five to fan during play. Manny Being Manny at his finest. Ramirez made a catch going toward the wall in Baltimore and before throwing it in -- there were baserunners on -- he gave a high-five to a fan in the front row.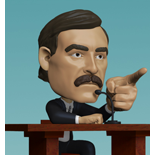 Rafael Palmeiro's Congressional bobblefinger. A favorite of the blog, it's baseball's version of "I did not have sexual relations with that woman." Right? Palmeiro famously pointed his finger in indignant fashion at Congress for having the audacity to ask him about performance-enhancing drugs. A few months later, he was suspended for using performance-enhancing drugs.
Kenny Lofton, trade deadline extraordinaire. Lofton stuck around for 17 seasons and played for 11 teams, even though he spent parts of 10 seasons with the Indians. He was also traded three times in July before helping his new team make the playoffs.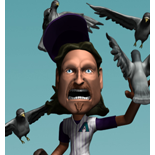 Revenge of the Birds. Remember when a Randy Johnson fastball shatterd a bird to smithereens in spring training? What if the birds all teamed up to get revenge on the Big Unit? This is what it might look like.
Commissioner Bud Selig shrugs, calls All-Star Game a tie. The 2002 All-Star Game in Milwaukee was actually an outstanding game, up until it was marred by both managers running out of pitchers and Selig being painted into the corner where he had to rule it a tie. His shrug says it all.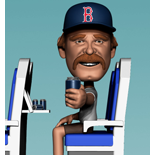 Wade Boggs consumes 'a few Miller Lites' on a cross-country flight. Long part of sports talk radio lore, Boggs supposedly drank 64 (or 70 ... or 80 ... or more) beers on flights across the country, namely from Boston to Seattle in his Red Sox days. He's disputed it was that many, though former teammates Jeff Nelson and Paul Sorrento once told a radio show it was between 50 and 70.
Eddie Gaedel steps in the batter's box. Back in 1951, publicity-stunt man Bill Veeck signed little person Gaedel to take the plate and draw a walk. With the number of 1/8 on his back, Gaedel did just that, in four pitches.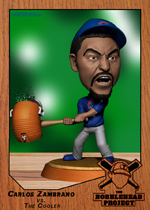 Carlos Zambrano vs. a cooler. Back in 2009, the, um, intense Cubs hurler let loose with one of the great tantrums in recent memory when he faux-ejected the home-plate umpire, attempted to throw a ball over the outfield wall (which was unsuccessful) and then took a bat to the Gatorade dispenser in the Cubs' dugout. Having him take out a generic cooler would make for a great bobble. 
President George W. Bush with a post-9/11 thumbs up. We ended up having an entry on 9-11, so we figured it was only fitting to attempt to do justice to the first pitch that our nation's president made before Game 3 of the 2001 World Series, in which he fired a perfect strike from atop the mound. It was perfect. Anti-Bonus: The comments section turned into a political argument. Man, we can't enjoy moments, can we?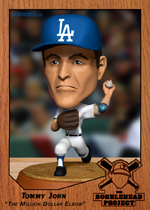 Tommy John's 'Million Dollar Elbow.' 2014 is turning into the year of the Tommy John surgery, which isn't exactly a cause for celebration. Still, it is worth celebrating that Tommy John himself was the guinea pig for the pioneer Dr. Frank Jobe and cleared the way for hundreds of players in the future to have their careers extended in light of likely career-ending injuries -- if not for the surgery.
Lloyd McClendon 'steals' first base. After apparently declaring that the umpires weren't using first base, so it didn't need to be there, ejected Pirates manager McClendon took first base with him back to the clubhouse on June 26, 2001. An all-time classic move by a manager in the midst of a meltdown.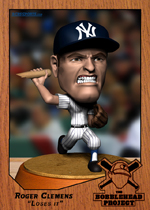 Roger Clemens thinks the bat is the ball. Or at least that's what he wants us to believe. It was Game 2 of the 2000 World Series between the Yankees and Mets when Mike Piazza's broken bat found its way to the pitcher's mound. Clemens immediately fielded the bat and threw it toward Piazza. When things got a bit feisty, Clemens started screaming that he thought it was the ball. Regardless, that moment has lived in baseball lore for a while, and now it's a Bobblehead Project entry.
Earl Weaver, kicking dirt. The late, great Earl Weaver was just as legendary for his tantrums toward the umpires as he was for his excellent managerial track record. So we pay homage to him with this bobblehead -- which includes some dirt-kicking fun.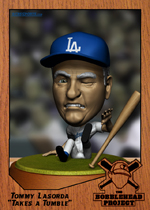 Tommy Lasorda takes a tumble. At the 2001 All-Star Game -- mostly known for Cal Ripken's home run/swan song -- an errant bat sent the Dodgers' legendary manager Tommy Lasorda head over heels. Blame (or thank) wild-swinging Vladimir Guerrero for probably the second most well known highlight of this Midsummer Classic. 
'Blauch Head' argues at wrong time. Remember when Chuck Knoblauch argued instead of trying to find the loose baseball and it helped the Indians score the go-ahead run in extra innings? We commemorate it here.
Keep coming back, because the Bobblehead Project will continue for the foreseeable future, though there's no regular schedule.
The Giants rotation is suddenly in shambles after injuries to Bumgarner and Jeff Samardzij...

Wright gets 15 games while MLB ruled there was insufficient evidence in the Sano case

Cabrera said that he's been like that his entire career, which makes it better?
The Phillies haven't had a winning record since 2011, but are they primed for a turnaround...

Souza is tasked with replacing J.D. Martinez in the Arizona lineup

Samardzija had the MRI done on Thursday following a poor start