The steroids question: Mark McGwire's Hall of Fame case
Mark McGwire put up Hall of Fame power numbers but confessed to using PEDs. Where does that leave the voter?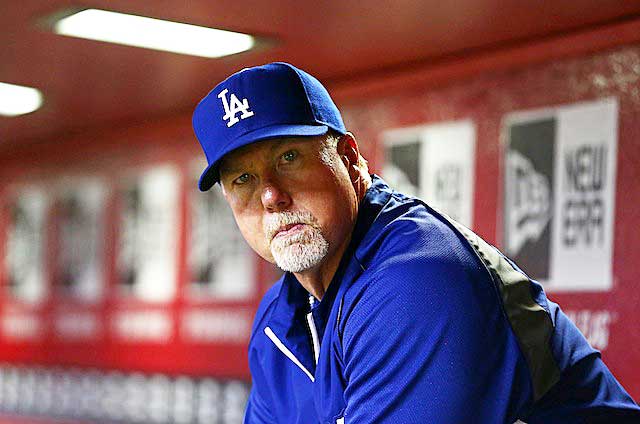 Hall of Fame cases: Luis Gonzalez | Moises Alou | Lee Smith | Fred McGriff | Don Mattingly | Jack Morris | Rafael Palmeiro | Sammy Sosa | Edgar Martinez | Jeff Kent | Alan Trammell | Larry Walker
The BBWAA Hall of Fame announcement is Jan. 8, so we've been busy analyzing each of the Hall of Fame candidates individually.
The idea is simple: we'll attempt to paint an argument for each player being a Hall of Famer and then create an argument why the player is not. Some will be easier than others but most are not obvious. When we're done, you can decide for yourself if the player is Cooperstown-worthy.
Today we cover slugger Mark McGwire.
THE BARE ESSENTIALS
Across parts of 16 seasons for the Athletics and Cardinals, McGwire batted .263/.394/.588, which is good for an OPS+ of 163. Along the way, he tallied 1,626 hits; 583 homers; 1,414 RBI; 1,167 runs scored; 1,317 walks and 3,639 total bases. McGwire was a 12-time All-Star, and five times finished in the top 10 in the MVP balloting. As well, he won three Silver Sluggers and a Gold Glove in 1990. McGwire is 10th on the all-time home runs list. 
THE CASE FOR INDUCTION
Simply put, McGwire's case lies in his astounding power outputs. As noted, he's 10th on the all-time homers list, and his career SLG of .588 ranks eighth. Moreover, Big Mac is the career leader in at-bats/home run with an astounding mark of 10.6. Yes, McGwire played during a high-offense era, but his OPS+ of 163 (which is adusted to reflect home park and league conditions) ranks 13th all-time. In other words, McGwire was an elite offensive performer in any era. 
I've often seen McGwire pilloried as a "one-dimensional" hitter, meaning, presumably, that he didn't compile many base hits and batted only .263. That, however, is a very narrow reading of his skills. Actually, McGwire excelled at the two most important things a hitter can do: getting on base and hitting for power. As noted, his SLG is among the best ever, and his career OBP of .394 ranks 81st all-time. Sure, the base hit total is quite low by Hall standards, but McGwire ranks 40th all-time in walks. Put those hits and walks together, and McGwire's 3,018 career times on base is in the top 200 all-time. 
In terms of peak value, four times he led the majors in homers, and he led the bigs three times and twice in slugging and OBP, respectively. Another three times he paced MLB in OPS+. In terms of WAR, McGwire eclipsed the 5.0-win mark in seven different seasons. Famously and then infamously, McGwire held the single-season home run record from late 1998 until late 2001. 
For some broader perspective, here's a listing of the stats in which McGwire ranks in the top 100 all-time: Offensive WAR (74th), OBP (81st), SLG (8th), OPS (10th), home runs (10th), RBI (70th), walks (40th), OPS+ (13th), extra-base hits (91st), sac flies (98th), intentional walks (46th), AB per HR (1st), Win Probability Added (27th), putouts as 1B (49th) and assists as 1B (45th). 
THE CASE AGAINST INDUCTION
First and foremost, McGwire's history of PED use stands against him. McGwire is a rarity, in that he's an admitted PED user on the ballot. On Jan. 11, 2010, McGwire first publicly acknowledged his past use of banned substances:
It's worth noting that anabolic steroids weren't formally banned by MLB until 2002, and McGwire's use of them, of course, predates that policy (he retired following the 2001 season). Still, that admission of using an illegal and later banned substance known to enhance strength and, by extension, some aspects of athletic performance, is enough to disqualify an already borderline candidate in the eyes of many. In this instance, the proof is in the ballots: McGwire in seven years of eligibility has never been named on more than 23.7 percent of BBWAA ballots, and last year that figure cratered to 16.9 percent. 
In the absence of any steroids taint, would McGwire be a Hall of Famer? His low batting average, high strikeout totals and low hit tally would no doubt turn off many voters, but the magnitude of his power bestowals would seem enough to get him over the 75-percent line after a couple of years on the ballot. Things as they are, though, it's difficult to envision McGwire's ever getting in. After all, a substantial voting bloc takes a hard-line stance on PED use -- verified or even suspected -- and if Barry Bonds can't overcome those inclinations, then a lesser player like McGwire certainly isn't going to. 
Monday: The cases for and against Tom Glavine.
Marcell Ozuna figures to be the next Marlins star on the move

Several relievers have signed in the last two days

Several teams are interested in the switch-hitting first baseman
Neshek and the Phillies are closing on a two-year contract

And the team that first drafted Cole is interested

This scout was SUPER into Jeter