Victorino: What 2012 Phillies missed was Utley, Howard
There's been a lot of talk this week about the 2012 Phillies lacking leadership. What they really lacked, as ex-Phillie Shane Victorino said Saturday, was a full season and presence of Chase Utley and Ryan Howard.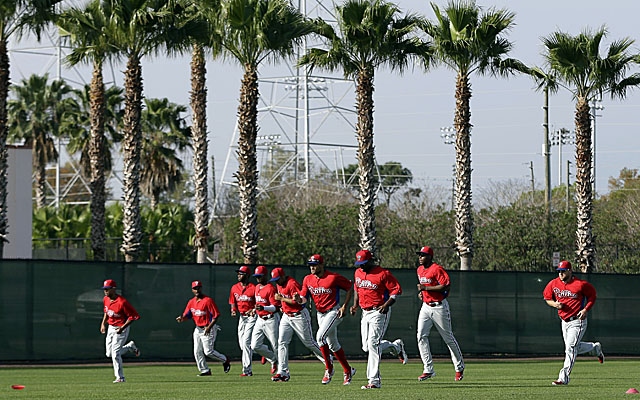 Phillies players warm up at spring training camp in Clearwater, Fla. (AP)
FORT MYERS, Fla. -- Call it what you want, but something was missing from the Phillies last year, and they all knew it.
You can call it leadership, as Jonathan Papelbon did this week, first in an interview with Mandy Housenick of The Morning Call.
You can call it identity, as Jimmy Rollins did when he spoke to reporters to discuss Papelbon's comments.
Or you can simply use the names, as Shane Victorino did Saturday morning in Red Sox camp.
You want to know what the 2012 Phillies were missing?
It's very simple. For too many weeks, they were missing Chase Utley and Ryan Howard.
Victorino, who was traded to the Dodgers at midseason and signed with the Red Sox as a free agent over the winter, has been following the leadership saga with interest.
"I get what those guys are saying," Victorino said. "But [the Phillies] are going to be fine."
Like the Red Sox team that Victorino joined, the Phillies weren't fine last year, finishing 81-81 and seeing their streak of five straight division titles end. Neither Howard nor Utley was able to play a game before late June, and the Phillies were 10 games under .500 before the two were first in the lineup for the same game.
"Early on, we all tried to deny that missing Ryan and Chase was a big thing," Victorino said. "But it was. We all tried to deny it, saying we'd be fine, but at the end of the day it bit us in the butt.
"Chase is a leader by who he is. He has that leadership presence. Ryan is who he is, a little more vocal. You take them out of the clubhouse, take them off the field, it makes a difference."
The off-field part of that difference can be tough to quantify, and perhaps tough to explain.
"It's the feel of the team," Victorino said. "The leadership part, I get what they're saying, but it's the feel. Not having those guys present is what it was. It's not so much leadership, as in someone taking the bull by the horns. It's the feel of the club."
Victorino has heard the reports that Utley and Howard are progressing well this spring, and that's why he feels comfortable in his prediction that the Phillies "are going to be fine."
He's hoping they will be.
"I hope we see them in the end," Victorino said.
And, yes, by "the end," he meant the World Series. Plenty of people will doubt that either the Phillies or the Red Sox can get there.
It will take more than leadership, in both cases.
In the Phillies' case, it will no doubt take full seasons for Chase Utley and Ryan Howard.
Does the Jackson signing mean the Giants are out on Lorenzo Cain?

Acuna edged out Shohei Ohtani and Vladimir Guerrero Jr.

There's no reason to run over the cases for and against Bonds, so let's have fun instead
The coveted right-hander would certainly be a fit in Milwaukee

We rate the best mustaches from random baseball cards because, why not?

Colon wants to break a Dennis Martinez record