VIDEO: Juan Lagares ranges far into the gap to make a diving catch
Mets outfielder Juan Lagares showed off some serious range with a diving catch on Thursday.
MORE: Predictions | Spring Training | Scoreboard | Team previews
Juan Lagares played 121 games for the Mets as a rookie last season, and during that time he established himself as one of the best outfield defenders in all of baseball. His highlight reel on MLB.com is full of fancy glovework, and on Thursday he added this ridiculous diving catch to collection:
Look at that range. Geez. Here is a helpful screen grab: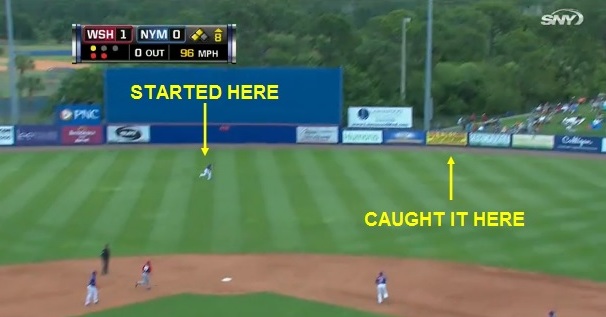 Ridiculous.
Know what else is ridiculous? Lagares might not even make the team. Apparently the decision is between him and Eric Young Jr. for the backup outfield job. C'mon, Mets. Don't screw this up.
The World Series champions aren't complacent

Stanton swiped at his old team on his way out

Your one-stop shop for all things MLB Winter Meetings-related
Matt Harvey could be on his way out of New York

The Nationals are looking to improve on the edges of their roster

Ellsbury is due at least $68 million over the next three seasons