Weekend Buzz: Last-minute flurry of deals could change October
Ranking the waiver deadline deals -- Justin Morneau, Michael Morse, John Axford, Michael Young, Jason Kubel -- on a scale of zero-to-four Cody Rosses. Plus the red-hot Rangers and Dodgers, Yasiel Puig's throw and David Price's wild ride. ...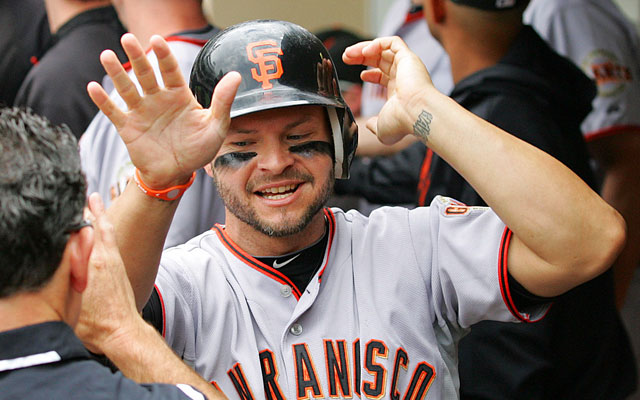 The Weekend Buzz while you were closing the calendar on August, fine-tuning your knowledge of the new school schedule and, more importantly, those pesky waiver trade rules. …
1. Weekend trade flurry: The clock ticked, October crept closer and a handful of players squeezed through waivers. Much as general managers of contending clubs labored through Labor Day Weekend, though, there were no OMG blockbusters that nearly rattled baseball off of its axis, like last year's Dodgers-Red Sox doozy.
That, however, doesn't mean that the tides of October haven't already shifted before your very Miley Cyrus-damaged corneas, however imperceptibly. Look at what happened with the Giants last year. They scooped up infielder Marco Scutaro in a totally under-the-radar deal with Colorado – in July, not August – and no way do they win the 2012 World Series without that deal.
Scutaro, who was the choice of exactly no one to become the Future October Hero in San Francisco, turned into the NL Championship Series Most Valuable Player. No way the Giants win last year's World Series without him.
That's a recent example. Want an August waivers example? Look no further than, yep, San Francisco (what is Giants GM Brian Sabean, some sort of modern Svengali?).
It was the Giants who scooped up outfielder Cody Ross off of waivers on Aug. 21, 2010, only in an attempt to block the Padres. Here, the Marlins said. Take him. So the Giants did, even having no place to play him.
So Ross, who was the choice of exactly no one to become the Future October Hero in San Francisco, turned into the NLCS MVP. No way the Giants win the 2010 World Series without him.
Is there a Ross in this weekend's batch of waiver deals? No guarantees … but here are four deals from the past few days ranked in order of importance on a scale of 0-4 Cody Rosses:
• Three Cody Rosses: Justin Morneau to the Pirates. The Buccos have been kicking Morneau's tires for more than a year and say they went over budget in finally acquiring him, agreeing to pick up the $2.3 million he's owed for the rest of this year. Good for them. It's not a long-term commitment, and Morneau's lefty bat – he had nine homers in August – can pick up where Garrett Jones ' hasn't. Pittsburgh is all-in with Morneau and Marlon Byrd , acquired from the Mets last Tuesday, and that is a picture about as beautiful as those shots of the river and city from PNC Park.
• Two-and-a-half Cody Rosses: Michael Morse to the Orioles. Maybe Morse's sweet spot is in the D.C./Baltimore area. It sure wasn't in Seattle. The O's need more pop, no question, and Morse already helped on Sunday. Maybe he's the magician who can make the Yankees disappear.
• Two Cody Rosses: Michael Young to the Dodgers. He has a far better chance in Los Angeles to be what the Phillies hoped he would be than he ever did in a disappointing Philadelphia season. Namely, a supporting cast member who can contribute here and there to a dominant core. A proven winner in Texas and a terrific clubhouse presence, Young will help out at third base (spotting Juan Uribe ) and first ( Adrian Gonzalez ).
• One-and-a-half Cody Rosses: John Axford to the Cardinals. Two years removed from leading the NL in saves, there is no reason Axford can't recapture his old juju – especially, perhaps, when viewed by the new eyes of the Cardinals' coaching staff. St. Louis' bullpen has allowed the lowest percentage of inherited runners to score (22.9) of any pen in the majors. And GM John Mozeliak is proven adept at delivering key bullpen pieces. Octavio Dotel , Mark Rzepcynski and Arthur Rhodes each was a midseason addition in 2011 and helped the Cards win the World Series.
• Half-a-Cody Ross: Jason Kubel to the Indians. Gotta love Cleveland for continuing its hard push forward this year, from hiring manager Terry Francona to acquisitions like Michael Bourn , Nick Swisher , Jason Giambi and, now, Kubel. But as the Tigers, who have absolutely owned the Indians this summer, emphasized over the weekend: It ain't gonna happen for Cleveland this year.
2. Texas heat: If you're the Athletics, you're figuring the Rangers are going to cool down one of these days, right? Manager Bob Melvin and hitting coach Chili Davis again have the A's pointed in the right direction, but the Red Hot Chili Dawg's club can't match Texas' having won a Dodgers-like 23 of their past 30 games into Sunday. That's the best record in the AL since July 29. The A's can begin to reverse fortune in an enormous three-game series with the Rangers in Oakland beginning on Monday night.
3. LA heat: The only reason Texas' ridiculous 23-7 record since July 29 is not the best in the majors is because the Dodgers are an even more ludicrous 24-7 since that date. Anybody for a Rangers-Dodgers World Series?
4. Yasiel Puig : He hits, he runs, he throws, he thrills, he aggravates, he excites … he is Must-Watch TV, and if you didn't see this play from Saturday night, you must see it now. It immediately brings to mind two questions: A) What, Rene Rivera is still in the majors? And, B) Is there anything Puig can't do?
5. Reds will recall Billy Hamilton: He's on deck to become the most intriguing base-running specialist since Herb Washington in Oakland in 1974. Beep, beep … don't miss him.
6. Miguel Cabrera 's abdomen: Quiet weekend for Miggy, who may be harboring the abdominal issues heard 'round the world if they sabotage his effort to win a second consecutive Triple Crown. Current scoreboard: Orioles' Chris Davis 47 home runs, Cabrera 43.
7. David Price 's Wild Ride: Were you tracking him on Twitter Friday? Nobody told him the Bay Bridge was closed, and as he tried to get from the Rays' San Francisco hotel to the O.co Coliseum in Oakland, he picked the wrong cab. Random excerpts from the Tampa Bay ace's Twitter play-by-play:
"Hour ride from our hotel in San Fran to Oakland coliseum since the bay bridge is closed...nice timing!! Expensive ride..."
Then: "Already an hour down on this ride to Oakland coliseum...my phone says I have a solid 40 more...safe to say I'm not in the best mood now"
Then: "Only 10 more miles of bumper to bumper traffic!!"
Then: "ha $202 dollar ride today....EEEFFFFFF that"
And finally: "Don't worry I have a helicopter rented for tomorrow!! I'll get to the field in an estimated time of 8 minutes 24 seconds"
8. Off-season knee surgery for Bryce Harper ? Good thing is, he can get it done quickly and start early on his rehabilitation. He's got the month of October open.
9. Joe Mauer working way back from concussion: We can already see the future: The Twins will deal him to Pittsburgh in a few years, right?
10. September roster expansions: The no-brainer rule that is coming, that should have been invoked yesterday, is this: Rosters freeze at (pick a number) every single evening. Maybe that number is 30. Now, each club can call up as many minor-leaguers as it wants in September … but before each evening's game, it must designate which 30 are active for that particular game. The rotation stays intact (and active). Is that so hard? Now everybody wins – clubs can look at minor leaguers (as they should), and important stretch-run games are not allowed to turn into 14-pitcher affairs.