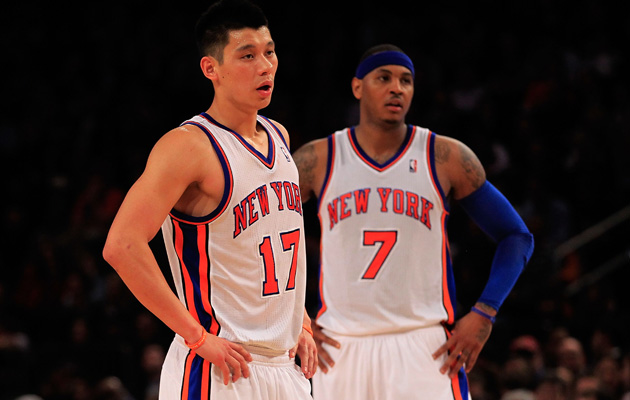 Carmelo Anthony and Jeremy Lin are still learning to work together in the Knicks offense. (Getty Images)


The big question, once Jeremy Lin emerged as a force for the New York Knicks, was how Carmelo Anthonywould  fit in with the team. The Knicks succeeded with Lin running the ship by having great ball movement, equal distribution, by running the pick-and-roll and by having synergy on the floor. Melo's reputation doesn't much jibe with that.

The idea that gets pushed around is that he's selfish, which is hyper-simplistic and off-base. Anthony is not out there lustily chasing after field-goal attempts. He wants to win, but he also has a very specific skill set he feels helps his teams win. Operating in isolation, taking his man and scoring, is part of that skill set. OK, it's about 80 percent of that skill set. With Lin taking over, Melo made a very strong showing of saying how this was Lin's team to run, and that he was willing to adjust his game however necessary, despite Kobe Bryant pushing him to do the opposite, to keep gunning, essentially. 

It hasn't worked out great. Since returning from injury, Anthony has scored 125 points on 120 shots. Efficient that ain't. He's shot 40.8 percent from the field. He's averaging 17 shots per game, which is down over one shot per game from his 2012 average, and down nearly three from this high last season of 19.9. To review, he's taking fewer shots, hitting fewer and barely scoring more points than his number of attempts. 
That's bad. 
The answer as to what's going on with Anthony isn't simple. It's not "he's selfish" or "Mike D'Antoni doesn't know how to use him." The fact that he and Lin, along with J.R. Smith and Baron Davis, haven't really worked together at all and there's no practice time in this nutso schedule are part of it, but not all. Some of it has to do with how the Knicks are using him, and how he's operating in that role. 
Anthony seemed to say as much about the transition from playing on-ball to off-ball after the loss to the Mavericks this week. From the 
New York Post
:
"I think any time you go from the early part of the season and having the ball and distributing and now waiting for it to come to me, it's quite an adjustment for myself,'' said Anthony, a minus-18 and 0-for-3 from 3-point range.
via  Knicks lose to Mavericks; Anthony has 6 points - NYPOST.com.

Anthony rebounded to a degree with a strong effort against the Spurs, shooting 12-for-24 for 27 points,  but again the efficiency is lacking and there still were few instances of clear chemistry between him and the rest of the offense. So what's the answer? How have the Knicks used Anthony well in this stretch and how could they use him better?
Let's start with Melo suffering with doing what it is he's known to do, going ISO.  
In the clip above, Melo's bringing the ball up court in the role of "point-forward," much like LeBron James. You'll notice the Mavericks are defending him much the same way as they did James in the playoffs. Rick Carlisle talked a lot about "defending LeBron with five guys" in the finals. It's not just that the other players are ball-watching, it's that Jason Kidd and Ian Mahinmi are both turned towards Anthony in anticipation. Here Anthony gets the foul, but he's still trying to drive past and through three defenders primed on him. That's a low-percentage situation. 
We see the same thing in the following snapshot later on. By starting the offense here, you're limiting how Melo can impact the play. He would wind up driving and kicking to Lin (again, not selfish), who missed a three. But instead of getting the defense moving and out of its set, it's basically, "Melo does something and hope that the defense overreacts." Notice how the Mavericks are primed against him before he even initiates.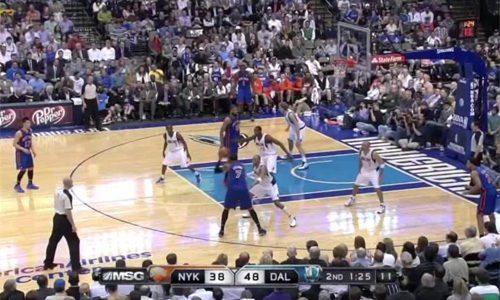 But the bigger issue is that when Melo's not going ISO, he's doing a lot of floating on the perimeter and isn't getting involved in the offense at all. It's not that he has to have the offense run through him every time, it's that if it's not, he's not doing much to allow for the possibility for it to. 
Observe:  
Notice how almost all of the off-ball action and interaction with Lin is on the right side of the floor and Melo is stationed on the left. We see this time and time again throughout the games against the Mavericks and Spurs, with Anthony essentially parked on the perimeter. It's not that he has to be involved in every play, shoot every play, or even tough the ball every play. It's that when he's not, there's very little going on to create anything else, which is a waste of both his talent and the attention that talent draws from the defense. A few more examples of what we see with Melo floating as Shawn Marion gets the rare easy assignment work on Anthony.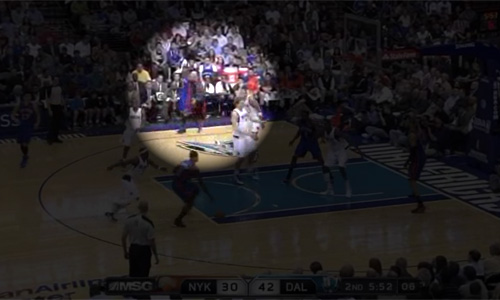 And again: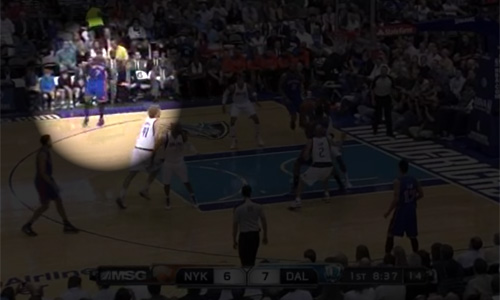 The above is an example of what the Knicks have run a ton of, which is pick-and-roll with Lin and either Amar'e Stoudemire or Tyson Chandler. Both are excellent pick-and-roll players and should be used extensively. But here we see the defense collapse to overreact to the entry pass while Carmelo Anthony, a tremendous perimeter shooter, just kind of hangs out. The defense isn't expecting the ball to go anywhere else once Chandler or Stoudemire releases. Either Lin will shoot, drive and shoot, or throw to the roll man. Meanwhile, one of the best offensive players in the game could read his Kindle if he wanted to. On this play, Chandler lost the ball on a turnover. 
Here's another example, except that this time Chandler gathers and dunks it. But still, look at the spacing Anthony has.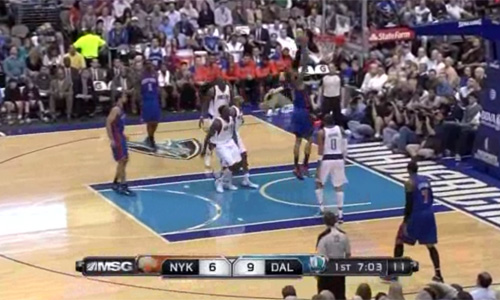 Again, the Knicks get points out of it, so how can you complain? But the point is more that this is indicative of a trend with the Knicks, where if Anthony's not the initiator, in large part the play does not involve him, nor is he creating additional opportunities. By planting him on the weakside perimeter, you're also limiting his considerable rebounding ability. 
Now, the Knicks have seen what can happen when they employ Anthony well. We saw a lot of it against the Boston Celtics on Sunday. Here's a great example of the good that can happen when one of the best offensive players in the league takes advantage of the attention Jeremy Lin and the pick-and-roll with the bigs is creating.  
Using Lin as the screener, getting Anthony moving to the basket without the ball, using Chandler as a pinch passer. Wham. Two points and a highlight, thanks for coming. We saw a lot of this against the Knicks and it was effective a high percentage of the time. We see again the Knicks using Melo on the move on the inbounds and again it working out for two easy ones. 
Maybe the best example, though, is this layup in traffic to take the lead against the Celtics. 
Notice the Celtics using their triangle pick-and-roll defense and how that impacts the spacing. At the five second mark of the clip, Chandler releases just as Kevin Garnett comes to help on Lin's drive. That forces Pierce to help off to cover Chandler as the roll man. When Pierce tries to recover on Anthony, he's out of position, forced to gamble for the pass, and that gives Anthony the lane to get into traffic. You want to use a tremendous athletic talent like Anthony without involving him in the pick-and-roll? That's a damn fine way to do it. 
Now, these are specific examples of what has and hasn't worked with the Knicks, but that isn't to say it's as easy as getting Anthony moving and the points will come, or that him waiting for the kickout isn't a good idea. But we see a trend where Anthony is either singularly involved in the playset or relegated to a fringe element. The former is a waste of the improved talent around him and what the Knicks have shown when they play with chemistry, and the latter is a waste of Anthony's singular talent.
It will take time, it will take effort. But these first seven games have shown that the Knicks can be successful with Anthony if they use him the right way. Getting him to understand how to do that and implementing him in the right way is a challenge for Mike D'Antoni. D'Antoni and this roster is as much of an odd fit as Anthony with the Lin machine. There's a reason talk continues to churn regarind a potential change on the sidelines this summer at Madison Square Garden. D'Antoni, for his part, is encouraging Anthony to stick with it, and seems to recognize the issue is getting guys in the right spots, not some magical question of attitude or selfishness. 
"I understand the frustration," D'Antoni said before the Knicks faced the Spurs last night. "We just got to work through it. It's a combination of everything. We as a team have to find better spots for people. People that have the spots have to play better. I think everybody's a little frustrated. Via Newsday:

"We have to find that sweet spot, where he's going to be our leading scorer, there's no doubt about it. He should take more shots than anybody, there's no doubt about it. We have to find that sweet spot and get everybody unfrustrated and get them on the same page and work through that."
via  Mike D'Antoni wants Carmelo Anthony to work past frustration|Newsday.
Turns out after all that drama last year, getting Anthony was the easy part. 
The trick is figuring out how to make him fit on this specific team.