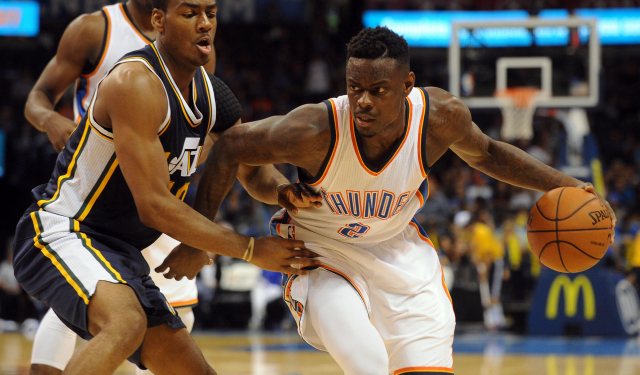 Oklahoma City Thunder guard Anthony Morrow sprained his left MCL during Thursday's practice, the team announced on Friday. He'll be re-evaluated in a week, but is expected to miss four to six weeks, via ESPN. A role player getting hurt usually wouldn't be a huge deal, but given the state of the Thunder's roster, this is cause for concern.
It looks like Morrow, reigning MVP Kevin Durant (right foot) and rookie Mitch McGary (left foot) will all be out for the first month of the season. As a result of Durant's injury, there was a chance Morrow could have been in the starting lineup. He had started the last three preseason games.
You can probably assume Thunder head coach Scott Brooks will go with Andre Roberson in the first unit next to Russell Westbrook, Serge Ibaka and Steven Adams. Roberson, a defensive-minded wing in his second season, should be capable of doing a Thabo Sefolosha impression. He is not a floor spacer at all, though, which is why the sharpshooting Morrow would have been a good fit next to him. Assuming he gets the nod, Brooks has three options for the final spot: Reggie Jackson, Perry Jones III and Jeremy Lamb.
Jackson is the obvious pick. He's the best of the bunch, he started in the conference finals against the Spurs, he has been vocal about the fact that he wants the role. I'd be quite surprised if it's anybody else, but Brooks has surprised me before. The rationale for bringing him off the bench is simple: Oklahoma City is now extremely short on depth, and he would provide some scoring punch with the second unit. 
Jones is the choice if Brooks wants to focus on defense. A Westbrook-Roberson-Jones-Ibaka-Adams lineup is long, athletic and fast. The Thunder would lean on Westbrook and Ibaka offensively at the start of games, and Jackson would still be able to get starter's minutes coming off the bench. If Jones can hit 3s consistently, that would help.
Lamb is the most intriguing option, but he's the dark horse. In theory, he's a long, dynamic scorer who can make long-distance shots. Brooks has been inconsistent in how he's given him playing time, though, so it seems unlikely that Lamb will wind up with this kind of opportunity. If he does and it works, it'd be huge for his confidence. If he does and it doesn't work, that might be it for him in terms of cracking the rotation and making good on his potential in Oklahoma City.
All three of these guys should see significant time with Morrow injured, and there will also be additional pressure on Westbrook. While the Thunder are still title contenders and should be fine if they're healthy come playoff time, this preseason has them looking weaker and weaker by the day.