Bulls sign Marco Belinelli
Bulls are "close" to signing reserve shooting guard firebug Marco Belinelli.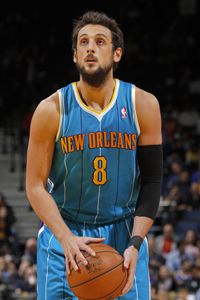 The Bulls are reportedly closing in on signing Belinelli.
(Getty Images)
Update 6:30 p.m.: Ken Berger of CBSSports.com reports that the deal is done, with Belinelli joining Chicago for one yeat at $1.96 million in the bi-annual exception.
The Chicago Tribune reports that the Bulls are "close" to signing free agent guard Marco Belinelli to "augment (their) bench." 
Bellinelli averaged just 14 points and 3 rebounds per 36 minutes on 42 percent shooting last year. He's primarily an on-the-ball streak shooter, but the Bulls are in need of guards who can produce off the dribble after letting both C.J. Watson and John Lucas III go after promising seasons. Belinelli struggles defensively, but that's the beauty of Tom Thibodeau's system. It makes good defenders great, average defenders good, and bad defenders "not terrible." 
Belinelli was actually a decent pick-and-roll defender last season in New Orleans, and only really struggled in isolation situations, which are limited by the help defense Chicago brings. 
He's a terrific spot-up shooter as well, which is what he'll be primarily used as with the Bulls. It's hard to argue Belinelli's an improvement over Watson or Lucas, but it's also hard to argue he's much of a dropoff. A solid addition, should the Bulls go through with signing the Italian star.
Keep it right here for all the latest updates from around the NBA

Clark was shot by police in his grandparents' backyard Sunday night in Sacramento

After a strong start, the Magic are heading to the lottery yet again
This is not what Danny Ainge envisioned when he signed Gordon Hayward and traded for Irvin...

The Spurs recently held a team meeting in which Leonard was questioned about when he would...

Giannis sprained his ankle during the Bucks' loss Wednesday night to the Clippers