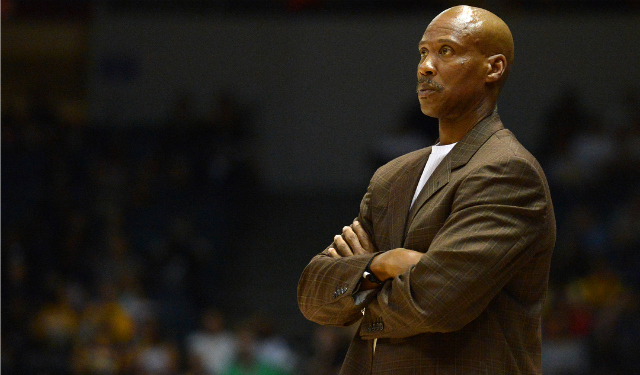 Apparently it's Byron Scott day. We've looked at just how extreme the Los Angeles Lakers have been in avoiding 3-pointers this preseason, covered Scott being upset at his players' effort level and discussed the potentially disastrous situation in our podcast. Also, at Lakers practice on Friday, the head coach was asked about his philosophy on 3-pont shooting:
I asked Lakers coach Byron Scott about his philosophy on 3-pointers. "I don't believe it wins championships. (It) gets you to the playoffs."

— Baxter Holmes (@BaxterHolmes) October 17, 2014
My, my, my. That's a pretty incredible statement considering what we saw from the San Antonio Spurs last season and the Miami Heat the two before that. In today's NBA, pretty much every organization has accepted that the 3-pointer is an extremely valuable weapon. Not everyone loves this -- Spurs head coach Gregg Popovich said a few months ago that he wished all shots were worth two points -- but everyone understands that it's how you win. Except Scott, I suppose.
There's irony here in that Scott was himself a good 3-point shooter as a player. Twice, he averaged about seven 3-point attempts per game over the course of a season. It's also unfortunate because, while the Lakers don't have a lot of strengths, this is a roster that could conceivably be decent from downtown. Oh well. 
We'll leave you with a couple of fun facts from ESPN's Baxter Holmes:
In their last 3 preseason games, the Lakers are 1-19 from 3-point range, including going 0-8 in last 2 games, losses by a combined 74 pts.

— Baxter Holmes (@BaxterHolmes) October 17, 2014
Seven of the past eight NBA champions led all playoff teams in 3-point attempts and makes.

— Baxter Holmes (@BaxterHolmes) October 17, 2014