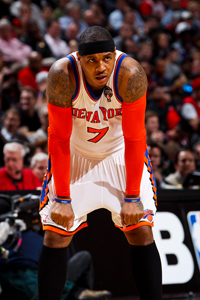 Carmelo Anthony is not happy with the Knicks' losing streak and how he's being used.
(Getty Images)
Maybe things will get better. Maybe not. But if they don't, let the record show that the lesson is never let Isiah Thomas get involved. 
The Knicks put in a good effort against the best team in the East Monday night, but it wasn't enough to stop the bleeding as the Knicks lost their sixth straight. More pressingly, the continued unraveling of the Knicks' chemistry and locker room togetherness proceeded to the next level as the New York Post reports that Carmelo Anthony is unhappy with both his teammates and his coach, to the point of sitting out of a huddle in the third quarter. 
Anthony sat by himself after the third quarter as the rest of the team gathered around D'Antoni. Anthony was one of the victims as the Knicks got bludgeoned on the boards, 56-38, allowing 22 offensive boards, which proved the killer in a tight fourth quarter, to the top-seeded Bulls (35-9).

Anthony said he often doesn't join the huddle after being taken out, but admitted he's unhappy. The Knicks are 2-8 since he returned from injury.

"It [stinks] right now,'' Anthony said. "It's hard to stay upbeat the way we're losing. Right now times are tough. I'm not going to get through it myself. It's late in the season. Our backs are against the wall.''
via New York Knicks fall out of playoff position with sixth-straight loss to Chicago Bulls - NYPOST.com.

Melo clapped angrily at Landry Fields for not passing to him at one point and said he was angry about hustle plays. Amar'e Stoudemire is also pointing fingers, saying the team isn't prepared enough.

Melo specifically point out the 22 offensive rebounds for the Bulls being unacceptable. That would sure seem like a jab at Stoudemire who was routinely beaten to the ball by Taj Gibson.

Remember when Jeremy Lin took over and the Knicks were winning? What happened? In unrelated news, Carmelo Anthony has been back for two weeks.

The reason this news is relevant is that the further Anthony gets away from happy, the more Mike D'Antoni's job is in jeopardy. That organization belongs to Melo now. He's going to get what he wants. Making him happy is going to be their priority. Everything could point to Melo being the problem (it doesn't, the Knicks' defense has slid, Landry Fields isn't playing well, Lin's not scoring efficiently and Stoudemire's just bad for long stretches) and he still wouldn't be getting an organizational re-evaluation.