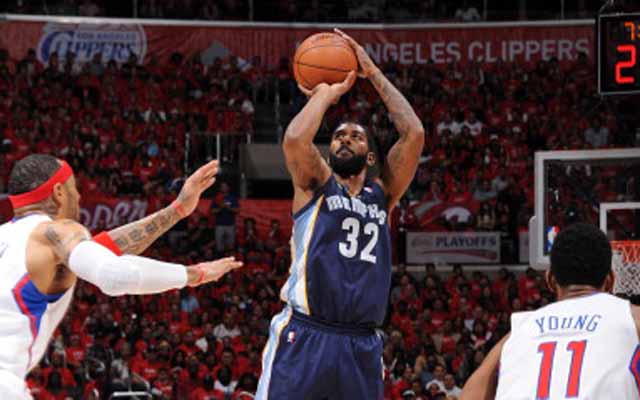 Too much of this for the Memphis offense.
(Getty Images)
Only eight teams in NBA history have come back from down 3-1 to win an NBA playoff series. Considering the luck of the Memphis Grizzlies in the first four games of their series with the Los Angeles Clippers, it's not looking good for them to be the ninth. 
This isn't to say that the Clippers have been lucky to win. They've earned it, with clutch play from
Chris Paul
, smart effort from
Reggie Evans
, timely shooting and most importantly and surprisingly, defense that has clogged the lane, shut off kickouts, driven an already-mediocre Grizzlies offense into the ground.
But the Grizzlies still face an inexplicable series of events. For starters, they actually lead in point differential. The Clippers have won the first, third and fourth game of this series by a combined six points. The Grizzlies won Game 2 by seven. They have outscored the Clippers through four games and yet are behind 3-1.
They've lost in a variety of ways. Blowing a 28-point lead in an epic collapse, at home, after having one of their hottest three-quarters in team history from the field. Having Rudy Gay will them back into Game 3 with two huge threes, only to see his catch-and-shoot (not ISO) jumper fall short. Then losing another fourth-quarter lead, managing to survive Chris Paul with a final possession in regulation to force overtime, and then surrendering an and-one to
Blake Griffin
on a questionable call.
In short, a whole lot has gone wrong for the Grizzlies, and yet they've had their chances.
But if you want to know the big difference between the two teams, it's not the flopping, nor the physical play, nor even the Grizzlies' abysmal lack of ability to score with their superior frontcourt. It's the fact that the Clippers have a superhero turn to for offense in Chris Paul, and Memphis has Clark Kent in a Superman suit in Rudy Gay. It looks the same at times, but isn't really. Gay was phenomenal in the late fourth and overtime for Memphis. Which would have been great had he not been horrendous for three-quarters before that and absorbing all the possessions. The Clippers have enticed the Grizzlies to shoot mid-range jumpers with their defense, and Memphis has obliged.
And when that happens, it become endemic, with anyone on Memphis trying to kickstart the fires instead of forcing it to the rim. The result is a series of Clippers runs.
So the Clippers, the underdog in this series to be sure, stand at the precipice of advancing to face San Antonio, a decidedly better, and craftier foe with just a win. At this point all they need to do is get it to be a close game entering the fourth quarter.
The entire year I've argued that the Clippers had a solid foundation for a playoff run. Tough, physical play, an aggressive young power forward (who had his best playoff game of his young career Monday night), veteran shooters and rebounders, and in the end, a player who can close out close-possession ballgames the same way Boston can, with crushing control. Get it to be a close game in the fourth quarter.
The Memphis offense and Chris Paul will do the rest.