Gatorade Twitter account trolls LeBron James over cramping
LeBron James cramped up in Game 1 of the NBA Finals and the Gatorade Twitter account pounced.
More postseason coverage: Playoff schedule, results | Latest news, notes
Miami Heat star LeBron James is taking a lot of flak after having to sit out the majority of the fourth quarter with a left leg cramp that caused him to have to be carried to a seat on the sidelines. With the San Antonio Spurs up two points, James had to leave the game and never returned as his team suffered a 15-point loss. Things got out of hand on the court quickly, and then social media platforms pounced.
It wasn't just basketball fans going after the four-time MVP; Gatorade's Twitter account responded with a few zingers to people who mistakenly thought James was a client of theirs. There were tweets from the Gatorade about the temperature on the court and even one encouraging the play of Dwyane Wade, who is a Gatorade athlete. But they didn't pull punches with replies about James.
@ryanbkoo The person cramping wasn't our client. Our athletes can take the heat.

— Gatorade (@Gatorade) June 6, 2014
@LazyBumDrew we were waiting on the sidelines, but he prefers to drink something else.

— Gatorade (@Gatorade) June 6, 2014
With a game this hot, we're right at home. #WinFromWithin #NBAFinals

— Gatorade (@Gatorade) June 6, 2014
Back in 2003, Gatorade pulled out of trying to sign a sponsorship deal with James. At the time, they had twice named him the Boys' High School Basketball Player of the Year, but couldn't see eye-to-eye on what James' role with Gatorade should be if they came to an agreement on a sponsorship deal. From ESPN:
"We decided last week that we were taking ourselves out of LeBron sweepstakes," Gatorade spokesman Andy Horrow said. "Pretty simply, the value that we place on individual athlete marketing is very, very far from where his people think he should be."

James' agent, Aaron Goodwin, declined to comment on the state of negotiations.

"One person does not define this brand," Horrow said. "The time when Michael Jordan was the only spokesperson is well behind us."
LeBron eventually struck a deal with Powerade, a Gatorade competitor. Gatorade apparently never forgets and has no problem joining in on the trolling when being accused of not helping out an athlete they have nothing to do with.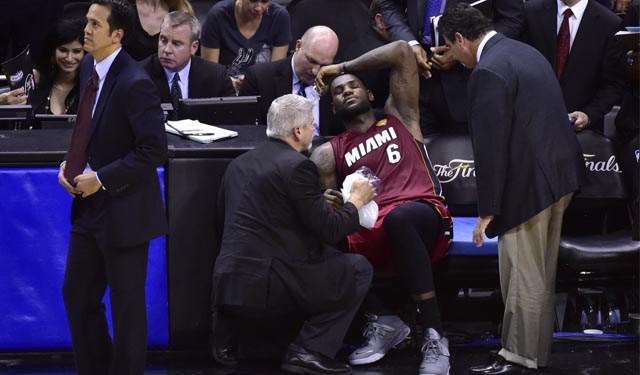 The third member of the club might come as a surprise

LaVar said Lonzo won't lose again this week, and Marcin Gortat found that pretty funny

Eric Bledsoe is going to be traded at some point and these tweets will explain how it got...
Curry's outburst will cost him some money, but he won't miss any games

A look at the ups and downs for various suitors as Bledsoe has left the team.

Mike McClure, a DFS pro with more than $1M in winnings, gives optimal DraftKings and FanDuel...