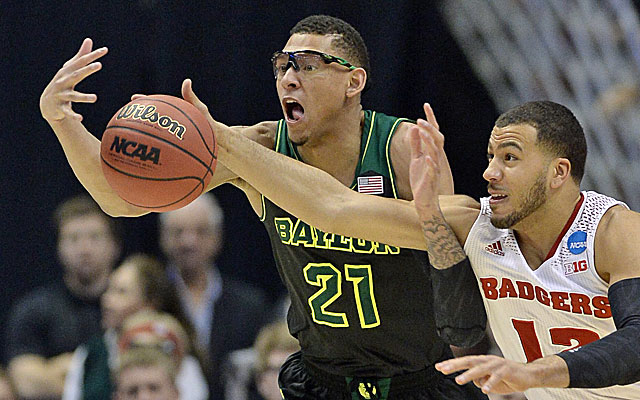 More Draft: Mock drafts | Draft news
Second-round prospect and former Baylor big man Isaiah Austin announced Sunday that he has a condition known as Marfan syndrome which will end his dream of playing in the NBA. From Baylor's official statement: 
Former Baylor center Isaiah Austin has been diagnosed with a career-ending medical condition. Genetic testing as part of preparation for the 2014 NBA Draft revealed that Austin suffers from Marfan syndrome.

"This is devastating news, but Isaiah has the best support system anyone could ask for, and he knows that all of Baylor Nation is behind him," head coach Scott Drew said. "His health is the most important thing, and while it's extremely sad that he won't be able to play in the NBA, our hope is that he'll return to Baylor to complete his degree and serve as a coach in our program."

Marfan syndrome is caused by a genetic mutation that leads to problems in connective tissues throughout the body. One feature of Marfan syndrome is aortic enlargement, which can be life-threatening. According to The Marfan Foundation, about one in 5,000 people have Marfan syndrome. For more information, visit www.marfan.org.

A 7-foot-1 center from Arlington, Texas, Austin revealed during his sophomore season that he is blind in his right eye as a result of a detached retina suffered as a teenager. He was expected to be the first to ever play in the NBA while partially blind.
via Isaiah Austin Diagnosed with Career-Ending Condition - Baylor Bears Official Athletic Site - BaylorBears.com.
It's a remarkably sad development for the youngster who had worked through so much to try and achieve his goal. Austin has been projected in the early-to-middle second round for much of the season. 
"The draft is four days away and I had a dream that my name was going to be called." - @IsaiahAustin

— Baylor Basketball (@BaylorMBB) June 22, 2014
Words can't explain how thankful I am for the time I had to play this wonderful sport. It changed my life forever. #NewBeginnings

— God's Child (@IsaiahAustin) June 22, 2014
I would love to thank EVERYONE who has reached out to me. Toughest days of my life. But not the last! Life goes on. GOD IS STILL GREAT!

— God's Child (@IsaiahAustin) June 22, 2014
Austin averaged 11.2 points and 5.5 rebounds last season for Baylor.