Knicks' defense reawakens against depleted Spurs
NEW YORK -- Against a Spurs team that showed up at Madison Square Garden in name only, the Knicks took an intentional step backward that could show them a way forward from here.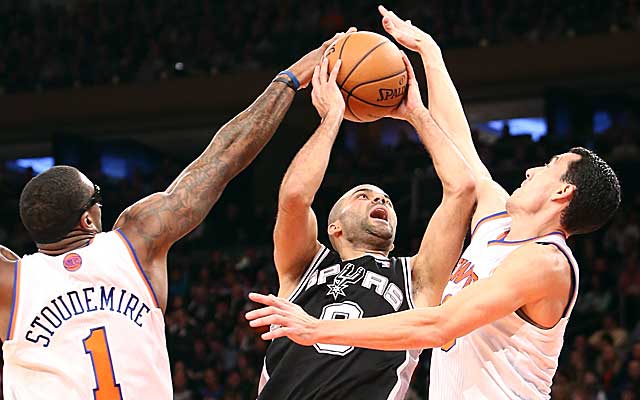 Amar'e Stoudemire and Pablo Prigioni converge on Spurs guard Tony Parker on Thursday night at MSG.   (US Presswire)
NEW YORK -- Once Stephen Jackson sprained his ankle tripping over a waitress who was serving a drink to Mayor Michael Bloomberg, Gregg Popovich must have known it was not going to be the Spurs' night.
Pop didn't need that bizarre mishap to tell him his team had no fuel to summon in their fourth game in five nights, even against a Knicks team that hadn't played a lick of defense in more than two weeks while losing five of their previous eight games. 
"I sensed that about a week and a half ago," Popovich said after the Spurs dropped a 100-83 snoozer to the Knicks Thursday night.
The Spurs actually brought their best players to the game this time after getting fined $250,000 for leaving Tim Duncan, Tony Parker, Manu Ginobili and Danny Green home from a nationally televised game in Miami on Nov. 29. But with the Knicks leading by 17 at the end of the third, Pop sat Duncan and Parker for the entire fourth quarter. Ginobili checked out for good 1:38 into the fourth, with the Knicks leading 77-60.
"I could see it wasn't going to happen," Popovich said. "... I have to be very focused on that. Well, we always have been, but when you're getting older, it's important."
Rest is important. Getting the Spurs -- title contenders once again, and forever, it seems -- out of January without jeopardizing June is important. The second night of a road back-to-back against a second straight non-conference opponent? Not important.
"It's a long season," Popovich said.
The Knicks actually did need to get something out of this, and did. It wasn't because these were the Spurs, who they've beaten twice this season, but because their confidence had been wavering after a stretch of uninspired defense and the accumulation of bad habits. 
Jason Kidd hates bad habits, especially bad habits that inhibit winning. So for the Knicks to bounce back by holding the Spurs -- even in their latest effort to mail one in -- to 36 percent from the field and 27 percent (9-for-34) from the 3-point line was a good sign.
"You've got to play defense if you want to win," Kidd said. "... When you have an offense that can score, you tend to have a little slippage defensively because you think you can outscore people. Those things can be traps."
The Knicks, for weeks among the best in the league in defensive efficiency this season, had fallen into that trap. So coach Mike Woodson made them watch film of how they were defending in the first 10-12 games compared to how they've defended lately. 
"Guys kind of saw that and it motivated us," Tyson Chandler said.
With Rayond Felton (fractured finger) still out, Woodson went big against the Spurs with Marcus Camby starting alongside Chandler in the frontcourt. In his second game back from knee surgery, Amar'e Stoudemire scored 10 points in 21 minutes on 4-for-10 shooting.
"Amar'e has worked so hard in the offseason and fighting back right now, and all of us have witnessed it," Chandler said. "So we want him to succeed. We want to see him out there doing well."
Chandler, the backbone of the Knicks' defense, knew that wasn't going to happen without turning up the defensive energy, sharpening the rotations and getting back to what made the Knicks one of the best stories in the NBA for weeks. For one night against the Spurs -- who technically showed up at the Garden even though they were emotionally on the plane to San Antonio in the third quarter -- it was an intentional step backward that could show the Knicks a way forward from here.
An Alabama native, Barkley campaigned for Jones leading up to Tuesday's election

Kerr knew just what to say after Jones pulled off an upset in Alabama

The future of the league was on display on Tuesday night
Check in throughout the night for the latest news and highlights from NBA games

The Lakers legend details why the NBA popularity will continue to rise

SportsLine's Mike McClure, a DFS pro with more than $1M in winnings, gives optimal lineup...