Kobe Bryant on Michael Jordan's trash talk: 'He knows I'm a bad mother[expletive]'
Kobe Bryant responds to Michael Jordan laughing at his statement that the 2012 USA Basketball team could beat the 1992 Dream Team.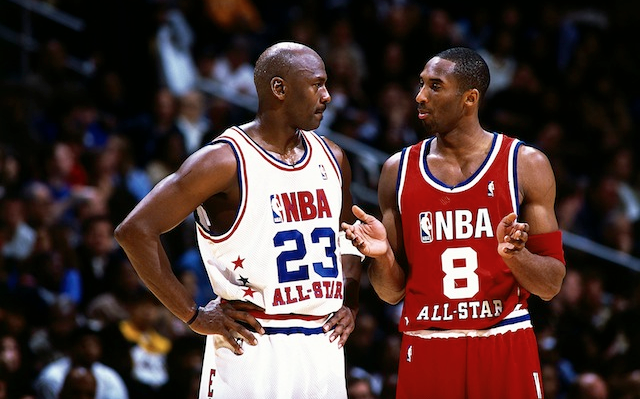 Kobe Bryant went right back at Michael Jordan in the Dream Team vs. 2012 debate.
(Getty Images)
LAS VEGAS -- After setting off the debate and taking his licks from a number of NBA legends, Kobe Bryant wasn't about to let anyone else get the last word.
Earlier this week, Bryant told reporters that the 2012 USA Basketball team could defeat the 1992 Dream Team. 
"It'd be a tough one, but I think we'd pull it out," he said.
The comment elicited quick responses from members of the Dream Team, including Michael Jordan, Charles Barkley, Magic Johnson and Scottie Pippen.
Jordan told the Associated Press that he "absolutely laughed" at Bryant's statement and that there was "no comparison" between the two teams.
More on Team USA
Related links
Asked for his response to Jordan's statements after USA defeated the Dominican Republic 113-59 in a pre-Olympics exhibition game held at the Thomas & Mack center in Las Vegas, Bryant didn't mince words.
"So what? He knows I'm a bad mother[expletive]," Bryant said. "I'm not really tripping."
The Los Angeles Lakers All-Star guard went on to say acknowledge that the Dream Team, which went undefeated on its way to gold in Barcelona, had a size advantage on the 2012 squad, which is competing without four possible big men ( Dwight Howard, Chris Bosh, LaMarcus Aldridge and Blake Griffin) lost to injury.
"The fact is, they have [Patrick] Ewing and [David] Robinson and those big guys, it's tough. If you're asking me, 'Can you beat them one game?' Hell yeah, we can beat them in one game. You didn't ask me if we could beat them in a 7-game series. In one game, we can beat them. No question about it."
Like Jordan, Barkley said that he laughed at Bryant's assertion during a radio interview.
"Their point guards weren't going to beat us. That's a no-brainer," Barkley said "I just started laughing... Other than Kobe, LeBron (James) and Kevin Durant, I don't think anybody else on that team makes our team."
On Thursday, Johnson and Pippen chimed in on Twitter.
"The 1992 Dream Team had 11 Hall of Famers, 23 championship rings and the greatest player of all time in Jordan," Johnson tweeted. No chance this years team would take us. Our '92 team had too many winners, were too smart and too competitive to lose to Kobe and the 2012 team. I am excited to watch them though."
"I respect Kobe and his confidence in this year's USA Basketball team," Pippen tweeted. "But the Dream Team was special. Unbeatable."
Pippen attended Thursday's exhibition in Las Vegas with fellow Dream Teamers Clyde Drexler and Chris Mullin. Bryant left Team USA's bench to shake hands and joke with the trio when they were acknowledged during the game. 
"it was nothing, just a little friendly talk," Bryant said of their chatter.
Click here for a position-by-position breakdown of the 1992 squad versus the 2012 squad.
Bryant finished with 4 points, 2 rebounds, 1 assist and 1 steal on 2-for-6 shooting in 15 minutes during Team USA's win.
CBS Sports HQ Daily Newsletter
Get the best highlights and stories - yeah, just the good stuff handpicked by our team to start your day.
Please check the opt-in box to acknowledge that you would like to subscribe.
Thanks for signing up!
Keep an eye on your inbox for the latest sports news.
Sorry!
There was an error processing your subscription.
The Knicks and Hawks open up their season on Wednesday at MSG

After a hard year in Houston, Phoenix's new sharpshooter told CBS Sports he is excited to be...

Money, it's gotta be the shoes! A non-sneakerhead offers fearless rankings on all 33 Air J...
One thing we can say about the Warriors' 2018 championship ring: It's easily the first of its...

Jonah Keri sits down with Kevin Pelton to talk all things NBA, including the state of basketball...

Glen Taylor also said Tom Thibodeau's job is safe despite all the turmoil in Minnesota