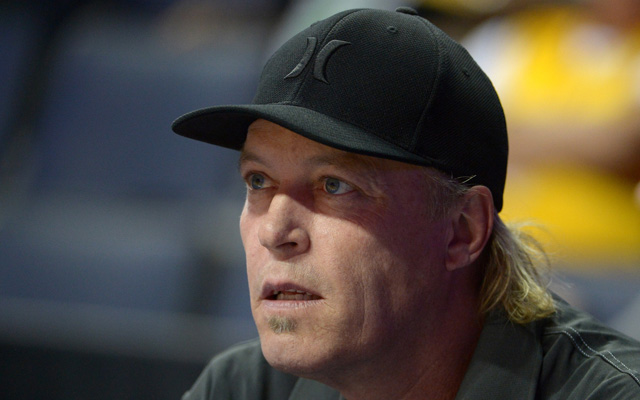 More postseason coverage: Playoff schedule, results | Latest news, notes
Lakers owner and head of basketball operations Jim Buss says he told his family business during a January business meeting that he will step down if the Lakers do not return to contention within "three or fours years." From the Los Angeles Times: 
"I was laying myself on the line by saying, if this doesn't work in three to four years, if we're not back on the top — and the definition of top means contending for the Western Conference, contending for a championship — then I will step down because that means I have failed," he told The Times about the meeting. "I don't know if you can fire yourself if you own the team … but what I would say is I'd walk away and you guys figure out who's going to run basketball operations because I obviously couldn't do the job.

"There's no question in my mind we will accomplish success. I'm not worried about putting myself on the line."
via LA Times - Buss family faces crucial moment with the Lakers.
Buss has been under heat since taking over operations several years ago. It has been widely reported that the decisions to let Phil Jackson go after 2011 was his call, that the decision to bring in Mike Brown, fire Mike Brown, then hire Mike D'Antoni over Jackson were also his. 
Meanwhile, in a year they expected to take a step back from contention due to Dwight Howard's departure but still be in the mix, the Lakers put up the worst record in franchise history. Injuries to almost all of the Lakers, but especially Kobe Bryant and Steve Nash, had a huge impact on that, but it also reflects the awful team they put around them, signing players like Chris Kaman, Nick Young and Robert Sacre. 
The Lakers gave Bryant a two-year, $49 million extension before he had even returned from his Achilles injury, then watched him go down with a fractured leg after six games. They are cap strapped with aging assets, as Nash has indicated he won't retire, freeing up the $10 million owed to him. 
Buss will have cap space in 2015, however, with room to remake the team with starpower, especially should Kevin Love opt out of his contract. But the Lakers have also indicated they intend to re-sign Pau Gasol, which could further limit their ability to improve. 
Either way, it's a bold move by the younger Buss to put himself on the line like that, especially as the Times reports on younger siblings with basketball backgrounds waiting to potentially take over. 
The Lakers recently signed GM Mitch Kupchak to a multi-year deal on the eve of clinching the worst record in franchise history.