Lakers physical therapist on Kobe: Highest pain threshold 'I've ever seen'
Dr. Judy Seto doesn't even ask Kobe Bryant to rate his pain on a scale of 1-10.
• 2 min read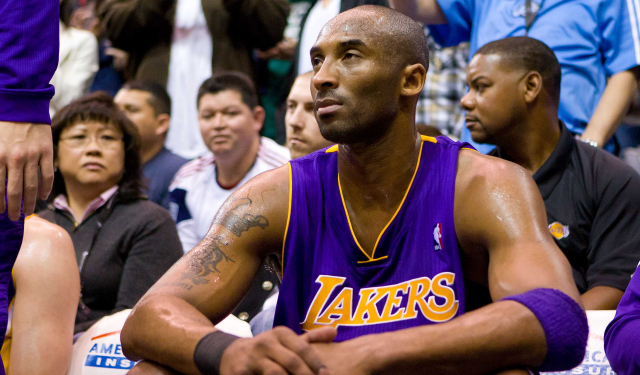 Los Angeles Lakers physical therapist Dr. Judy Seto has been around the Lakers for about two decades, and has been full-time with the team for the past few years. Sports Illustrated's Chris Ballard talked to her about Kobe Bryant for his excellent feature on the superstar, and published some extra quotes from the interview on Thursday.
Here's Seto on his legendary pain threshold:
"It's the highest that I've ever seen.  He channels his focus so well in terms of just the task at hand. But also when he's had pain, he can block that out.

…

"I think he was playing I want to say Cleveland, maybe Miami. But it was during the first quarter. He dislocated his finger. It's basically like, this bone was over here. The head trainer, during a timeout, he relocated it, had him go back in.

"I think that trait makes him who he is, and his ability to focus also allows him to channel his energies. It's not that he doesn't feel pain; it's how he responds. Everybody responds to pain a little differently. There's some people that if you have an injury, you perseverate on it, an injury here can manifest to an injury over here or somewhere else in your body. It can be extremely debilitating. That's the other stream.  

"…But he's at a level where he does not allow it to control him.  But that's how he is with so many aspects of his life, so...  I think that's why he is who he is."
Seto also called it "amazing" that Bryant was able to focus on making two free throws immediately after tearing his Achilles.
In case you've somehow forgotten:
The Kobe Bryant mythology has always been about extreme dedication to his craft, single-minded focus and and just-about-delusional self-confidence. In the Sports Illustrated interview, Seto shed some light on how that relates to pain, his body and recovery from injury. She said that, while she's required to ask him if it hurts when she's working with him, she doesn't bother asking him to rate the pain on a scale of 1-10. Bryant doesn't see the point in answering.
Working his way back after suffering a lateral tibial plateau fracture in his left knee last year, Bryant initially had to wait around for it to heal, like he did with the Achilles. Now he's getting ready for the start of the season, and you can bet that he'll be as prepared physically as he possibly can be.
The investigation detailed a corrosive workplace environment

Also, when -- or rather, will -- the Warriors flip the switch?

The versatile forward has one glaring weakness, but Toronto can see it turning into a stre...
The investigation detailed a hostile workplace environment

Cousins suffered a torn Achilles tendon on Jan. 26, and will miss the rest of the season

Ingram has become one of the team's go-to players with Lonzo Ball sidelined with an injury