Lance Stephenson walks the walk in Pacers' big Game 1 win
The loudest, perhaps proudest Pacer had his way with the Heat to start the series on Sunday.
• 1 min read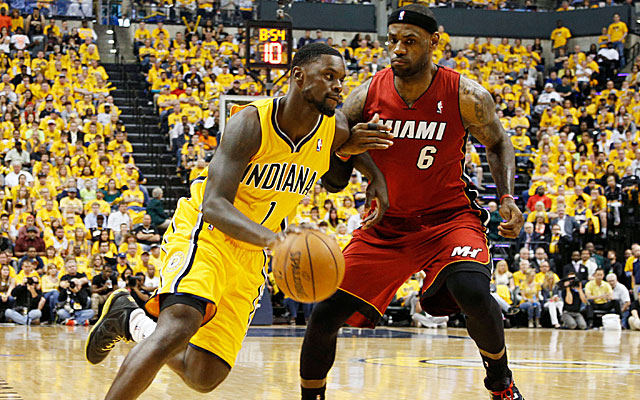 Game 1: Doyel: Pacers match up | LeBron, Bosh out of sync | Indy's containment 
Before Sunday's Game 1 between the Indiana Pacers and the Miami Heat, much of the discussion centered around Lance Stephenson. The Pacers guard had, with a smile on his face, told reporters on Saturday, "I've got to be extra aggressive and make [Dwyane Wade] run and have him running around and make his knee flare up or something."
Reporters tried to see if the Heat would make it a war of words, but they weren't having it.
"We don't get into that," head coach Erik Spoelstra said.
"I don't have a reaction," LeBron James said.
"I have no response," Wade said. 
Stephenson had also said how excited he was for this Eastern Conference Finals rematch, and it was that sentiment that shined through in the 107-96 Indiana win. Stephenson made six of his first seven shots to start the game, and finished with a line of 17 points, eight assists and four rebounds. He shot 8 for 12 from the field, turned the ball over just twice and was engaged defensively. This was the version of Stephenson that made a loud and persuasive argument for the All-Star Game in the season's first few months.
When Paul George sat at the podium after the game, he said the reason the Pacers won was energy. The All-Star forward said they had urgency and effort right from the opening tip, and that was why they were able to lead wire-to-wire. Instead of settling on offense, he said, they asserted their will. Stephenson, more than anyone else, is who was responsible. 
"He's just an emotional person," George said. "That's what we need, though. We need a guy with that energy, that toughness. He gets out of hand at times, but we can live with most of it. But I thought he did a great job tonight of just staying poised and keeping himself within the game."
Indiana head coach Frank Vogel complimented the intelligence with which Stephenson played, and he earned that. There were a few long, contested 2-pointers, but for the most part he got good looks and swung the ball when he was supposed to. The Pacers offense looked as smooth as it has in a long while, with Stephenson's controlled chaos unleashed in bursts.
If Stephenson keeps playing this way, that's what people will be talking about.
SportsLine's Mike McClure, a DFS pro with more than $1M in winnings, gives optimal lineup...

LeBron had 29 points, 11 rebounds, and 10 assists in the Cavs' 109-100 win over the Jazz

The montage showed Carmelo's best Knicks moments before playing the Thunder game
KCP can't leave California for 25 days due to the terms of his pleading guilty to a misdemeanor...

Keep it right here for all of the news, notes, scores and highlights from around the leagu...

LeBron tried to keep what he said a secret, but one mic on the court picked it up