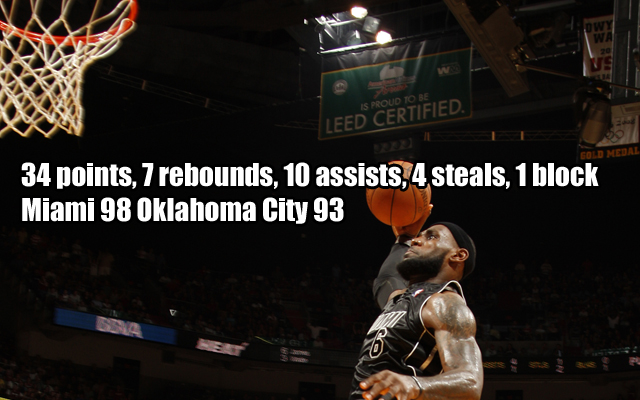 (Getty Images)
This is all people were asking for. Just show up. 
The
Miami Heat
after a string of downright embarassing losses (most of which were on the road), the Heat responded in a big way Wednesday, beating the Thunder
98-93 Wednesday night
. As opposed to the first contest between the two heavyweights in
Oklahoma City
, the effort, intensity, and execution were all presence for both teams and it made for an instant classic, arguably the best game of this compacted season. 
It featured a titanic clash between the leading MVP candidates and whereas
Kevin Durant
dominated the first matchup, it was
LeBron James
' turn to take the stage.
34 points, 7 rebounds, 10 assists, 4 steals, 1 block and just 2 tunovers with 10-20 shooting.
Oh, and this.  
And then this:  
That sequence wound being a decisive play in the game, despite it still coming down to a final possession for OKC down 3 (which resulted, predictably, in a 35-foot three from Durant very early in the clock; a makeable shot but the questions about the Thunder's inability to draw up a final play continues). The Heat showed everything they have on that series. The speed to get back and recover, the tenacity to get the block on the second chance shot, the transition ability of James and the strength to finish. There is one player on Earth that can make that play. He plays for Miami. 
This game doesn't settle the MVP, doesn't mean we'll see this matchup in June. But given how intense it was the whole night through, from the first hard foul OKC gave Miami, with how the two teams threw everything they had at each other and got big shot after big shot and key play after key play, we could do a lot worse for the last games of the year than another meeting of these teams. 
All this, and neither team played to its potential. Kevin Durant had nine turnovers,
Russell Westbrook
had just two assists. The Heat shot 37 percent as a team and still won. There was room for improvement for both teams, but if you wanted a reason to get the popcorn, these two teams gave it. 
The season series is 1-1. 
Let's see if we see it again. 
Some other thoughts: 
Chris Bosh had a rough night shooting but he was consistent in his attack and nailed a huge clutch bucket late. He's really a great weapon for them to go to down the stretch. 
LeBron missed his last shot inside a minute, but at least he took it, right?
Dwyane Wade took a beating in this game, don't be surprised if he misses a handful of games in the next week. 
The foul on LeBron James by Russell Westbrook woke the Heat up something fierce. Make no mistake, these two teams were bubbling at the top of the pot about one another. 
James Harden made some absolutely fearless plays and was a huge part of the Thunder hanging. 
Derek Fisher almost made a three finally... he stepped on the line.
If Udonis Haslem is going to miss this many shots at the rim, the ball does not need to go to him. 
Shane Battier has nights, not many, but some, where he's the perimeter weapon the Heat need, especially with Mike Miller out (as always). 
I cannot stress how terrible Durant's final possesion was. 
Russell Westbrook's going to take a lot of grief for his performance, but the Heat specifically geared to attack him defensively. 
Joel Anthony had a great recovery night after a series of bad games.