Mavericks claim Eddy Curry off waivers
The Mavericks have been awareded recently cut center Eddy Curry on a waiver claim, the team announced Thursday.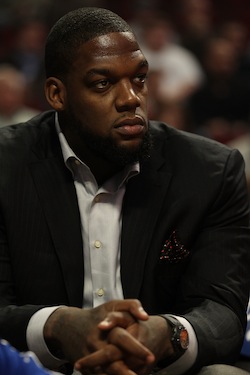 Eddie Curry has already found a new taker.
(Getty Images)
Big D just got a little bit bigger.
The Mavericks were awarded recently cut center Eddy Curry on a waiver claim, the team announced Thursday.
"We are excited to bring Eddy Curry to Dallas," president of basketball operations Donnie Nelson said in a press release. "He has worked extremely hard this offseason and can provide our front line with much needed depth."
You might be wondering, "But wait, the Mavs already have 15 roster spots filled? How can they sign Curry?" Well, the answer appears to lie in recently suspended guard Delonte West, who has a guaranteed contract for this season but is expected to be bought out.
The Mavs have until Monday to finalize a buyout with West. Or to trade him, if they can find a taker, which seems unlikely.
Curry was thought to have a strong chance at making the Spurs final roster but was cut Tuesday. He looked as strong and in shape as he has in years for San Antonio, averaging 8.4 points and 3.4 rebounds in 15.4 minutes per game in five appearances.
Curry, 29, was taken fourth overall by the Bulls in 2001 and has always possessed the talent to validate his high selection, but has battled motivation and health issues throughout his career. He's battled weight problems and conditioning after blowing out his knee with the Knicks.
There's a good opportunity for Curry to actually contribute to the Mavs too, as starting center Chris Kaman is a question for their opener with a calf strain. The Mavs are in a serious state of transition, looking for pieces that can keep them afloat this season as they prepare to retool. What they can get out of Curry is a major question, but his talent keeps NBA teams intrigued and keeps him employed.
The ex-Warriors assistant GM shares his philosophy on scouting and why Golden State had so...

The Suns have been doomed for awhile now it just finally came to a head this season

Andre Drummond is making his free throws now, and Pistons coach Stan Van Gundy says this is...
Carmelo Anthony touched the ball less than Raymond Felton.

Right before Wiggins hit his shot, Carmelo Anthony hit a 3 to put the Thunder in front

The Suns firing Earl Watson three games into season is second-quickest firing in NBA histo...