NBA investigating report of racial comments attributed to Sterling
The NBA is investigating a report that Clippers owner Donald Sterling was recorded telling his girlfriend that she should not bring minorities to his team's games, among other racially incendiary remarks.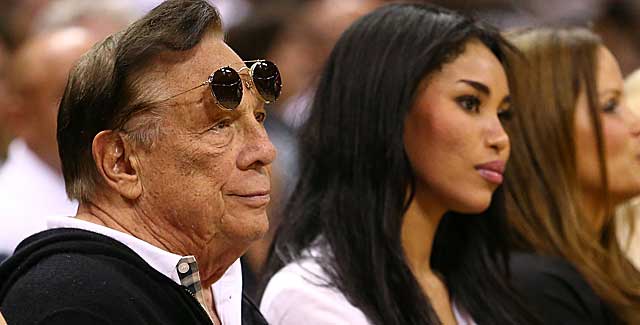 UPDATED 9:58 p.m. ET
More postseason coverage: Playoff schedule, results | Latest news, notes
The NBA is investigating a report that Clippers owner Donald Sterling was recorded telling his girlfriend that she should not bring minorities to his team's games, among other racially incendiary remarks.
Commissioner Adam Silver, making a previously scheduled media appearance in Memphis, Tenn., on Saturday night, called the comments "truly offensive and disturbing" and said the league would proceed with its investigation "extraordinarily quickly." He issued no immediate sanction for Sterling, who agreed not to attend the Clippers' playoff game Sunday against the Warriors in Oakland, Calif., pending the outcome of the league probe.
"The core of the investigation is understanding whether the tape is authentic, interviewing Mr. Sterling, potentially interviewing the woman, as well, and understanding the context in which it was recorded," Silver said.
Clippers president Andy Roeser issued a statement questioning the authenticity of the recording and saying that the woman who apparently made it is a defendant in a lawsuit in which she is accused of embezzling $1.8 million from the Sterling family.
"We have heard the tape on TMZ," Roeser said. "We do not know if it is legitimate or it has been altered. We do know that the woman on the tape -- who we believe released it to TMZ -- is the defendant in a lawsuit brought by the Sterling family alleging that she embezzled more than $1.8 million, who told Mr. Sterling that she would 'get even.' Mr. Sterling is emphatic that what is reflected on that recording is not consistent with, nor does it reflect his views, beliefs or feelings. It is the antithesis of who he is, what he believes and how he has lived his life."
Roeser added that the team is investigating the matter, and that Sterling "feels terrible that such sentiments are being attributed to him and apologizes to anyone who might have been hurt by them."
"All members of the NBA family should be afforded due process and a fair opportunity to present their side of any controversy," Silver said.
Reaction was swift from the National Basketball Players Association, which expanded Sacramento Mayor Kevin Johnson's duties with the union to help formulate a response from the players -- and whose president is Sterling's best player, Chris Paul.
Paul's close friend and the reigning MVP, LeBron James, said Saturday that if the comments indeed came from the Clippers' owner, "There is no place for Donald Sterling in our league."
Silver said the NBA has "broad powers" through the league's constitution and by-laws to discipline an owner for misconduct. Those powers, Silver said, include "a range of sanctions, and all of those will be considered depending on the findings of our investigation."
Sterling previously has been accused of racially insensitive behavior. In 2009, he settled a federal discrimination lawsuit for $2.73 million after his company was alleged to have discriminated against blacks, Hispanics and families with children in rental apartments in greater Los Angeles. Sterling admitted no wrongdoing in the settlement, which the U.S. Department of Justice said at the time was the largest of its kind.
In 2011, a Los Angeles County jury rejected former Clippers general manager Elgin Baylor's claim for $2 million damages in a wrongful termination lawsuit. Baylor, who is black, alleged that he was fired due to his age. Racially insensitive comments were attribued to Sterling in testimony and court documents related to the case.
The most recent allegations could prove particularly problematic for Sterling if the comments on the audio recording are authenticated as his own. Paul is not only an influential All-Star but also serves as president of the NBPA. His coach and team president, Doc Rivers, is one of the most respected figures in the sport and serves on the league's competition committee, which is comprised of coaches, general managers and owners.
Embiid has taken his trash-talk game to the next level this season, but he's not scared

Last year Durant said returning to his old home was 'never going to be a regular game'

The All-Star forward injured his wrist during Sunday's loss to the Lakers
Steven Adams believes he's the problem with the Thunder struggles in the clutch

LaVar claims that Luke Walton has been 'soft' on Lonzo so far

Allen has filed an emergency motion in an Orange County court in response to an accusation...