NBA win over/unders released; Cavs at 58.5, favorites to win title
The public loves Cleveland as much as LeBron does as the Cavs headline title and over/unders odds, the truest sign the season is around the corner.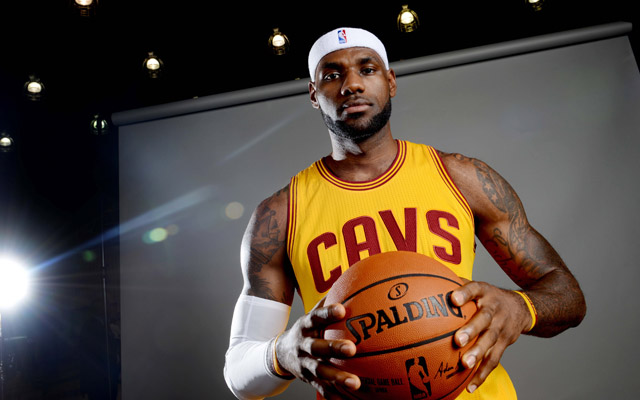 Training camp is in full swing, the preseason starts in a few days, and opening night is less than a month away. So that means the betting lines for the NBA season have started to flood the market. On Wednesday, several books released their over/under marks for season wins, and Bovada released their updated odds for the title. 
Both Westgate Las Vegas Superbook released their over/unders Wednesday, and as always, they're fascinating. 
Cavaliers — 58.5

Thunder — 57.5

Spurs — 56.5

Bulls — 55.5

Clippers — 55.5

Warriors — 50.5

Rockets — 49.5

Mavericks — 49.5

Raptors — 49.5

Wizards — 49.5

Trailblazers — 48.5

Grizzlies — 48.5

Hornets — 45.5

Heat — 43.5

Suns — 42.5

Nets — 41.5

Pelicans — 41.5

Nuggets — 40.5

Hawks — 40.5

Knicks — 40.5

Pistons — 36.5

Pacers — 32.5

Lakers — 31.5

Kings — 30.5

Magic — 28.5

Celtics — 26.5

Timberwolves — 25.5

Jazz — 25.5

Bucks — 24.5

76ers — 15.5
via Westgate Las Vegas Superbook opens NBA over/under win totals for betting - Las Vegas Sun News.
We'll have a full breakdown of these next week, but the key notes: 
Sixers at 15.5: The popular idea is that the Sixers have to be better. They have Nerlens Noel! Because rookies who haven't played in a full-speed NBA game ever and sat out a year tend to improve win totals on their own, apparently. Michael Carter-Williams is still recovering from surgery and may not be ready for the start of the season. That's not a great sign. They could be starting Tony Wroten and Alexey Shved in the backcourt. 
All the players that helped the Sixers win a few games in the first few months last year were veterans, who win more than young guys, even if they don't win a lot. And all of them are gone. All of them. This one seems legitimately optimistic, but taking the under is so shocking on the surface it seems weird, too. 
The Knicks at 40.5 is dangerous on either end. 
The Heat at 43.5 is wildly disrespectful to Dwyane Wade, Chris Bosh and Erik Spoelstra, and shows you the independent impact of LeBron James on the over/under after a near-60 mark last season at open. 
Cavs at 58.5 is a remarkable price-up from the public, who is ga-ga over the new superteam. 
And as always, the Spurs are an easy bet at 56.5 because apparently, no one ever learns. 
Meanwhile, Bovada sent out their latest updates to the championship odds. The Cavaliers are the hot commodity as I said, at 5-2 odds, ahead of Sportsbook.com's 3-1 mark, and just behind TheGreek.com's 3-2 slot. The public must be absolutely going nuts on the Cavs, which is crazy considering this is their first year together and teams rarely win in that situation. 
Bovada and TheGreek both have the Spurs at 4-1, which seems right in line with where they should be. The Bulls have inched ahead of the Thunder at 11-2 at Bovada (6-1 TheGreek, 17-2 at the more skeptical Sportsbook). The sneak bet? The Clippers who were right there with the Thunder at 12-1 at Bovada and TheGreek, 11-1 at Sportbook who has been high on the Clippers over the past year. 
We'll have more coverage of the futures next week. 
Full odds from Bovada: 
Odds to win 2015 NBA Championship
Cleveland Cavaliers 5/2
San Antonio Spurs 4/1
Chicago Bulls 11/2
Oklahoma City Thunder 6/1
Los Angeles Clippers 12/1
Houston Rockets 16/1
Dallas Mavericks 18/1
Golden State Warriors 22/1
Washington Wizards 33/1
Indiana Pacers 40/1
Miami Heat 40/1
Portland Trailblazers 40/1
Memphis Grizzlies 50/1
New York Knicks 50/1
Toronto Raptors 50/1
Charlotte Hornets 66/1
Los Angeles Lakers 66/1
Brooklyn Nets 66/1
Atlanta Hawks 100/1
Boston Celtics 100/1
Denver Nuggets 100/1
New Orleans Pelicans 100/1
Phoenix Suns 100/1
Minnesota Timberwolves 150/1
Detroit Pistons 200/1
Orlando Magic 200/1
Sacramento Kings 250/1
Utah Jazz 250/1
Milwaukee Bucks 300/1
Philadelphia 76ers 300/1


Odds to win 2015 Eastern Conference
Cleveland Cavaliers 4/5
Chicago Bulls 9/4
Washington Wizards 14/1
Miami Heat 16/1
Indiana Pacers 20/1
Charlotte Hornets 25/1
New York Knicks 25/1
Toronto Raptors 25/1
Brooklyn Nets 28/1
Atlanta Hawks 40/1
Boston Celtics 50/1
Detroit Pistons 100/1
Orlando Magic 100/1
Milwaukee Bucks 150/1
Philadelphia 76ers 150/1

Odds to win 2015 Western Conference
San Antonio Spurs 9/4
Oklahoma City Thunder 3/1
Los Angeles Clippers 11/2
Dallas Mavericks 8/1
Houston Rockets 8/1
Golden State Warriors 10/1
Portland Trailblazers 20/1
Memphis Grizzlies 25/1
Los Angeles Lakers 33/1
Denver Nuggets 40/1
New Orleans Pelicans 40/1
Phoenix Suns 40/1
Minnesota Timberwolves 75/1
Sacramento Kings 125/1
Utah Jazz 125/1

Divisional Odds
Odds to win 2015 Atlantic Division
Toronto Raptors 6/5
Brooklyn Nets 2/1
New York Knicks 2/1
Boston Celtics 25/1
Philadelphia 76ers 100/1

Odds to win 2015 Central Division
Cleveland Cavaliers 1/2
Chicago Bulls 7/4
Indiana Pacers 10/1
Detroit Pistons 50/1
Milwaukee Bucks 200/1

Odds to win 2015 Southeast Division
Washington Wizards 5/4
Miami Heat 2/1
Charlotte Hornets 4/1
Atlanta Hawks 5/1
Orlando Magic 50/1

Odds to win 2015 Northwest Division
Oklahoma City Thunder 1/4
Portland Trailblazers 11/4
Denver Nuggets 20/1
Minnesota Timberwolves 50/1
Utah Jazz 100/1

Odds to win 2015 Pacific Division
Los Angeles Clippers 1/2
Golden State Warriors 7/4
Phoenix Suns 12/1
Los Angeles Lakers 50/1
Sacramento Kings 50/1

Odds to win 2015 Southwest Division
San Antonio Spurs 5/7
Houston Rockets 5/2
Dallas Mavericks 11/2
Memphis Grizzlies 8/1
New Orleans Pelicans 40/1
LeBron and Durant both responded to a newswoman's recent comments, telling them to 'shut up...

Mitchell's Slam Dunk Contest win was the icing on the cake of an incredible run of success

Dennis Smith Jr. had a great dunk contest, but the judges didn't feel the same way
Mitchell was awesome, but Larry Nance Jr. and Dennis Smith Jr. had some serious moves of their...

Silver noted that there are many factors at play with the issue affecting both the NBA and...

Jazz rookie Donovan Mitchell came in as a replacement and ended up winning the whole thing