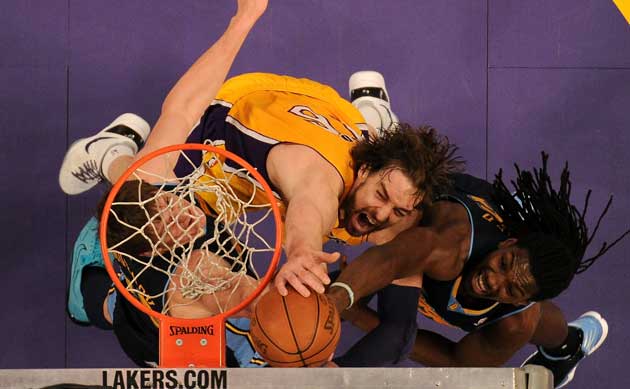 It was a "so close and yet so far" night for the Nuggets in a Game 7 loss to the Lakers.
(Getty Images)
There are no moral victories in professional sports, but Saturday night came just about as close as it gets.
The Denver
Nuggets
fell to the Los Angeles
Lakers
in Game 7 of their Western Conference playoff series at Staples Center. The heavily-favored Lakers escaped 96-87, sneaking into the second round only after an undersized, underrated, overlooked opponent put them through the wringer.
Denver was a bit late to the party, going down 3-1 in the series, but they put on a show once they arrived, producing two thrilling wins in Games 5 and 6 and holding the Lakers even through the first 40 minutes of Game 7. They doubled
Kobe Bryant
hard, limiting him to 17 points on 16 shots, they exploited their most obvious mismatch at the point guard position to ruthless effect (
Ty Lawson
finished with 24 points) and they battled as hard on the boards as could be reasonably expected, out-rebounding the bigger, stronger, longer Lakers 54-50.
But a series of untimely breaks and anomolies caught up with them, conspiring to create a cumulative effect that was too much.
Nuggets coach George Karl, looked and sounded afterwards like a man who knew his team had both overachieved and let an excellent opportunity to advance slip away.   
"Tomorrow or the next day when the funk gets out of your body, you'll be proud of the team," he said. "Right now, you feel like a piece of ... you know."
A 75-75 tie at the 8 minute mark of the fourth was broken open by a relentless series of rim assaults from L.A.'s much-maligned big man duo of
Andrew Bynum
and
Pau Gasol
. On one possession, the pair combined for five offensive rebounds as they executed a seemingly nonstop tip drill over the helpless Nuggets defenders, Gasol finally finishing the play with a bucket and a proud chest pound. 
"The game was so physical," Karl lamented. "Bang, push, pull, shove... Power won over pace, size won over speed. we need to get stronger. We need to understand how to beat this type of team.
Denver got the majority of the game's rebounds but L.A. managed to track down all the important ones in the game's deciding final eight minutes. The Lakers finished on a 21-12 run, holding the Nuggets to just three field goals in the final 6:49.
Denver's offense stalled because two key members of the rotation sputtered at the worst possible time. Forward Danilo Galliari, granted a 4-year contract extension back in January, shot just 1-for-9 from the field in 26 minutes, scoring three points and committing four turnovers. He looked timid in the fourth quarter, swallowed up by Lakers forward
Metta World Peace
, who was back in action for the first time after serving a 7-game suspension.
Perhaps even more crippling, though, was uncharacteristically careless play from guard
Andre Miller
. After playing clutch, heady ball in Games 5 and 6, Miller seemed a bit out of sourts, shooting 1-for-10 from the field and committing five turnovers, including a few that were not forced. He contributed in other ways, dishing out eight assists and grabbing 11 rebounds, but he wasn't able to get center
JaVale McGee
going and his inability to collapse L.A.'s defense down the stretch turned Denver's offense into a rushed, bomb-from-the-perimeter approach.
The Nuggets were done in by, among others, one of Karl's former players:
Steve Blake.
w  The Lakers guard had raised his game in the postseason but still was merely solid and not spectacular until Saturday night, when he went off for a season-high 19 points, including five threes.
"I hate Steve Blake tonight but I love him as a player," Karl said.
Blake's partner in perimeter crime was World Peace, who, after nearly three weeks away from the court, played focused, intense defense, and added four threes, filling up the stat sheet while playing 44 minutes. World Peace was credited by Lakers coach Mike Brown for being instrumental in limiting both Gallinari and Miller.
Blake's unexpected explosion and World Peace's pleasantly surprising return were the perfect outside balance to L.A's interior barrage. Gasol finished with a team-high 23 points, 17 rebounds, six assists, four blocks and a steal. Those numbers amounted to better production than his two previous games combined.  Bynum had a major bounce back too, putting up 16 points, 18 rebounds and 6 blocks, 48 hours after looking like he had checked out on L.A.'s season. 
The whole thing worked because of Bryant, who dispensed with years of bad habits in displaying both the patience and precision to read Denver's aggressive double-teams rather than force perimeter shots or do too much off the drible. That he took 16 shots and wound up with eight assists was a minor miracle, given his well-established preference for calling his own numbers in big game situations and his evident, expressed frustration with his teammates' lack of focus in the previous two games.
All of that was enough to leave Karl with a laundry list of "ifs." If only Bryant had decided to gun by himself. If Blake had played average instead of out of his mind. If World Peace had been a little rustier. If either Bynum or Gasol hadn't shown up. If Gallinari hadn't laid an egg. If Miller had been able to establish McGee to counter-balance the Lakers inside advantage, or if McGee had been able to get one of the bigs in foul trouble. If Brown hadn't adjusted his defense down the stretch so that Lawson could have continued to use his quickness to get to the rim. If hyper-energetic rookie forward 
Kenneth Faried
was, say, three inches taller so that he could have limited Gasol's impact just a bit more.
If. If. If.
As the underdog you need the breaks and a little luck; you can't win a Game 7 on the road against a star-stocked club without them. His players -- Miller, Lawson, McGee, Faried -- played themselves to the point of exhaustion, sprinting out in the open court whenever possible, desperate to create opportunities of any kind. They wound up just short, unable to create enough and capitalize on them in the series' final stanza.
Karl seemed to understand that better than anyone. If he began his post-game statements describing his funk, he ended it by clearly voicing his pride.
"They're a mentally tough team for a young bunch of guys," he said. "They're an enjoyable bunch to coach and I don't think there are 30 coaches in the
NBA
saying that right now."