Paul Pierce says he convinced Kevin Garnett to waive his no-trade clause
Paul Pierce says he called Kevin Garnett to convince the future Hall of Famer to waive his no-trade clause and allow a deal to Brooklyn.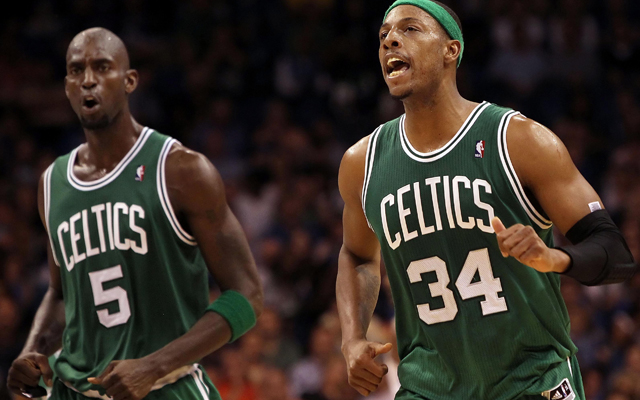 Paul Pierce told CSN New England that on draft night, he called Kevin Garnett to convince him to waive his no-trade clause and allow the two to be dealt to Brooklyn. 
That's when I made the call [to Garnett]," Pierce said.

And that conversation, maybe more than anything else, is at the heart of Garnett's willingness to waive his no-trade clause and allow himself along with Pierce and Jason Terry, to be traded to the Brooklyn Nets.

Pierce spent his entire career with the Celtics, so he was all too familiar with the struggles that come when a franchise is all about rebuilding, which is where the Celtics are right now.

To go through that again, at this point in his career, would have been a tough pill to swallow for the 35-year-old.

"Like I said over the last couple of years, it would be tough to go back to an environment that wasn't trying to win a championship," Pierce said. "When you get that taste of success ... you don't want to go backwards. That's how I felt. I think Doc [Rivers] felt the same way. Kevin [Garnett] felt the same way. That's why we all put ourselves in these situations where we could try and win."
via Pierce phone call helped convince KG to join Nets | Comcast SportsNet - CSNNE.com.
It's kind of a weird revelation, given that Pierce spent the most time with the Celtics, and still seemed genuinely upset at leaving Boston at a press conference on Thursday. Pierce was clearly still emotional and trying to deal with this kind of upheaval in his life that had been so stable over the past decade. 
It also shows Garnett's classic and notable resistance to change that he had to be convinced by Pierce to leave Boston. Garnett said Thursday, "I don't know anyone who likes change." Garnett had resisted temptations to depart and go somewhere that was more of a contender based in part on that dislike of change. But when the guy who had been the Celtics' captain for most of his career said it was time to move on, Garnett clearly got the message. 
Now we'll have to see if this is more like Clyde Drexler in Houston or Hakeem Olajuwon in Toronto. 
From Thunder Dan to Pistol Pete to Agent Zero, guards who would be better these days

Griffin said recently he thinks it's more likely that LeBron James goes to New York than L...

Mayo was suspended for two years last summer for violating the league's anti-drug program
The NBA broke its silence with a statement related to the Lakers-Paul George tampering cha...

The Clippers big man thinks LeBron will reunite with the banana boat crew at some point

Have the Clippers reportedly found their next GM?