Philadelphia 76ers hire Rockets exec Hinkie as new GM
The Philadelphia 76ers have hired former Houston Rockets executive Sam Hinkie to be their new GM and president of basketball operations.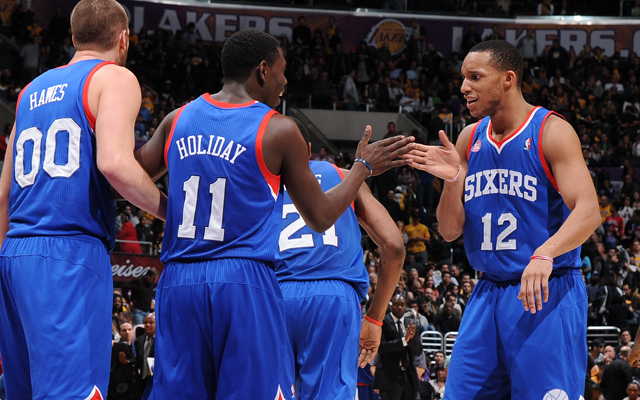 The Philadelphia 76ers are in a big transition period. In the past year, they've traded their best player, Andre Iguodala, for a potential franchise center in Andrew Bynum, who hasn't actually played a second with the team. They've parted ways with Doug Collins as the coach of the team. And they're undergoing a transformation in the front office.
The new direction of the Sixers' organization will be handled by former Houston Rockets executive Sam Hinkie, sources confirmed to Ken Berger of CBSSports.com. Hinkie will be the new president of basketball operations and general manager for Philadelphia. An official announcement is expected Monday.
The Sixers have a lot of big decisions to make this offseason. The biggest coming with the free-agency status of Bynum, whom the Sixers could really use in the middle of their attack. With him missing the entire season due to knee injuries, they never got to see if he could actually be of use to them. Pairing him with All-Star point guard Jrue Holiday could be a really deadly 1-2 combination to build on.
The team has roughly $13 million in cap space if Bynum decides to sign elsewhere, but his cap hold will wipe out that cap space as long as they retain his free-agent rights. Nick Young and Dorell Wright are their other two big free agents this summer. The team has seven players under contract for next season in addition to holding a team option for guard Charles Jenkins and Kwame Brown's player option.
Hinkie has been regarded as one of the better executives around the league for years, as he has assisted Daryl Morey in the Rockets organization. 
We've got you covered for all the scores and highlights from Sunday's NBA games

The Cavs superstar compared Kaepernick to Martin Luther King Jr. and Muhammad Ali

The Warriors coach isn't surprised that the president and LaVar Ball are in a war of words
Kyle Kuzma is tired of how his teammate Lonzo Ball is being treated

The Warriors used a huge third quarter to come back from a 23-point deficit to get the win

Three takeaways from Golden State's 24-point rally past the Sixers