Predicting 2015 NBA Draft lottery: Look for more freshmen
Yes, there will be a lot of freshmen at the top again.
The 2014 NBA Draft is over, which means it's past time to start looking to the 2015 NBA Draft that'll again feature one-and-done college products at the top. Who will go first? And second? (And third and fourth and so on and so forth?) Obviously, it's impossible to know for sure. But here's a reasonable guess at how next year's lottery could look ...
1. Jahlil Okafor (Duke)
Okafor, the consensus top prospect in the Class of 2014, is a big-bodied true center with a variety of post moves already in his repertoire. What he lacks in athleticism he makes up for with size (6-11, 270 pounds), skill and basketball IQ. He should dominate the ACC this season, then shake NBA commissioner Adam Silver's hand first next June.
2. Emmanuel Mudiay (SMU)
Mudiay, like Okafor, is a projected one-and-done star who will be able to physically overwhelm most college opponents. The 6-5 point guard has tremendous vision and an explosive first step. He'll lead SMU to the NCAA Tournament for the first time since 1993.
3. Stanley Johnson (Arizona)
Johnson was the leading scorer on the USA Basketball team that just won the FIBA Americas U18 tournament. The 6-7 wing averaged 14.0 points and 5.4 rebounds in that five-game event. He's among the reasons Arizona will again be picked to win the Pac-12, and he's going to be the next one-and-done star for Sean Miller.
4. Karl Towns (Kentucky)
You didn't think we could have a projection without a Kentucky Wildcat (or two), did you? Towns has forever had a relationship with John Calipari and was always going to enroll at UK. Still, like the guys ahead of him here, he'll likely spend just one year on campus.
5. Montrezl Harrell (Louisville)
Harrell's return to Louisville was arguably the biggest surprise among all decisions made by underclassmen because he would've likely been a lottery pick in the 2014 NBA Draft. The goal, clearly, is to spend another season developing in college and improve his so-called stock. If he does those things, yes, this 6-8 super-athletic forward can go in the top five.
6. Cliff Alexander (Kansas)
Alexander is a physically imposing big who seems determined at times to destroy everything in his path, rims included. In an ideal world, he'd be a little taller because he's basically a 6-8 center. But, man, he's just so strong and aggressive that he probably won't go lower than this.
7. Mario Hezonja (Croatia)
No mock lottery would be complete without at least one international player listed, and Hezonja projects as the best available. He's a 6-7 shooting guard who can really, really shoot it. But he's not just a shooter, which is why he's this high in this mock.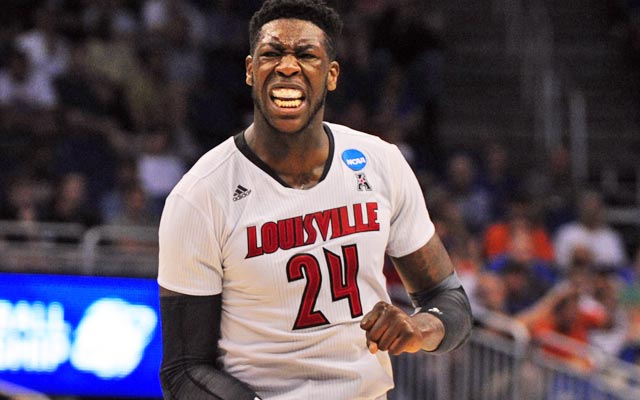 8. Willie Cauley-Stein (Kentucky)
Cauley-Stein could've probably been a lottery pick after his freshman season and after his sophomore season -- despite the fact that he suffered a season-ending ankle injury during this past NCAA Tournament. Who knows if he'll ever develop post moves? But Cauley-Stein is a true 7-footer who can alter shots and dunk everything, and those guys, especially when they're also high-character guys, don't typically slide too far.
9. Myles Turner (Texas)
Speaking of true bigs who can alter shots and dunk everything, Turner is exactly that, too. He's a late-bloomer who started for that USA Basketball team that just won the FIBA Americas U18 tournament. I can't wait to watch him bang with Alexander in the Big 12.
10. Caris LeVert (Michigan)
You know how Michigan's Nik Stauskas went from unheralded high school prospect to lottery pick after a year in which he scored big (and in a variety of ways) for the Wolverines? Yep, this is going to be a similar deal for LeVert, a 6-6 guard who made 40.8 percent of his 3-point shots last season for the Big Ten champions.
11. Kelly Oubre (Kansas)
Oubre is not quite the athlete that Andrew Wiggins is, if only because almost nobody is quite the athlete that Andrew Wiggins is. But, still, he's a top-shelf athlete, and this 6-6 wing will create his share of highlights in what should be one year at KU. (By the way, Oubre is the seventh freshman in this mock lottery. That's the same number of freshmen who were drafted in the lottery of the 2014 NBA Draft.)
12. Kristaps Porzingis (Latvia)
Porzingis is a 7-0 forward who moves really well for a player his size. He's great in transition and possesses the type of unique skillset NBA general managers have a hard time resisting, and the fact that he'll only be 19 years old next June will make him a gamble worth taking.
13. Rondae Hollis-Jefferson (Arizona)
Hollis-Jefferson was the fifth leading scorer on the Arizona team that won the Pac-12, meaning he was mostly overshadowed. But NBA scouts remain very aware of his talents, and who's going to have a better pair of true wings next season than the Wildcats with Johnson and Hollis-Jefferson? (Answer: Nobody)
14. Frank Kaminsky (Wisconsin)
Kaminsky is a 7-foot center with skills who developed into one of the stars of last season's NCAA Tournament. He wisely decided to return to Wisconsin for another season. His reward for that could be another trip to the Final Four and a spot in next June's lottery.
CBS Sports HQ Daily Newsletter
Get the best highlights and stories - yeah, just the good stuff handpicked by our team to start your day.
Please check the opt-in box to acknowledge that you would like to subscribe.
Thanks for signing up!
Keep an eye on your inbox for the latest sports news.
Sorry!
There was an error processing your subscription.
Smith Jr. hasn't played in the last five games for Dallas

There are just three games on this Sunday in the NBA

Ball suffered the injury during the Lakers' overtime loss to the Rockets
Smart let his emotions get the best of him on Saturday night

The rest of the rookie big man's season could be in doubt

The Clippers will try to end a five-game losing streak