Report: Cavs 'haven't expressed much interest' in re-signing Deng
Former Bull wing could be on the open market as a free agent this summer.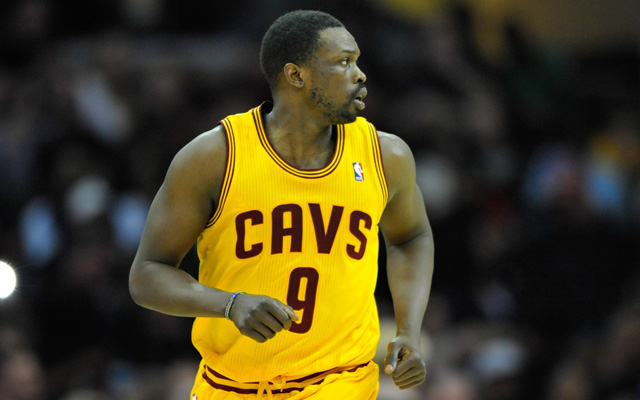 More Offseason Analysis: Coaching changes, news | Free Agency | Draft
The Akron Beacon Journal reports that the Cavaliers aren't overly interested in trying to retain free agent Luol Deng acquired from Chicago in trade this season for multiple conditional draft picks. 
Yahoo Sports reported Thursday that the Cavs could increase their chances of retaining free agent Luol Deng should they hire Griffin to be their coach, but the Cavs tried trading Deng at the trade deadline three months ago and haven't expressed much interest in bringing him back.
via Adrian Griffin becomes first candidate to interview for Cavs head coaching job - Cavs - Ohio.
It's kind of a surprise given how much the Cavaliers seem to want to speed up the rebuilding process. Losing Deng would hurt, despite his troubles in acclimating to Cleveland's system. But then again, the Cavaliers could have their eye on an even better small forward...
Anyway, if Deng hits the market, there's going to be a plethora of options for him. Off the top of my head, teams that should go for him (not that have indicated interest at all) include the Clippers, Houston, Memphis, Atlanta, Phoenix, and Dallas just to start. 
The question will be how much he wants and how much demand will drive up the price. $12 million is too high, but if you manage to get him for $10 million or under, it's good value for a veteran defender who can score and handle the ball. He's also a great teammate and has shown exceptional leadership skills over the years. If the Cavs really don't want him, he'll have some options. 
Bagley wants to be in the 2018 NBA Draft and should be the No. 1 overall pick

Durant helped build the court in Manhattan as part of his community outreach program

Prince will be a special assistant to Memphis GM Chris Wallace
He speaks out at a LeBron James Family Foundation event; he tweeted about Charlottesville on...

Smith was at the event to support his Cavaliers teammate

Trade talks involving Irving have seemingly stalled in recent weeks