Report: Kurt Rambis accepts 4-yr, $4.8m deal to be Knicks' assistant
The New York Knicks have reportedly agreed with Kurt Rambis on a four-year, $4.8 million deal to be Derek Fisher's lead assistant.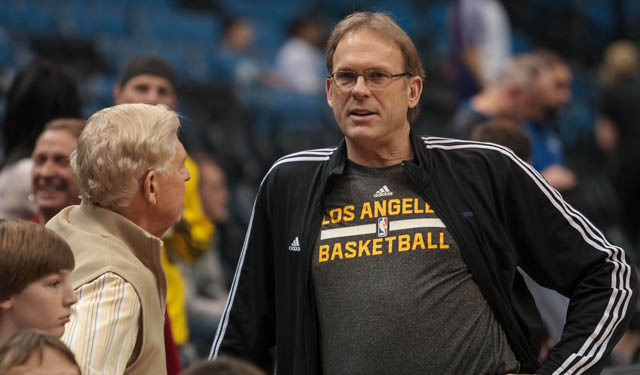 More Offseason Analysis: Coaching changes, news | Free Agency | Draft
UPDATE: Ian Begley of ESPN New York reports Kurt Rambis has accepted the four-year, $4.8 million contract to be Derek Fisher's lead assistant coach.
Kurt Rambis will accept a position as an assistant coach under new Knicks head coach Derek Fisher, league sources told ESPN New York.

Rambis will be the first addition to Fisher's staff. Fisher said at his introductory news conference that he hoped to add some experienced coaches to his bench.
---------------------------------------------------------------
The New York Knicks are still reshaping and filling out the coaching staff. With Phil Jackson in charge in New York, he's added Derek Fisher as the team's coach and will look to recreate the culture and system that worked for him so well in Chicago and Los Angeles when Jackson was the coach. According to the New York Post, Phil is looking to add someone else from the Los Angeles success to the coaching staff.
The Knicks have reportedly offered a four-year, $4.8 million contract to Kurt Rambis to be the lead assistant coach under Fisher. It would be one of the biggest assistant coaching contracts in league history, inline with Tyronn Lue's deal with the Cavaliers and Lawrence Frank's deal with the Nets.
The Knicks have made Lakers coaching candidate Kurt Rambis a four-year offer of roughly $1.2 million per year to be rookie coach Derek Fisher's top assistant, according to an NBA source.

Rambis, a triangle guru and Lakers assistant last season, remains in the mix for the Lakers' head-coaching vacancy and still is mulling a cross-country move to New York.

The offer is close to what was billed as the largest assistant's contract in NBA history, given by the Cavaliers to Tyronn Lue, who signed a four-year, $6.4 million pact.
Rambis coached under Jackson from 2001-04 and again from 2005-09. He was also an assistant coach for the Lakers from 1994-99 and was the head coach for the 1999 season. He took over during the lockout-shortened season that year and the Lakers went 24-13 under him. The next season Phil Jackson was brought in as the coach. Rambis also spent time coaching the Minnesota Timberwolves for two seasons. They went 32-132 during that time.
A dive into the NBA history books for every result from every NBA All-Star Game

James set the tone during practice that this year's All-Star game was going to be differen...

The 76ers center handled 'mismatches' like they were nothing
LeBron James says he will continue his social activism no matter what people say about him

The 76ers guard is in hot water after a controversial video surfaced showing him using a racial...

LeBron James earned his third career All-Star Game MVP award