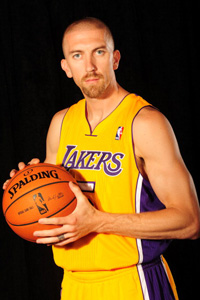 "This goatee will still be awesome if I am traded."
(Getty Images)
ESPN.com reports that the Lakers are very much open for business when it comes to Steve Blake and Chris Duhon on the trade block: 
Yet sources with knowledge of the Lakers' thinking say that the team is already trying to create a backcourt opening, having made it clear to the rest of the league that Chris Duhon and Steve Blake are available via trade to any interested party willing to absorb one of those contracts.
via Fish back to Lakers? Here's how - TrueHoop Blog - ESPN.
The speculation is that the Lakers could clear some of that money they don't need on the books, then re-sign Derek Fisher once the moratorium on re-acquiring him post-trade is over. That would be March 15, 2013, and even then, Fisher would have to let go of the fact that the Lakers traded him like freezer meat.
Blake actually is a pretty stable, decent point guard, especially as a reserve. He can shoot, he can run an offense and his defense against reserve guards isn't terrible. He's mostly known for missing that game-winner last year, but it was an open look -- and he's hit that shot a million times.
I can think of no reason why a team would trade for Duhon.
The contracts aren't great, but they're not beyond terrible, and if a team gets desperate you could see the Lakers unloading one of them. Or, judging from their luck in the past, trading one of them for LeBron James or a giant killer robot or something.