Report: Nets probed and cleared by NBA on Kirilenko signing
The NBA investigated the details of Andrei Kirilenko's signing with the Nets and cleared the team of any misdeeds.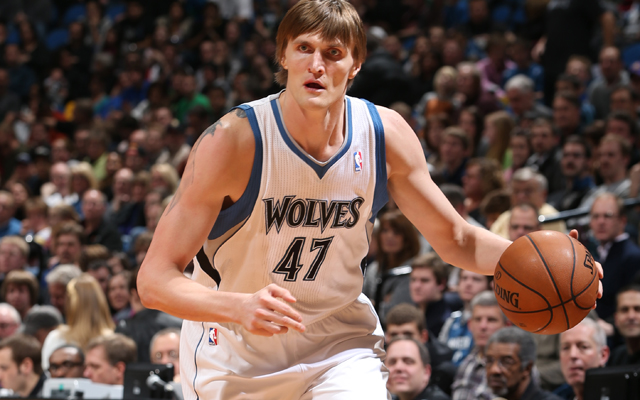 Remember how Andrei Kirilenko signed a super cheap deal with the Nets and everyone assumed it was because his new owner and fellow Russian Mikhail Prokhorov made him some kind of inside deal?
It's all cool, so says the NBA. 
According to the New York Post, the league probed the Nets and has cleared them of any misdeeds over Kirilenko's signing. 
The league, after getting complaints from at least one other team that suggested improper agreements, examined the signing and found nothing against the rules.

Kirilenko, who made roughly $10 million in Minnesota last season, opted out of the final year of his Timberwolves' deal and took the Nets' $3.1 mini-midlevel exception. In doing so, he triggered a wave of anger and suspicion. Rivals owners and executives intimated under-the-table deals existed between Kirilenko and Russian countryman Mikhail Prokhorov, the Nets' billionaire owner. At least one owner – possibly more – complained to the league.
Again, Kirilenko opted out of the final year of his deal with the Timberwolves -- worth $10 million -- to sign a two-year deal with the Nets for $6 million. Because of that situation, there was some chatter and minor uproar that something shady was going down with Kirilenko and his relationship to Prokhorov. 
That triggered a league investigation that according to the Post was a "very, very thorough investigation."
Kirilenko, according to his agent, decided playing for a contender was worth a paycut and opted to go with the Nets rather than chase a more substantial deal from someone else. And all the Nets had available to offer was the mini mid-level. 
It still feels fishy and still has a funny smell, but the league did its part to investigate, though I'm curious as to what that even means. Are they making sure Kirilenko doesn't buy himself a new boat or something? Either way, in the league's mind the matter is closed and whatever happened behind closed doors is now history. 
With 2K18 out everybody wants to know who has the 10 highest ratings in the game. Here's the...

Durant noted in an interview that all of the criticism in the immediate aftermath hit him...

Want the swagger of LaVar Ball? "NBA 2K18" lets you copy his absurd run from his WWE appea...
Durant apologized for a few tweets in which he criticized OKC and his former coach Billy D...

Lue does not expect the Cavs' big trade to affect the team's starting frontcourt ... at least...

Dwight Howard wants to be a farmer in his future and retire with his donkeys