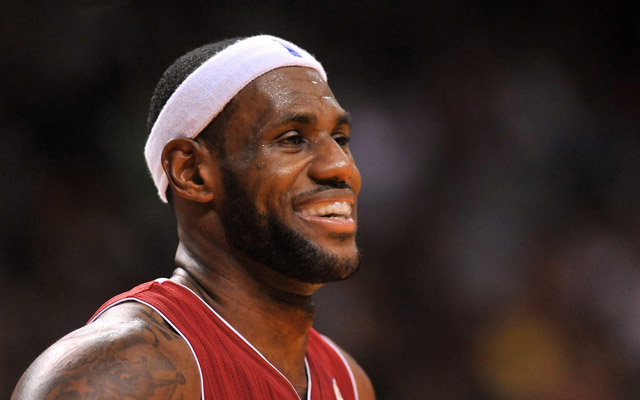 Update 9:29 p.m. ET: Aw, that looks bad. ESPN reports that sources close to LeBron refute the report from Deadline: 
Well it was fun while it lasted. LeBron sources refute Deadline report, there's no Space Jam 2 or Warner Bros. project in works

— Brian Windhorst (@WindhorstESPN) February 22, 2014
Why wouldn't LeBron want to do it? That's just... loony tunes. 
8:29 p.m. ET
Deadline.com reports that reigning MVP and two-time champion LeBron James is set to follow in the footsteps of Michael Jordan in a new "Space Jam" movie: 
Broadcasting veteran Dick Ebersol's sons have come on board to develop the sequel to 1996 animated/live-action hit Space Jam as a starring vehicle for James, the Miami Heat star who broke his nose during last night's game against the Oklahoma City when the Thunder's Serge Ibaka got him in the face after a dunk.
via Ebersols Aboard To Produce And Script Warner Bros' 'Space Jam 2' As A Starring Vehicle For LeBron James - Deadline.com.
"Space Jam" wound up grossing $230 million worldwide and featured Jordan having being sucked through a golf hole while Bill Murray watched and having to help the Looney Tunes defend the universe from the Monstars, a group of evil intergallactic bullies who still didn't foul as hard as the Bulls do. 
It's a major step forward for James as a brand, getting his own entertainment vehicle. It's actually the second film in production involving James, the other one being "Ballers" with Kevin Hart. And hey, this isn't the first time James has interacted with the animated form. 
So it pretty much has to be better than that. 
We'll see if the production comes through.