Report: Pelicans shopping Eric Gordon, again
Stop me if you've heard this one before: The Pelicans are reportedly shopping Eric Gordon.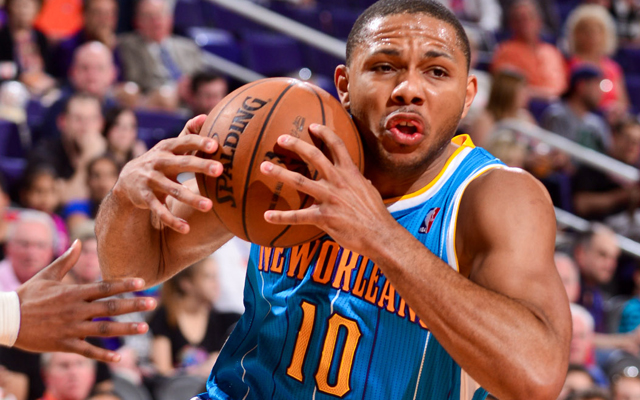 Stop me if you've heard this one before: The Pelicans are reportedly shopping Eric Gordon.
According to Sporting News, the Pelicans have started making a few calls around the league involving Gordon.
A little more than two years after acquiring him, and 18 months after matching a four-year, $58 million offer sheet from Phoenix, the Pelicans remain active in their pursuit of trading guard Eric Gordon, league sources told Sporting News this week. New Orleans has made contact with several teams about Gordon, even devising three-team scenarios in order to find him a new home.

The Pelicans first began seeking trade options for Gordon last summer, after acquiring point guard Jrue Holiday from Philadelphia on draft night and getting swingman Tyreke Evans in a sign-and-trade from Sacramento. There was some hope at that time that the Suns might remain interested in Gordon, but after Phoenix brought in Eric Bledsoe in a trade, that interest had dwindled.
Gordon signed an offer sheet in restricted free agency with the Suns, and basically begged the then-Hornets not to match. They did, and he was locked in to a four-year, $58 million deal with the Pelicans. 
Gordon has played relatively well for the Pelicans, but maybe not up to the standard expected of a max player. He's averaging 15.6 points a game and has a PER of 16.04. A solid season. But maybe not exactly max level numbers. 
With Jrue Holiday out for the foreseeable future, along with Ryan Anderson, the Pelicans might be watching their somewhat hopeful season going down the tubes. Anthony Davis has been fantastic, but it could be wise to try and sell high on Gordon and bring in either more future assets or young players. The Pelicans aren't far off from being a decent Western team, and if healthy, they might be in the conversation already. 
But how does Gordon fit into the mix going forward? Who knows, but we might find out sometime around the trade deadline. 
The NBA TV analyst and ex-Raptors coach doesn't look back in anger

Jackson is reportedly unable to make the trip from Montana

The Rockets are on fire, and my money is on Durant to join LeBron and Harden in the MVP ra...
Then-Lakers owner Jerry Buss eventually shot down the idea

Bryant will have both No. 8 and No. 24 raised to the Staples Center rafters on Monday

The Lakers will be retiring Kobe Bryant's No. 8 and No. 24 jerseys at halftime