Report: Spurs interested in Ray Allen, Gustavo Ayon
Veteran pure shooter and versatile big man on the radar of the defending champs.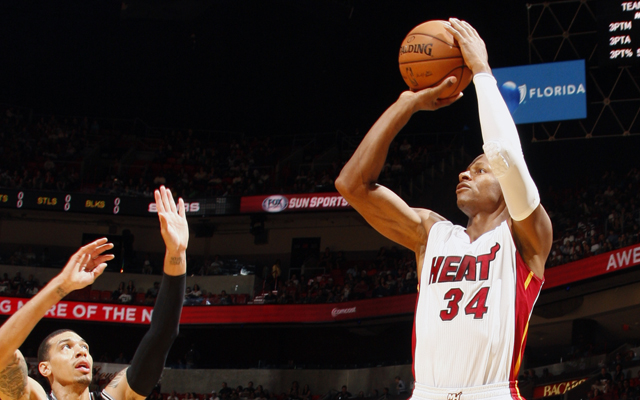 Could the guy who hit the most devastating shot of any opponent for the San Antonio Spurs join them? ESPN reports that the Spurs are interested in reluctant-to-return free agent Ray Allen. 
One more Spurs rumble with Team USA v Finland now seven hours away: Reigning champs, I'm told, trying to barge into Ray Allen Sweepstakes

— Marc Stein (@ESPNSteinLine) August 30, 2014
Allen would obviously fit in on the perimeter-oriented, veteran Spurs, and provide even more insane shooting depth for the reigning champs. He's not going to be a heavy-minute guy at this point in his career, so he wouldn't disrupt much for them in terms of rotation, and Danny Green could likely keep his starting spot. 
The Spurs adding the all-time leader in three-pointers is a pretty terrifying idea. Allen is reportedly still very much on the fence about whether to return for another season at all, with Cleveland and the Clippers both also trying to convince him to come back. 
Meanwhile:
Interesting rumble just dribbled in on eve of FIBA World Cup: Reigning champs San Antonio have registered interest in Mexico's Gustavo Ayon

— Marc Stein (@ESPNSteinLine) August 29, 2014
Ayon has shown some things in his limited stints in the NBA, but has had injury issues and never impressed enough to stick on a roster. He's got good mobility and size, and has an underrated versatility... so he's basically the prototypical Spurs guy. 
Another day, another social media beef for Embiid

We have all the latest scores, highlights and news from Wednesday's NBA games

Thomas spent a day with a 10-year-old girl whose family is also new to Cleveland
Barkley did not hold back with his opinion of the Big Baller Brand patriarch

LaVar Ball also made it clear he thinks his sons are being placed in 'a great situation'

The Thunder are just 12-14 on the season, despite the addition of Paul George and Carmelo...