Report: Tim Duncan has until June 24 to decide on player option
Will Duncan opt in for 2014-2015? Retire? Opt out and sign a new deal? He only has nine days to make that decision.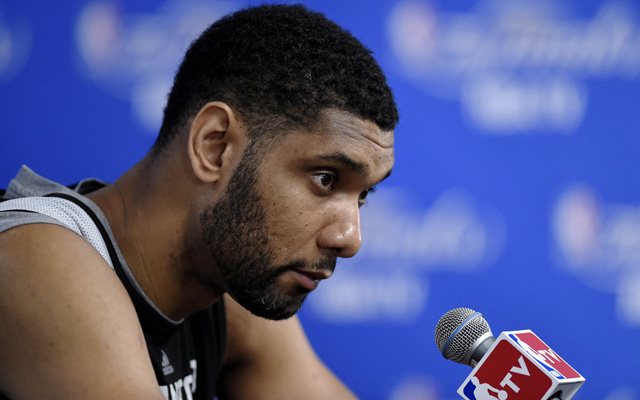 More Offseason Analysis: Coaching changes, news | Free Agency | Draft
ESPN reports that San Antonio Spurs forward Tim Duncan's opt-out deadline for the 2014-2015 season is set for June 24, not June 30 like most players.  This would give the Spurs time to figure out a course of action if Duncan were to decide to retire after these Finals, most likely after his fifth title given the Spurs' 3-1 lead over the Heat. 
San Antonio Spurs star Tim Duncan has until June 24 to notify the team whether he intends to pick up his $10.3 million player option for next season, according to sources familiar with the terms of the contract.

Such opt-in or opt-out dates for most players are typically June 30, right on the eve of free agency, but sources told ESPN.com the contract is set up to provide the Spurs with a fairly firm read on the 38-year-old stalwart's plans for next season before offseason business starts July 1.
via Tim Duncan has June 24 deadline for contract decision, according to sources - ESPN.
There has been speculation that Duncan and coach Gregg Popovich could decide this is enough should the Spurs capture title No. 5, providing them with an opportunity to walk away on top. But while Duncan has repeatedly said he's not thinking about it or ready to speak about it, every indication has been that Duncan plans to play at least next year to finish his contract. Manu Ginobili told reporters before the Finals began that he is "for sure" going to return next year to San Antonio. 
Should Duncan decide to call it a career, the Spurs would obviously have a number of huge decisions to make. Complicating that is the fact that Popovich has famously said that when Duncan retires, the legendary coach will be right behind him on his way out the door. That's not to say the Spurs couldn't remain in contention. With Tony Parker, Ginobili (who has been healthier than in years this season) and the emergenc of Kawhi Leonard in a system that prides itself on not needing any one particular player to carry the team, the Spurs could simply keep chugging along. But everything changes when Duncan retires. 
Of course, Duncan could also just opt out of his contract and sign a new three-year deal if he wants. It's all up to him. 
Either way, the Spurs will have time to make plans whether they're going to be trying to find a bridge to the future or preparing for another run, and possibly a repeat, next season. 
Greek Freak scores career-high 44 points and reaches scary level to finish the game

It was an ugly finish as the Warriors fell to 1-2 on the season -- both Curry and Kevin Durant...

Mirotic was hospitalized with facial fractures after an altercation with Portis during pra...
Irving had some choice words for a fan who heckled him in Philadelphia

Several teams were reportedly interested in Nelson after he was waived by the Nuggets

Cousins got into a heated exchange with a fan during the Pelicans' season opener