Reports: 'Insulted' Patrick Ewing turns down Knicks' D-League job
NBA legend Patrick Ewing will not accept an offer to coach the New York Knicks' D-League affiliate, the Erie BayHawks, according to reports.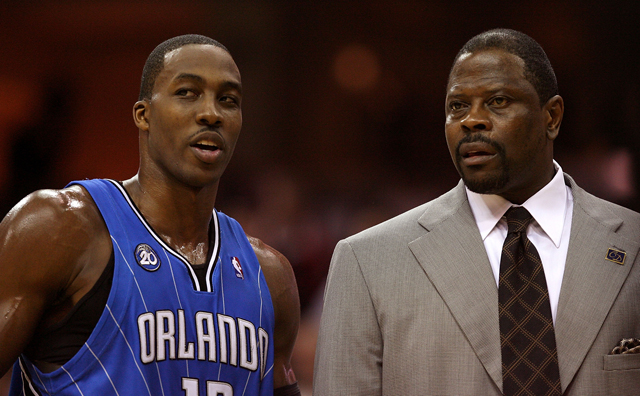 Patrick Ewing and Dwight Howard are both out in Orlando. Ewing, though, is still looking for a new gig.
(Getty Images)
The Hoya Destroya won't stoop to the minor leagues.
Naismith Hall of Fame center Patrick Ewing turned down an offer to coach the New York Knicks' D-League affiliate, the Erie BayHawks, according to multiple reports.
The New York Daily News reports that Ewing is currently unemployed after serving as an assistant coach for Stan Van Gundy's Orlando Magic since 2007. While the Knicks have an open spot on coach Mike Woodson's staff, the paper reports that Ewing was not considered for the position.
ESPNNY.com reports that Ewing wasn't totally pleased with his treatment by the franchise where he played his best ball.
The big man turned down the offer because he wished to remain in the NBA, the source said. Ewing has served as an assistant coach for eight seasons, with the Washington Wizards, Houston Rockets and, most recently, the Orlando Magic.

One source close to Ewing said the Hall of Famer felt a bit slighted by the Knicks' offer to coach the Erie Bayhawks because he has already established himself in the NBA.

"Patrick has paid his dues," the source said. "He was a little insulted."
Ewing, 50, was the No. 1 overall pick by the Knicks in the 1985 NBA Draft and spent the first 15 seasons of a 17-year career with the Knicks. 
The Magic fired Van Gundy earlier this summer and replaced him with first-time head coach Jacque Vaughn, who assembled a new staff and didn't retain Ewing. Meanwhile, Ewing reportedly interviewed for head coaching jobs with the Charlotte Bobcats and Portland Trail Blazers this summer, but went 0-for-2 as those jobs went to Mike Dunlap and Terry Stotts, respectively.
You can easily understand Ewing's reluctance to go the D-League route. He was a highly-touted high school player, a standout in the NCAA while at Georgetown and the No. 1 overall pick in the 1985 NBA Draft. The players he would be coaching, by and large, would be fringe guys with only a sliver of his talent. The D-League lifestyle, of course, is far from the first-class luxury NBA experience Ewing has known for more than two decades.
Remember, this is a guy who earned more than $119 million in NBA salary. Not many guys with nine figure incomes are prepared to take buses criss-crossing the country, playing in front of half-empty arenas and far away from the bright lights of Madison Square Garden.
It's understandable that Ewing is frustrated that he's been unable to grab a full-time coaching gig after nearly a decade as an assistant, but there are only 30 head coaching jobs and he's competing with hundreds of qualified candidates. While beggars can't be choosers, there's little doubt that Ewing will get another crack as an NBA assistant coach. He's shown the willingness to pay his dues to this point and has a unique ability to work with young, promising big men, as he did with former Magic All-Star center Dwight Howard. Ewing is an asset, he's been on the coaching carousel long enough and he's got enough friends around the league that he will find his way into another spin on the bench, sooner or later.
Mirotic and Portis combined for 49 points as the Bulls won their fifth straight game, beating...

Gobert, who missed 11 games earlier this season with a knee injury, will have an MRI

Get all the latest scores, news and highlights from Friday's NBA games
Porzingis is questionable for Carmelo Anthony's return to MSG on Saturday

The Spurs and Rockets will renew their in-state rivalry on Friday night

Anthony will play at Madison Square Garden on Saturday for the first time since being trad...