Rick Carlisle likes the eyelid tattoos of Mavs' hopeful Renaldo Balkman
Renaldo Balkman's eyelid tattoos may have caught the eye of Dallas Mavericks coach Rick Carlisle and helped him get a foot in the door for this season.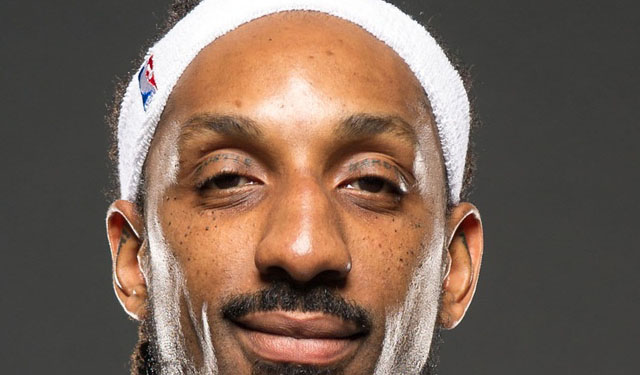 Finding a way to catch the eye of a front office or coaching staff when you're a fringe player in an NBA training camp can be really hard to do. For the most part, teams leave a little leeway when it comes to adding to the roster with non-guaranteed contracts to fill out the 15 spots going into training camp, but it doesn't mean they'll definitely take someone. You have to find a way to let your play in practice and in games grab the attention of the decision-makers in the hopes of bringing you aboard for the season (or at least half of it). 
For former first round draft pick Renaldo Balkman, he may have caught the eye of Dallas Mavericks coach Rick Carlisle by what was tattooed on Balkman's eyelids. The 29-year old forward out of South Carolina had "hustle" tattooed on one eyelid and "harder" tatted on his other eyelid. That shows the kind of toughness that Rick Carlisle likes to see in his role players. From the Dallas Morning News:
The Mavericks' forward, who is trying to cash in on his long-shot chance of making the final roster, has the words "hustle" and "harder" inked onto right and left eyelid, respectively. Those words embody his philosophy on basketball, not to mention speaking highly of his ability to handle pain.

Asked for his first thoughts on the dreadlocked, multi-tattooed former first-round draft pick of the New York Knicks, coach Rick Carlisle said: "My first thoughts? I like his hairdo. And I like his tattoos a lot. There's a lot of storytelling going on there.

"You know he's got a high pain tolerance if he's got tattoos on his eyelids. All that stuff impresses me before we even start talking about his game. That's why I liked [DeShawn] Stevenson."
DeShawn Stevenson was a role player that became very important to the Mavs' title run in 2011. He was the tough perimeter guy that didn't back down from anybody and relished taking big 3-point shots whenever given the chance. Carlisle appreciates role players like that because they often buy into whatever the coach is selling. That's exactly what they would need out of Balkman if he's going to have a chance to make the team.
The biggest problem might be his inability to shoot the ball though. His "toughness" is well known, especially after pushing a referee and choking a teammate when he played in the Phillipines last year. However, he only attempted 64 3-pointers in his 221 NBA games and made a paltry 17.2 percent of them. But if Carlisle is looking for a guy with a cool look and enough toughness to get eyelid tattoos, then Balkman is his guy. 
The tricky part is the Mavs already have 15 guys with guaranteed contracts on the roster, which is the maximum allowed. The Mavericks could always eat the guaranteed money on someone like DeJuan Blair or Bernard James if they wanted to make room for Balkman, but it seems like a long shot. 
I'm not sure if that's more painful or Stevenson's throat tattoo of Abraham Lincoln is more painful. It probably depends on the placement of the tattoo in relation to the Adam's apple.
Is this rock bottom for the Cavaliers because it sure feels like it is

Wade, as he's done so many times in his career, threw it up to LeBron for the thunderous f...

The Warriors coach added there should be no shame in being picked last since everyone's an...
We've got all the scores, highlights and news from all of Saturday's games

The two teams have reportedly not had any substantial discussions to this point

Oladipo may be getting most of the shine, but this second-year big man has been phenomenal...