Rip Hamilton to Internet how-to: Journey down the rabbit hole
Trying to waste time on a Friday while you're at work? Take a journey down the NBA internet rabbit hole and learn how to use the internet.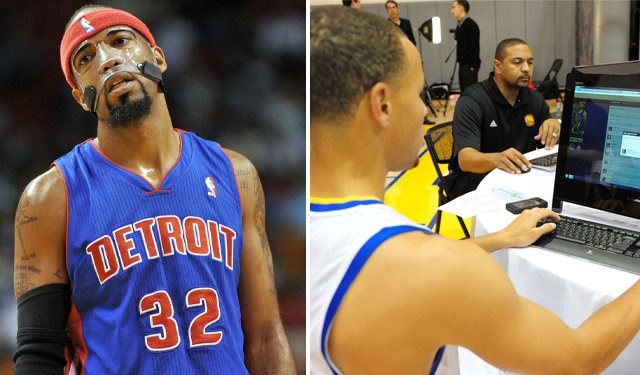 It's Friday again, which means you've got time to waste on the Internet while you get through your workday in order to get to the weekend. Last week, we went down an Internet rabbit hole journey in which went found our ways from an interview with Joe Dumars to a video of guys trying to break beer bottles over their heads. This week, we'll jump all around the NBA Internet before we get to the greatest video of all-time.
Let's journey down the rabbit hole; what else do you have to do?
First stop: Richard Hamilton's Instagram
A few days ago, I was minding my own business on Twitter when a tweet popped up in my Tweetdeck app. In a Tweetdeck column I reserved for NBA players and NBA media people (it's the easiest way and the least amount of effort you can give for stalking them for your "job"), I noticed an Instagram photo from Richard Hamilton. The caption on the tweet said, "This guy bout to eat the whole bag of chips," followed by a few hashtags.
I naturally assumed he was hanging out with Glen Davis and wanted to see what kind of chips Glen Davis eats. The picture was actually Rip Hamilton's son on a private plane, holding a bag of Sun Chips.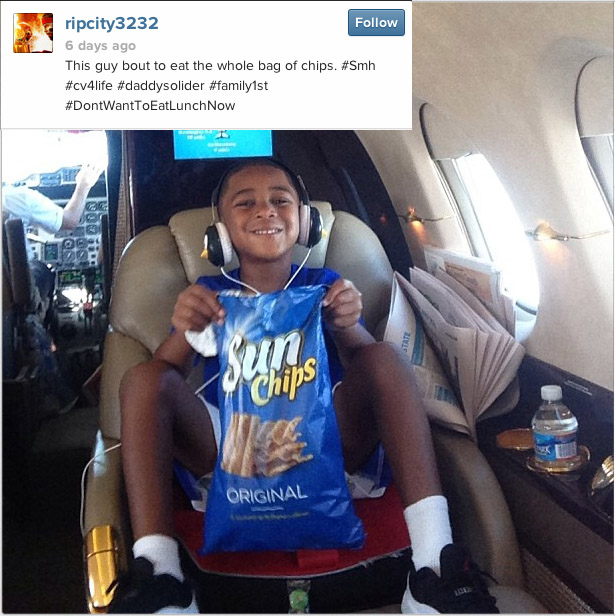 Hamilton isn't currently employed by an NBA team, but he's still flying in private jets? To me, this doesn't seem like a great use of money, but I also don't really know Rip's financial situation. It led me to wonder just how much money he's made throughout his career. This is always a fun game to play when a player's name came up in conversation with your friends or when you see their name online.
It's a tough game to play with non-superstars because they can pile up fairly middle of the road contracts and have to deal with their rookie contracts, which are often below market value. I decided to look up Hamilton's career earnings on Basketball-Reference. If you had to guess what he's made, what would you take a midrange shot at guessing? I went with $85 million for the 14-year veteran and three-time All-Star. Turns out he's made roughly $108 million, according to Basketball-Reference.
That's not a bad haul.
I started wondering what his son was going to watch on the plane. If I had the type of technology when I was a kid that kids have today, I would have been pouring over "Saved By The Bell" and "Teenage Mutant Ninja Turtles" episodes from takeoff to touchdown. It's hard to figure out what his son might watch for two reasons:
1) I have no idea what kids watch these days.
2) I'm exceptionally bad at guessing the age of kids.
Until they have facial hair, you could convince me that a five-year old is 10 years old or that a 10-year old is only five. I'm about as good at guessing kids' ages as Monta Ellis is at determining what's a good shot to take. Just as a shot in the dark, I decided to figure out what "tweens" are watching these days because Rip's son looks kind of tall and I figured tweens were "kind of tall."
What do "tweens" watch on TV?
Do a Google machine search for what tweens watch on TV and you'll get a list of shows that might as well be written in Mandarin for me. On the list of shows, I recognized the two singing shows at the top ("Hannah Montana" is just Miley Cyrus singing, right?) and "SpongeBob SquarePants." SpongeBob SquarePants has random capital letters in his name, kind of like DeMar DeRozan and JamesOn Curry.
I did recognize the "iCarly" from a really interesting post on the Wall Street Journal's blog I had read previously. It was authored by Jennette McCurdy, the girl who played someone prominent on the show, and talks about the fame and struggles of growing up in the spotlight, almost unexpectedly.
When "iCarly" first started growing in popularity back in 2007, my castmates and I quickly felt the swell in attention. I started getting invited to movie premieres, designers were sending me clothes, old friends were reaching out, and I could no longer go to a public place without getting asked for a picture or an autograph. It was all pretty cool. At the time I didn't realize I was losing myself, but I was.

Somewhere in 2009, the show hit a really sweet spot in its success and the ratings were huge. "iCarly" was watched in millions of households on a daily basis, and there were constant reminders of that fact in things like network "congratulations" gifts of Gucci bags (I didn't even know who or what Gucci was) or being escorted from a water park with my castmate because of danger issues caused by the overwhelming crowd of fans.
McCurdy talking about the ratings being huge and being watched in millions of households reminded me of a story from a few years ago in which an episode of "iCarly" beat the ratings of a playoff game, but I couldn't remember the exact details. Doubling back to the Google Machine, I found a post from the New York Daily News that tells us Game 2 of the playoff series between the Houston Rockets and Los Angeles Lakers lost out to "iCarly" on a night in which Kobe Bryant dropped 40.
Nickelodeon's Miranda Cosgrove stuffed Kobe Bryant last week.

Well, not on the court, but in the Nielsen department.

Cosgrove's series "iCarly" was the top-rated show of any kind on basic cable last week. At No. 2: TNT's telecast on Wednesday of the Bryant-led Lakers versus the Houston Rockets in the NBA playoffs.

Saturday's "iCarly," with a one-hour special episode, "I Date a Bad Boy," generated 6.5 million viewers, while the Lakers-Rockets game averaged 6.3 million.
I don't know if that's embarrassing for the NBA, terrifying for our culture, or just further proof that Sasha Vujacic doesn't have the cachet to capture the hearts and eyes of millions around the world. Regardless, it got me wondering about if "iCarly" was the kids' show that had a really awkward cameo from a couple of NBA players a couple years ago.
Didn't Kevin Love and Dwight Howard appear on "iCarly" once?
Turns out they did not. As far as I know, "iCarly" has never had Kevin Love and Dwight Howard on their show. I know because I looked at Dwight Howard's IMDB page, found this picture, and then found out that he was once on an episode of a show called "The Suite Life on Deck." Apparently, this is a show about two kids enrolled in a semester-at-sea program and hijinks occur on this cruise ship.
The episode I was thinking of did indeed have Kevin Love and Dwight Howard; it also had Deron Williams. They're all awkwardly wearing suits and trying not to void their contracts by walking on a cruise ship TV set in dress shoes. Here's the clip of them showing off some acting chops. 
It's not the best acting I've ever seen. Dwight Howard looks about as comfortable as he would at the free throw line, Kevin Love looks about as comfortable as he does on defense, and Deron Williams looks about as comfortable as when he asks someone if they like his sideburns. But Deron does love puppies, so there's that.
To be fair, these guys aren't actors and I'm sure it was a little disorienting trying to decipher what was being said by the clumsy, cracking voices of a couple of kids unnecessarily spouting off the résumés of the players.
This isn't the first time NBA players have cameo'd on kids shows. The first one that came to mind was the show "Hang Time" in which Reggie Theus is a high school coach named Bill Fuller in Indiana. I'm convinced that his stellar job of coaching an unexplained co-ed high school basketball team to glory on a 37-foot court with eight-foot rims is what ended up getting the Maloofs to hire him to be the Sacramento Kings' coach in 2007.
NBA Cameos on "Hang Time"
We've had a lot of NBA cameos on "Hang Time" over the years. Early on in the show, Theus flexed his rolodex power by having Alonzo Mourning and Grant Hill on the show at various times. In season three of the show though, Theus really started to bring in the heavy hitters. There were episodes with Damon Stoudamire, Shareef Abdur-Rahim, Gary Payton, and Kobe Bryant.
The Kobe appearance might be my favorite because I'm pretty sure he didn't know the cameras were rolling for the show. I think he was just out there dominating people playing basketball because that's what he's wont to do.
It's kind of amazing that Kobe trusts Daniella Deutscher in the clutch more than he did Luke Walton, but he knows the game better than we do so it's hard to judge his decision-making there. 
I wish I had a smoother transition to the end video of our rabbit hole journey, but to tell the truth, I was looking for news articles to write about for Eye on Basketball the other day (and by looking for news articles, I mean I was looking up "Hang Time" cameos on YouTube) and Sergio Gonzalez, one of our top guys behind the scenes here, dropped this video on me. It's probably from 1994 or 1995 and it is kids teaching you how to use the internet.
Want to watch a How-To video on using the internet from 1994-95? Of course you do
I can't even begin to explain the awesomeness of this video. It's 27 minutes long, but every second of it is worth your time and if your boss busts into your office or cubicle and asks you what you're watching, you have a legitimate excuse for viewing this video. It's something that will help you be a much more proficient user of the internet and help you be more productive at your job, in school, or just in your daily life in general.
Let's have some fun with this video, shall we?
First off, if you were ever wondering what Bill Hader's character Stefon from Saturday Night Live's Weekend Update was doing as a child, this answers that question and then some.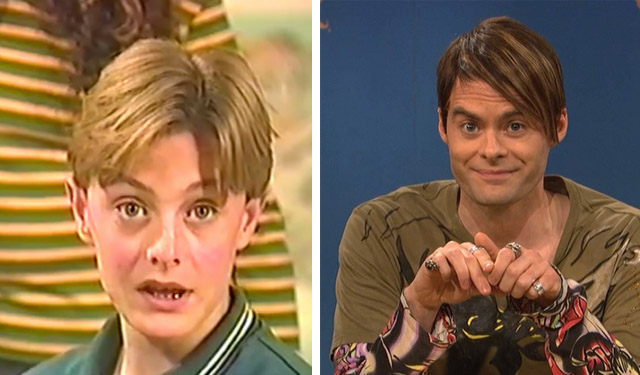 Secondly, that tune for the video is really catchy and probably won't get out of your head. I watched this video on Monday for the first time and still can't get it out of my head.
"Take a spin, now you're in with the techno set; you're going surfing on the internet!"
Here are some of the things that I love about this video:
- All of it.
- When the dad installed the internet, the parents got the whole family involved and they all had tasks to do. Apparently, installing the internet on your computer back in the mid-90's was a four-person job and it was a lot of work to do.
- "Now that I've gotten on the internet, I'd rather be on my computer than doing just about anything." Peter, we just wanted to contact you to let you know that Eye on Basketball has received your application and résumé and we're seriously considering you for a position here.
- I love that this is not just an instructional video of how to use the internet but it's also their "story" on how the internet has changed their lives. It doesn't change their lives either. "Maybe it will yours too." Thanks, Yoda Peter.
- The fact that this family has the desk and computer set up in the middle of their living room shows you just how important the internet is to their lives. Some people get a great couch or some art or a coffee table to be the centerpiece of their living room. Not this family, they have the internet as their centerpiece.
- "Hey, do you know how to spell 'Mississippi' with one eye? M-I-S-S-I-S-S-I-P-P-I" - Mom, get out.
- "Hey, Andrew. What's up?"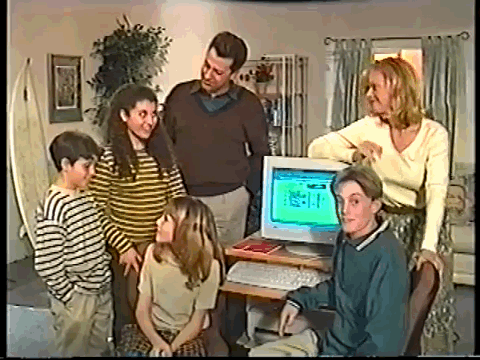 - "The first thing that you need to know is that the internet is amazing." Thanks, Dasha. Both informative and important.
- "What's a web page, something ducks walk on?" I wonder when Andrew changed his name to Carlos Mencia.
- I love the enthusiasm and confidence that Peter has when he's discussing politics. 
"Want to write a letter to President Clinton?" - Peter
"Would he answer us?" - Lisa
"I bet he would!" - Peter
During 1995, President Clinton was gearing up for running for a second term as President of the United States. He had to run the country and garner enough funding for his campaign and support for his candidacy in order to defeat Bob Dole in the coming election. I bet he responded to Peter writing him about teaching his friends how to use the internet right away.
- "An internet service provider? What's that?" - Lisa.
Well, Lisa. It's a service that provides the internet. The name doesn't really seem that complicated.
- "Does your computer have a modem?" - Dasha
"I think so. Our grandpa bought it for us and it has all the latest hi-tech stuff." - Lisa. I miss the mid-90's so much. If you went back to that year and showed them an iPhone, you'd be burned at the stake for being a witch or a warlock. 
- Do you guys know you're going surfing on the internet? Because this transition music will remind about 100 times if not.
- "Or you can download the other popular browser -- Netscape Navigator."
- "What do search engines do?" They're engines you use to search for things, Lisa. We need to talk to Lisa about figuring things out on your own when the term you're querying about sounds really obvious.
- With the help of Peter and Dasha, we now know how to bookmark this video for future consumption when you're confused on how to use the internet. Just right click on the link of the video, highlight the "add bookmark" option, and then release the click of the mouse. After that, slap yourself in the mouth.
- The headlines on the news sites were pretty amazing as well.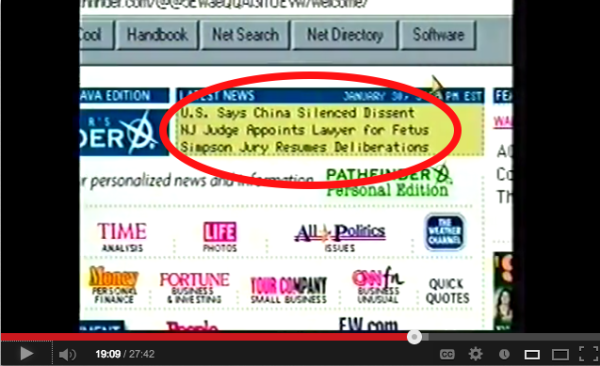 - I wish the Jamisons would teach us how to do just about anything. With their knowhow and ability to explain things in a fun and educational manner, I bet they could teach us how to do our taxes on Quicken, change the oil in our car, and diffuse a bomb like they do in "Lethal Weapon."
- Kids love "Mr. Ed" video clips.
- They're ordering Bush concert tickets online probably because Blind Melon and Montell Jordan weren't coming to town any time soon. 
- They have sports news! It has all of the latest stats and scores. You just have to go to www.sportsnetwork.com CBSSports.com and find all of the best information.
- E-mail is the number one use on the internet, Peter? Sorry, but in today's world, Twitter and whatever SnapChat is run this game. Get with the times. 
"You have to remember the internet is NOT a regulated environment so the quality and accuracy of various informational offerings can differ." - Mrs. Jamison, you have no idea how correct this statement is. We all have to be careful on the internet.
I'm really happy the Jamisons showed Andrew, Lisa, and everybody else how to use the internet. We really learned a lot and, more importantly, we all wasted quite a bit of time today. 
And never forget this: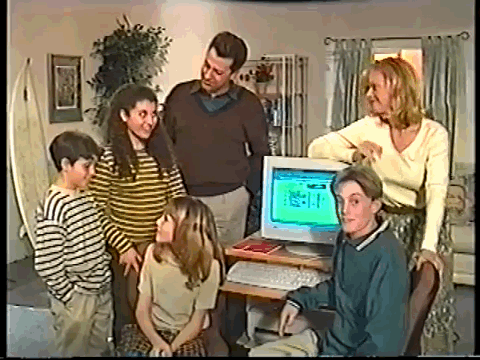 Irving has requested a trade away from the Cavaliers

The Lakers made a strong push for Rose, but he would have been a backup in Los Angeles

The small forward spent last season with the Sacramento Kings
Knight still has three years left on his five-year, $70 million contract

The Golden State forward is accused of assault, battery and making misleading statements

The Nets get their shooter a year later, and the Blazers reportedly will waive Nicholson