Spurs-Grizzlies Game 2 Preview: Playing better is the plan
The Spurs shot the lights out in Game 1 and Zach Randolph was a no-show. Can San Antonio duplicate that kind of performance again?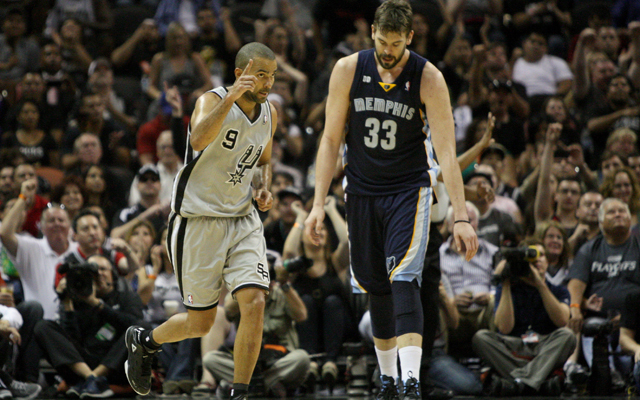 A preview of Tuesday night's Game 2 between the Memphis Grizzlies and San Antonio Spurs.
1. Where We Are: The Spurs hold what feels like a commanding 1-0 series lead after an easy 105-83 destruction of the Grizzlies in Game 1. It's not really foreign territory for Memphis, though. They lost the first two games to the Clippers and Game 1 to the Thunder, all on the road. They've bounced back well in the postseason so far and have been very good at making subtle adjustments to free their offense. And in a lot of ways, they've just played stronger and better. Don't forget this either: The Spurs went up 2-0 on the Thunder last season in the Western Finals -- and looked dominant doing it. This series is just getting started.
2. The Big Number: 32. The Grizzlies managed just 32 total points in the paint in Game 1, a number well off their normal average and one that means they aren't going to have success. The Grizzlies don't shoot well from the perimeter and really focus their offensive attack on scoring inside of 10 feet. The Spurs eliminated Zach Randolph almost completely (1-8, two points) and dared the Grizzlies to make shots. What's interesting is that Memphis only attempted 12 total 3s, with nine of those (and all five makes) coming from Quincy Pondexter. The Grizzlies need better balance and, more specifically, need a better Zach Randolph. 
3. Key Adjustment: Deep post touches for Z-Bo. Tim Duncan is still a wizardly defender, and he deployed a clever tactic of giving Z-Bo a little more space on the block. Instead of really banging with Randolph, Duncan used his length, size and timing. Randolph needs to dig in more on the low block and create deeper touches. And go quickly when you get them. Don't even let the Spurs think about doubling. Catch and go. 
4. The Big Story: The Spurs knocked down 14 of their 29 3s in Game 1. Tim Duncan was blunt after the game: They aren't going to shoot that well again. For one, the Grizzlies are too good defensively and 14-29 is a pretty absurd percentage period. So can the Spurs find offense in other ways? They weren't paint dominant in Game 1, scoring just 30 inside of it. They made their shots, which is something the Grizzlies managed to escape in their series against the Thunder. Memphis is a great defensive team, but hot shooting can roast them. Can the Spurs duplicate some of that touch again?
5. The Facts: 8 p.m. ET tipoff. No injuries.
Barkley spoke to the NFL Today crew about the response the president received in his home...

The restricted free agent has a deal in place that will keep him with the Bulls after a st...

James' support continues his trend of social activism on social media
The newly-acquired All-Star thinks the addition of Anthony boosts the Thunder in the NBA's...

The Knicks were asking for the house in discussions for Carmelo Anthony

Steve Kerr has given his response to Donald Trump in writing